Classic British scones are one of my favourite things. There's something about a warm scone, fresh from the oven, sliced in two and slathered with butter and enjoyed with a cup of tea that is quintessentially British.
These scones are really easy and quick to make. There's no chilling time, it's just mix, cut and bake, so you can butter one within half an hour!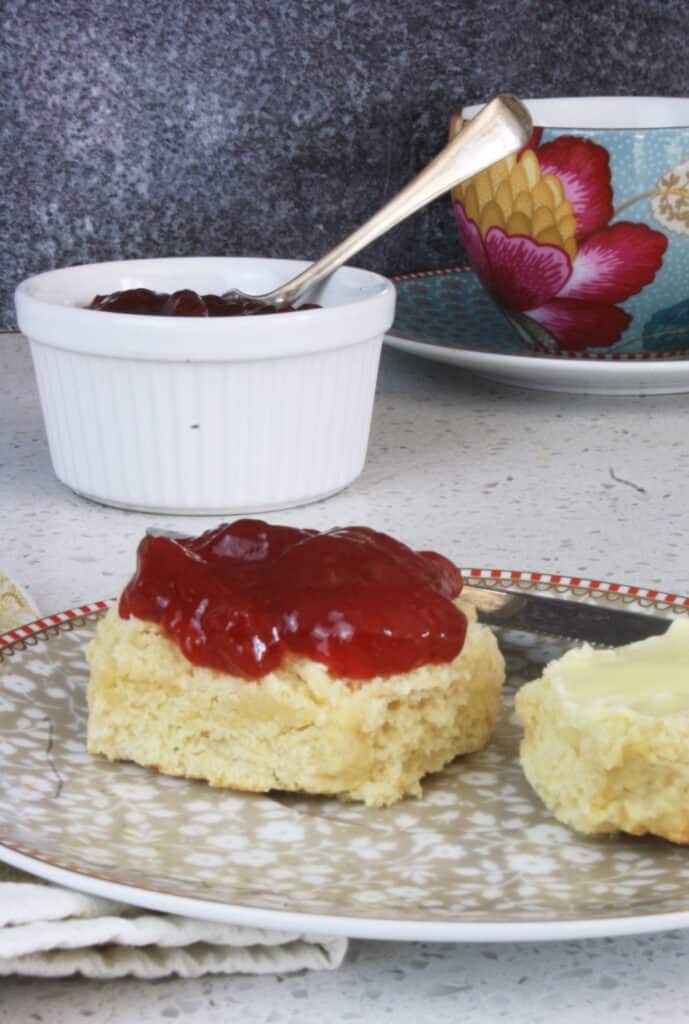 What's the difference between a British Scone and an American one?
There's huge debate in the UK regarding scones, from the country of origin, to the pronounciation. There is also a place in Scotland called Scone, which is pronounced 'scon'. I'm in the 'scon' camp and my husband is in the 'scone' camp and we grew up in the same town!
More confusingly is that at first glance, a British scone looks like an American biscuit. The resemblance ends there. British scones use less sugar, are cut in a circular or hexaganol shape, and are only glazed with milk or egg. We get the sweetness by the dollop of jam on top!
American scones are made by flattening the dough into a circle and cutting into segments before baking. They are often flavoured with fruit and glazed with icing afterwards.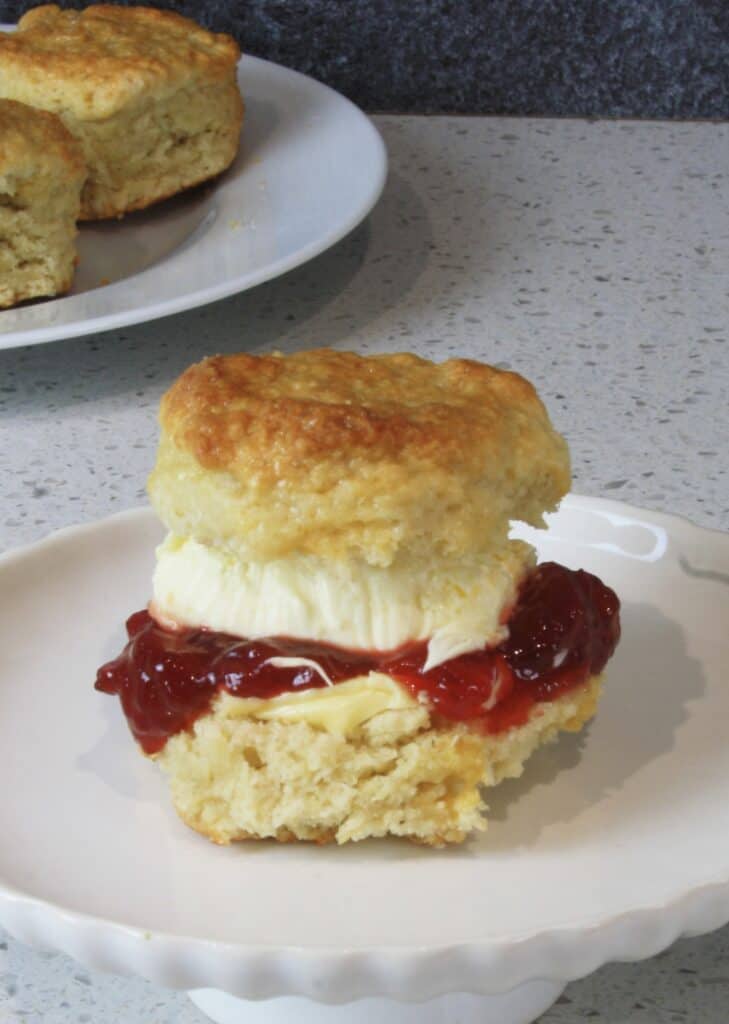 What is a cream tea?
A cream tea is normally a scone with strawberry jam and clotted cream in pots, served alongside a pot a tea.
There is yet more debate as to whether the jam or cream is added first. The Devonshire cream tea has cream first and neighbouring Cornwall has jam first! Who knew that British scones were so complicated!
A cream tea is normally also a component of afternoon tea, which is making a real comeback with home deliveries.
This comprises of a three tiered cake stand with finger sandwiches at the bottom, dainty cakes in the middle and the scones with pots of jam and cream on top. Then there is the obligatory pot of tea and maybe a cheeky glass of Prosecco or Champagne.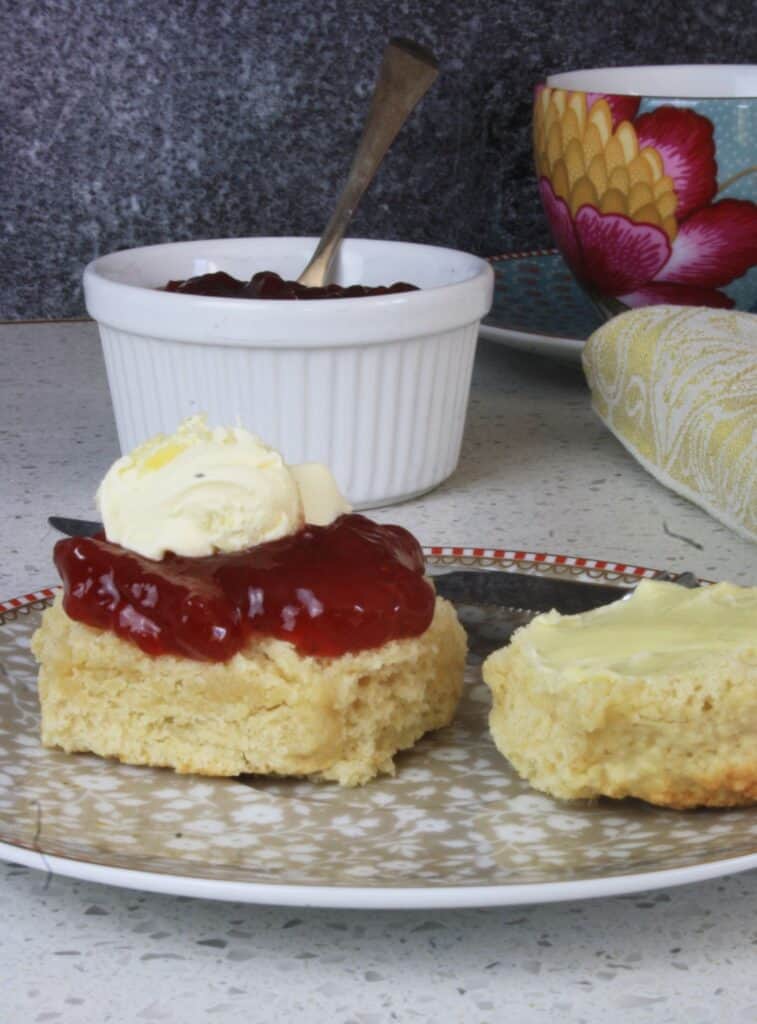 What are the ingredients?
Scones have really simple ingredients that you are likely to have already in the pantry.
All you need is cold butter, self raising flour, baking powder, salt, caster sugar and milk. You will also need an egg to glaze as it gives great colour to the scones, but you could simply use more milk and a sprinkling of sugar instead.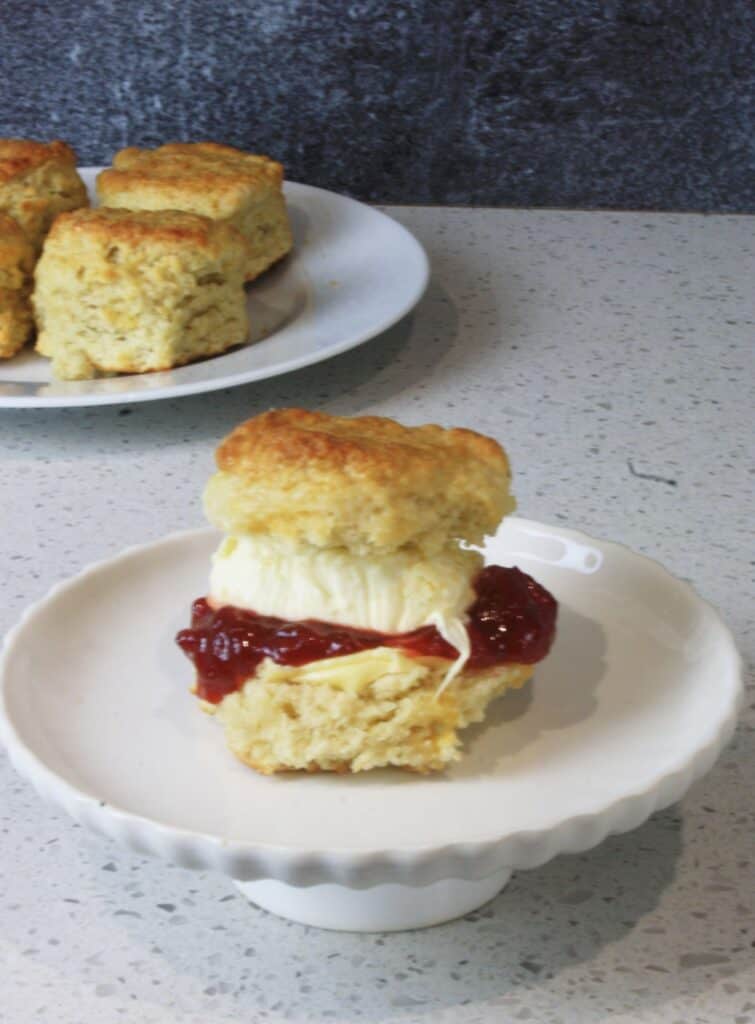 What equipment do you need?
Essential equipment is a cutter around 6 cm in diameter and also a non stick baking sheet or some baking parchment. You will also need a large bowl and a rolling pin.
How to make British scones
Stir the flour, baking powder and salt together after measuring, and place in a large bowl or in the body of a food processor.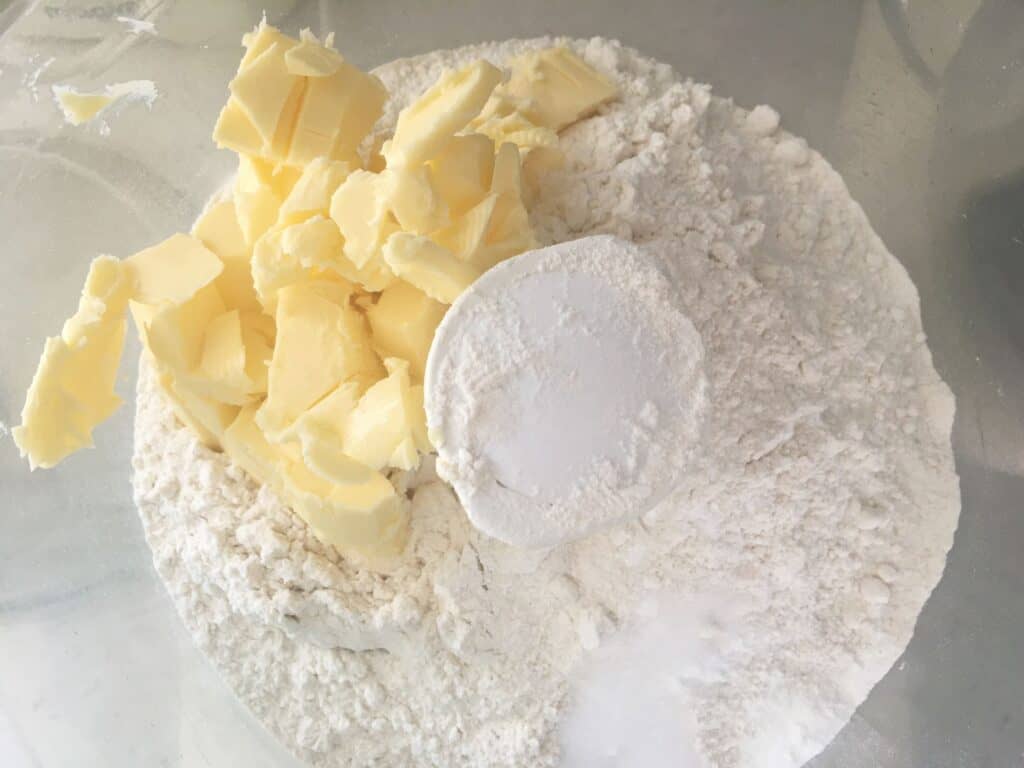 Cut cold butter from the fridge into cubes and gently run in or process the butter to fine breadcrumbs by pulsing a few times.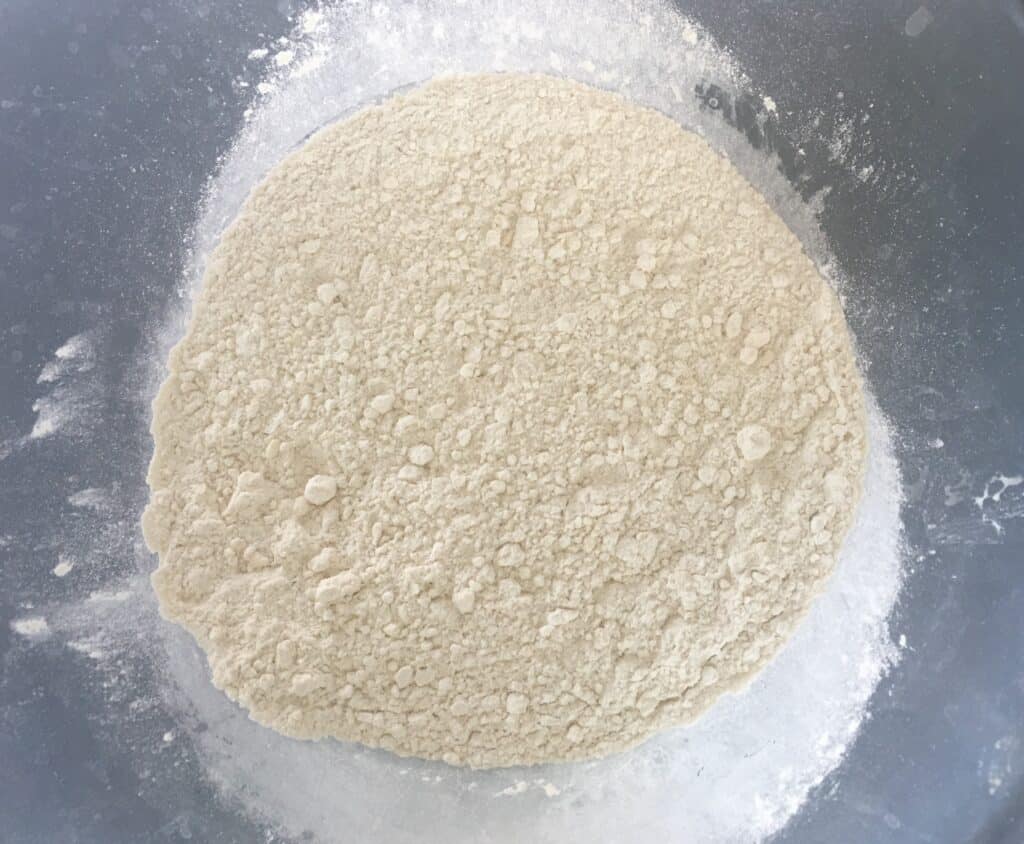 Tip the mixture into a large bowl, stir in the sugar and milk to form a soft dough. The idea is to quickly bring it together without touching the dough too much.
Depending on the dryness of the flour you might need more milk.
Divide the dough into two as it makes it easier to handle in batches.
Roll the dough out to 2.5cm thick. You can just do this with your hands as the dough is really soft.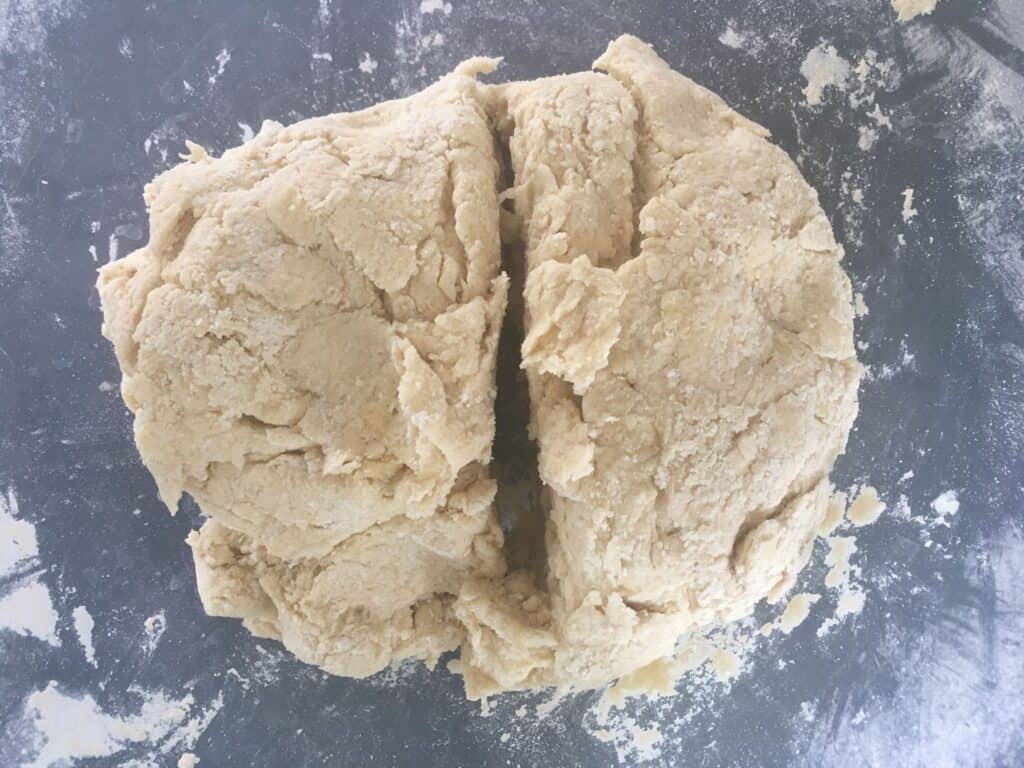 Use a 6mm plain circular cutter or similar to cut out, rerolling if necessary and then repeating with the remaining dough. Remember to handle the dough as little as possible.
You will end up with 13 or 14 scones.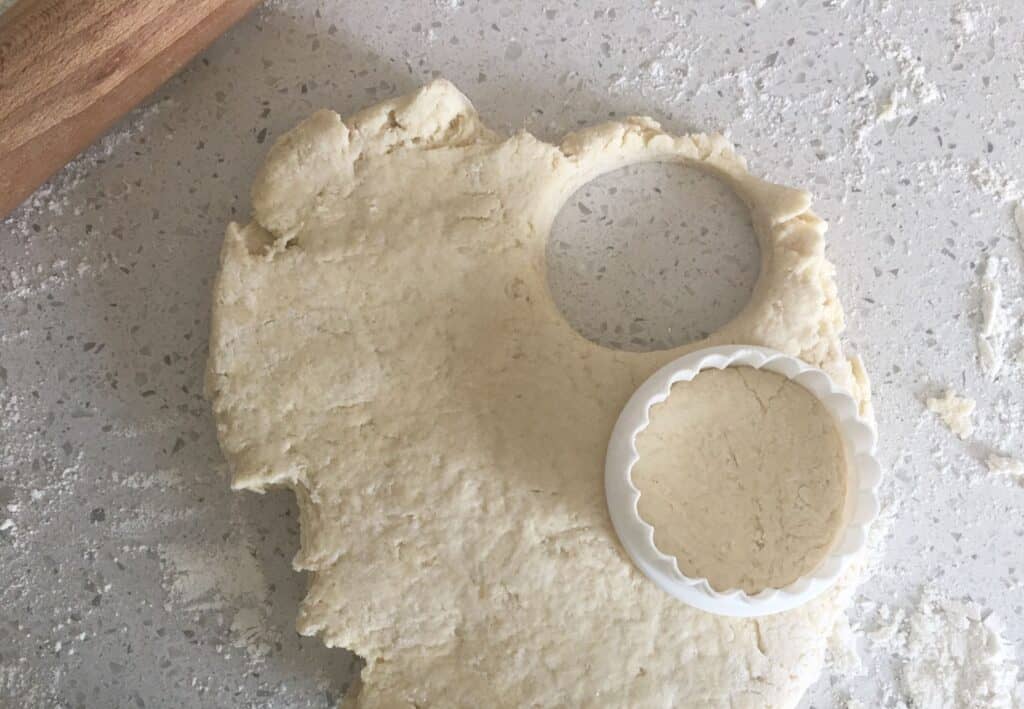 Place scones on a large non stick or parchment lined tray as you cut them out. It sounds odd but place the scones together so they are almost touching. This helps them to rise up straight as they bake.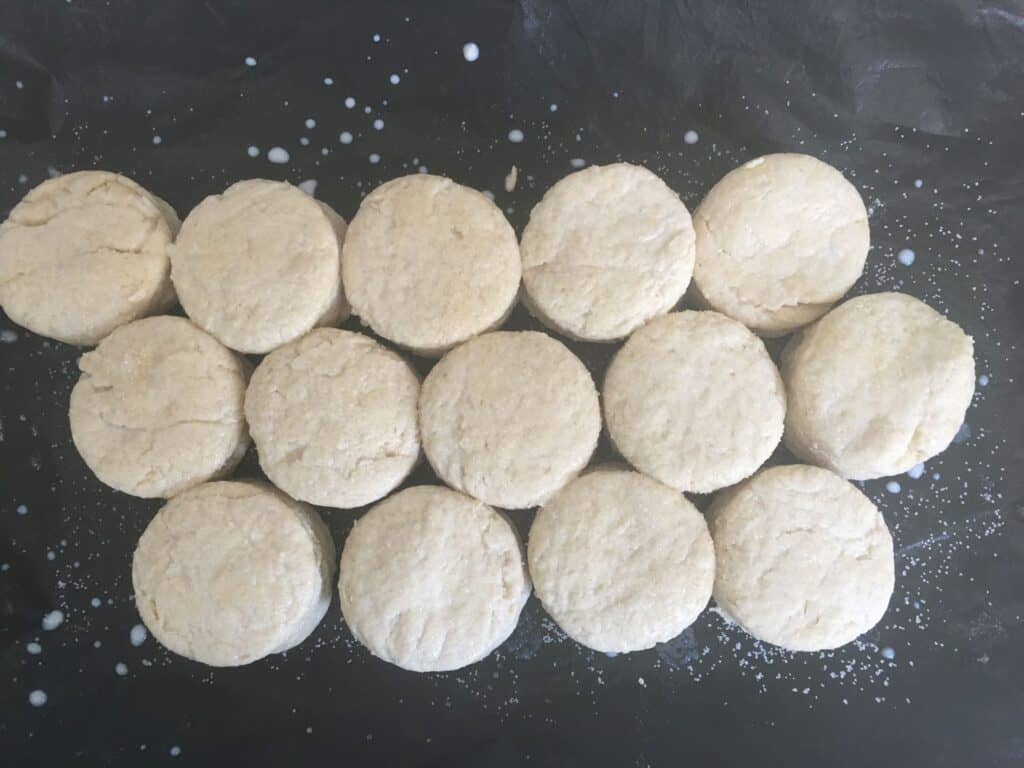 Brush with beaten egg and bake for 15-20 until well risen and golden at 190C/375 F or Gas mark 5.
Cool on a wire rack.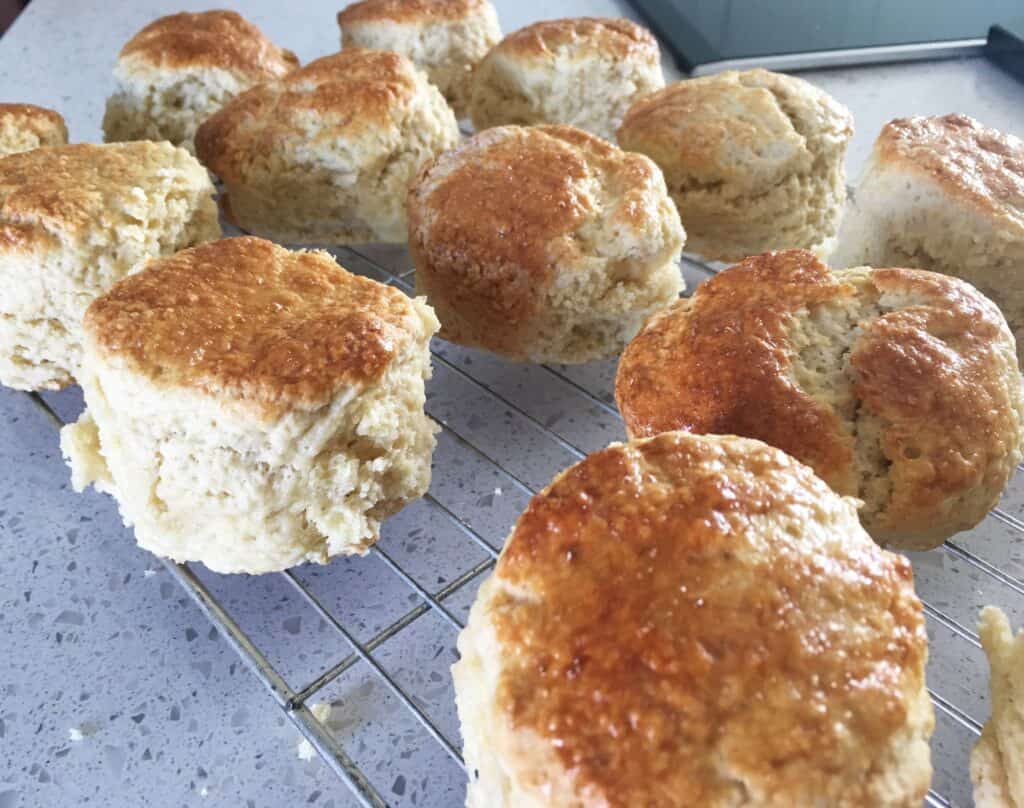 These scones are fluffy and delicious served warm with butter or cold with your favourite jam.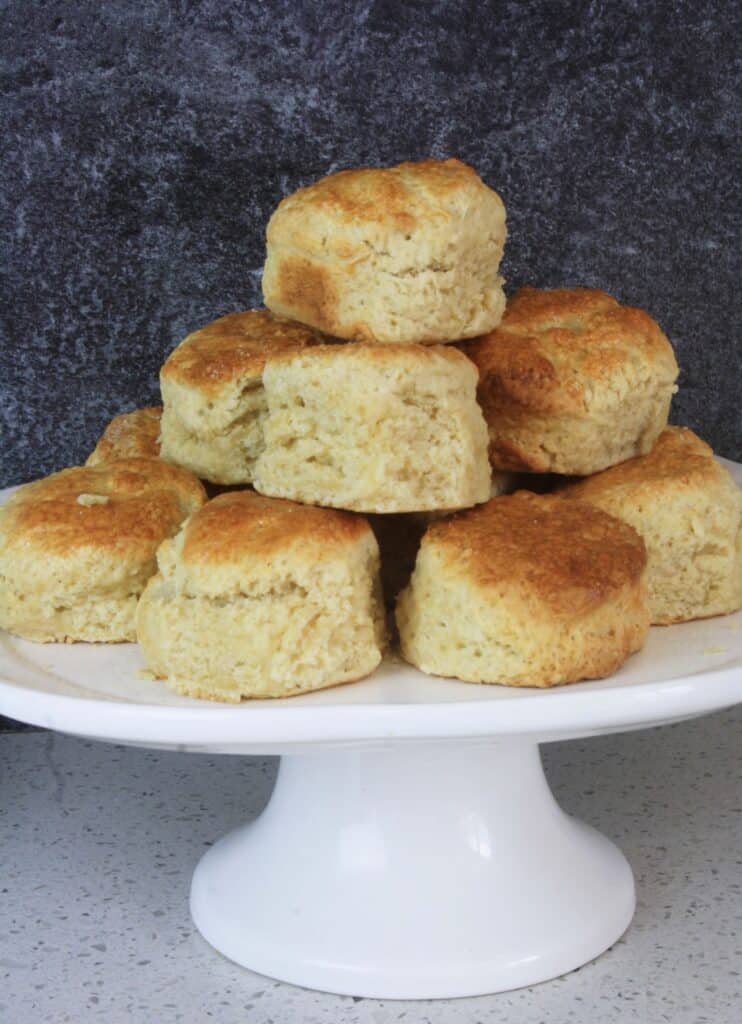 British Scone variations
Chop 200g of glace cherries for cherry scones.
Add 115g of grated cheese and omit the sugar for savoury cheese scones.
Stir in 200g of sultanas for sultana scones.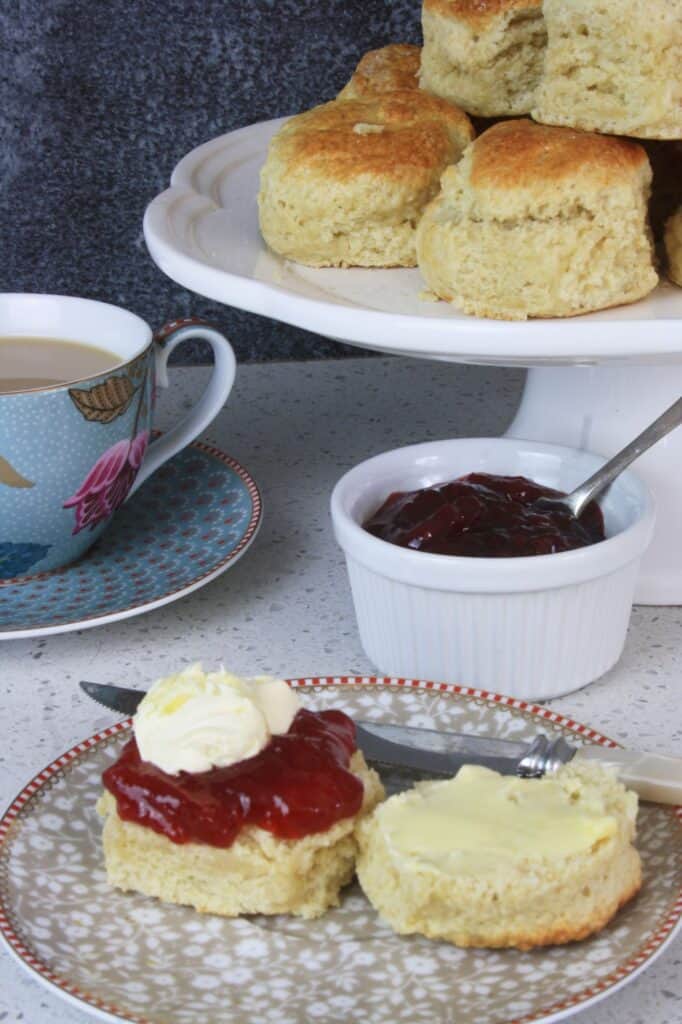 Afternoon Tea Recipes
Orange Marmalade Drizzle Cake with Candied Oranges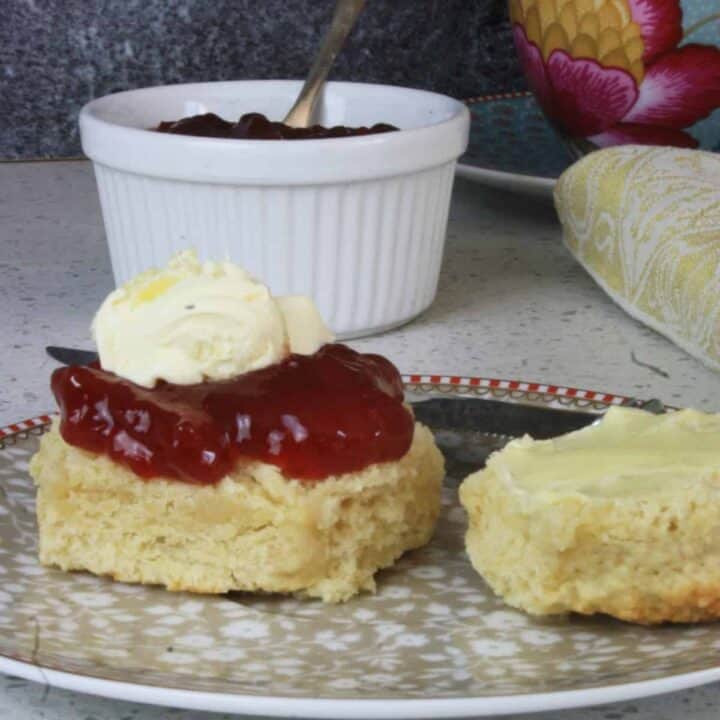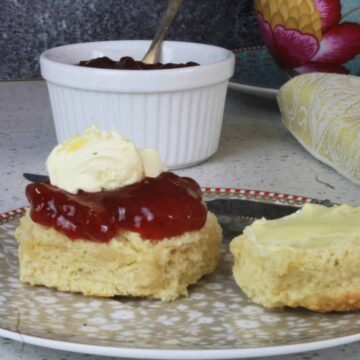 Classic British Scones
A simple recipe for plain scones, made in 30 minutes.
Ingredients
115

g

cold butter

chopped and cold from the fridge

450

g

flour

self raising

1

teaspoon

baking powder

½

teaspoon

salt

55

g

caster sugar

200

ml

milk

1

egg

beaten
Instructions
Heat the oven to 190 C / 375 F / Gas mark 5.

Stir flour salt and baking powder together.

Rub in or process the butter with the flour mixture to fine breadcrumbs

Stir in sugar and milk to form a soft dough.

Divide into two and roll out to 2.5cm thick.

Cut out 14 scones with a 6 mm cutter.

Place scones on a large lined tray, close together.

Brush with beaten egg and bake for 15-20 until well risen and golden

Cool on  a wire rack.
Nutrition Facts
Classic British Scones
Amount Per Serving
Calories 204
Calories from Fat 72
% Daily Value*
Fat 8g12%
Cholesterol 31mg10%
Sodium 183mg8%
Potassium 58mg2%
Carbohydrates 29g10%
Protein 4g8%
Vitamin A 245IU5%
Calcium 41mg4%
Iron 2mg11%
* Percent Daily Values are based on a 2000 calorie diet.
Notes
For savoury scones add 115g of grateed cheddar in place of the sugar.
You could also add 200g of chopped glace cherries or 200g of sultanas when you stir in the sugar.
Instead of glazing with egg use 50ml of milk and sprinkle the scones with 10g of granulated or caster sugar.
Disclaimer: The nutritional information provided is approximate and is calculated using online tools. Information can vary depending on various factors, but we have endeavoured to be as accurate as possible.
Detailed instructions for this recipe, including step by step photographs, hints and tips, can be found in the main article.
Be the first to receive new recipes in your inbox and get my free E-Book of 25 French Recipes! Subscribe here!