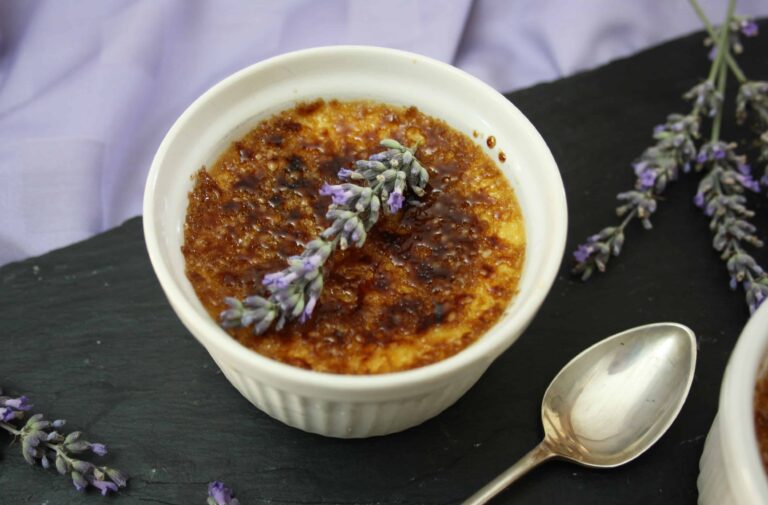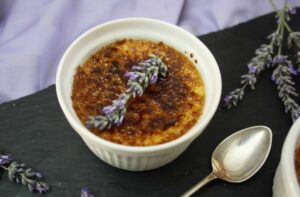 Lavender Crème Brûlée. We were invited to our French neighbour's for dinner and Madame served an exquisite crème brûlée that was flavoured with lavender. They had been staying with friends in Provence recently and visiting the lavender fields and perfume factories in Grasse. Inspired, she had returned with lavender oil and lots of dried lavender. I have to say that before I tried this I was quite sceptical, thinking that the flavour would be overpowering and too perfumed. I was so wrong! She explained to me that she heated the cream with lavender in it and then left it to infuse before making the Lavender Crème Brûlée. I had to try this as Crème Brûlée is a firm favourite. Interestingly, according to my Julia Child book, the dish is not French at all but Creole in origin but I've always thought of it as French. I've been making it for a long time based on an old recipe from a Good Housekeeping book, which is foolproof.
What I love about this dish is that it is easy to make and can be made in advance so it's great for entertaining....if it lasts that long!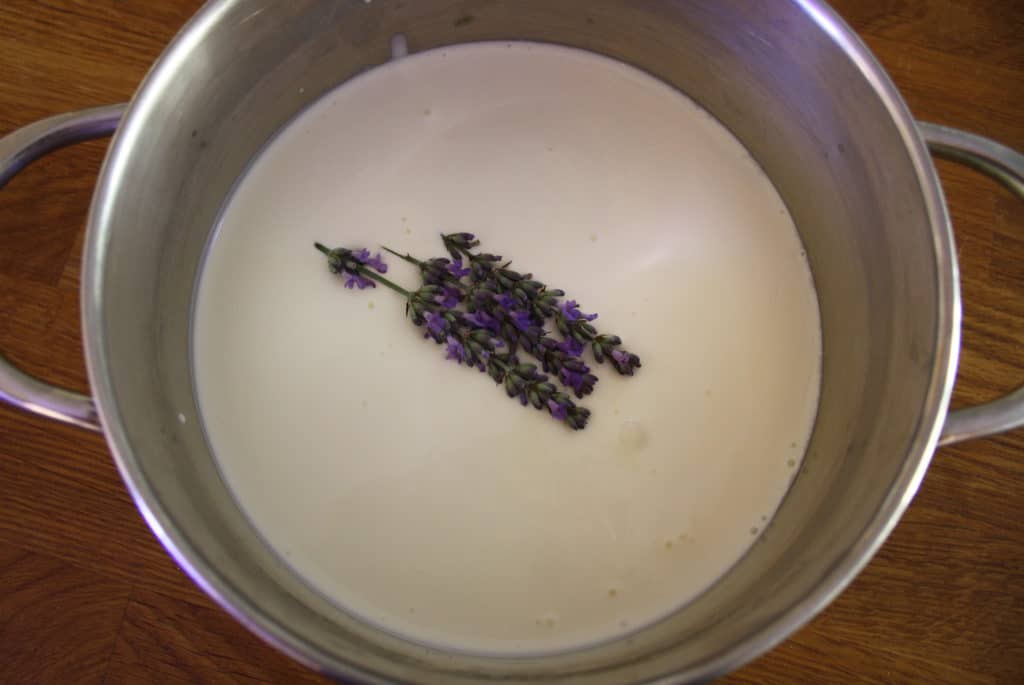 My neighbour used dried lavender but I still had a few flowers on the lavender in the garden so I used 3 large washed flower heads. Slowly heat the cream to just below boiling point then turn off the heat. Let the lavender infuse for 30 minutes and then pass the cream through a sieve and back into the saucepan.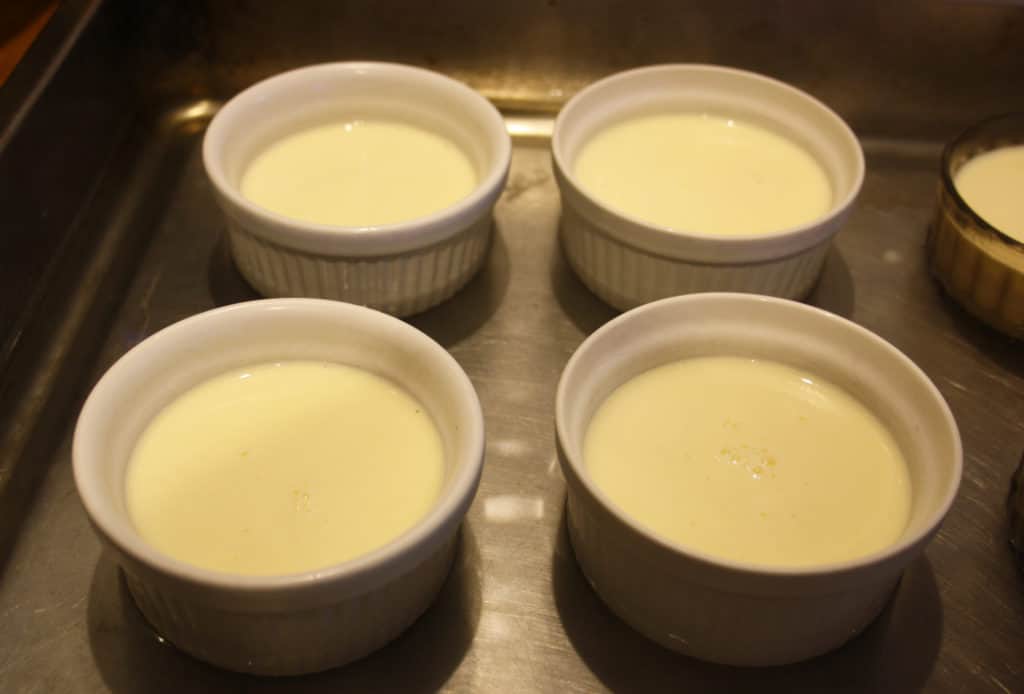 In a large bowl whisk the egg yolks and sugar together, reheat the cream a little and whisk into the eggs a little at a time. Divide the mixture between 6 ramekins and place in a roasting tin with enough hot water to come halfway up the sides.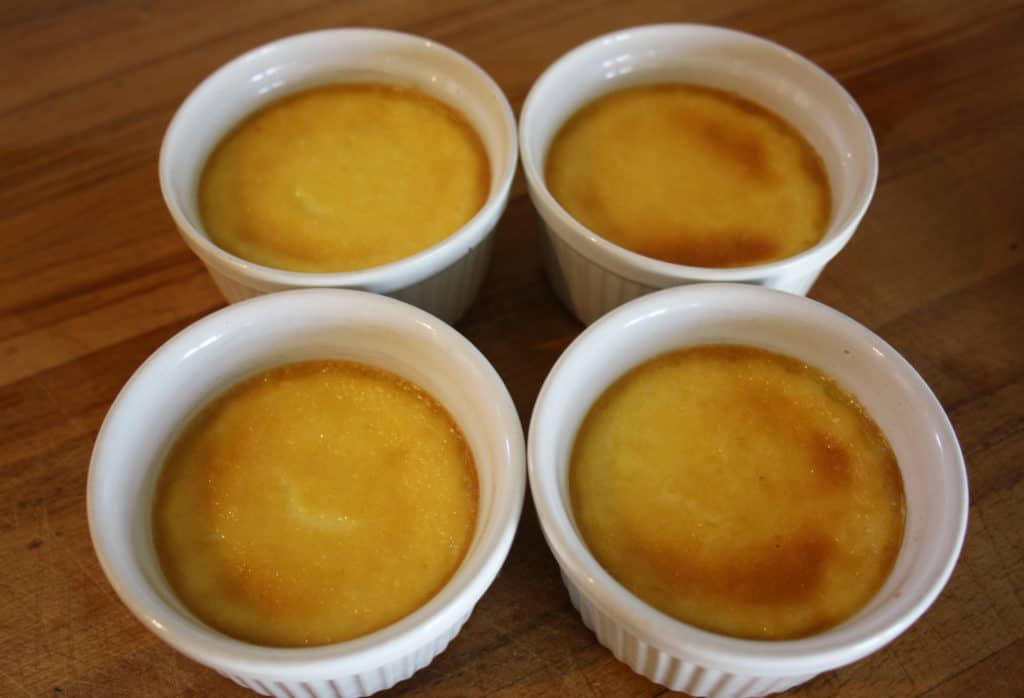 Bake for an hour at 150 C then let them cool and refrigerate, ideally overnight. When you want to serve them sprinkle over brown sugar and use a blow torch to quickly caramelise the sugar. Return it to the fridge for a few minutes in case any of the custard is warm. It will form a crisp layer and be ready to eat.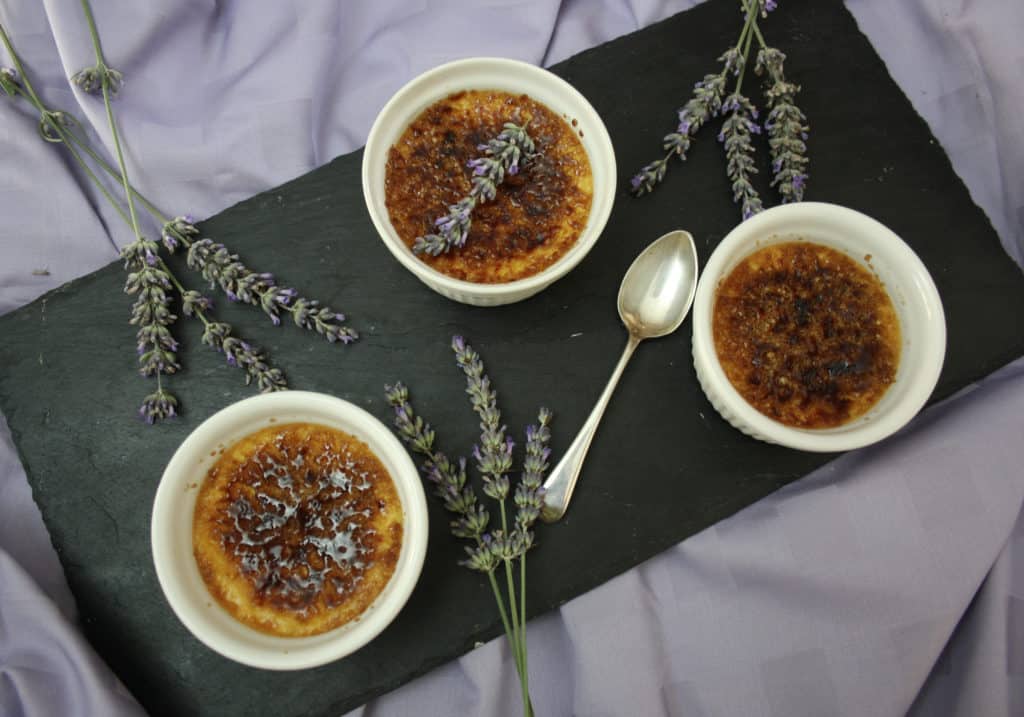 These are so delicious!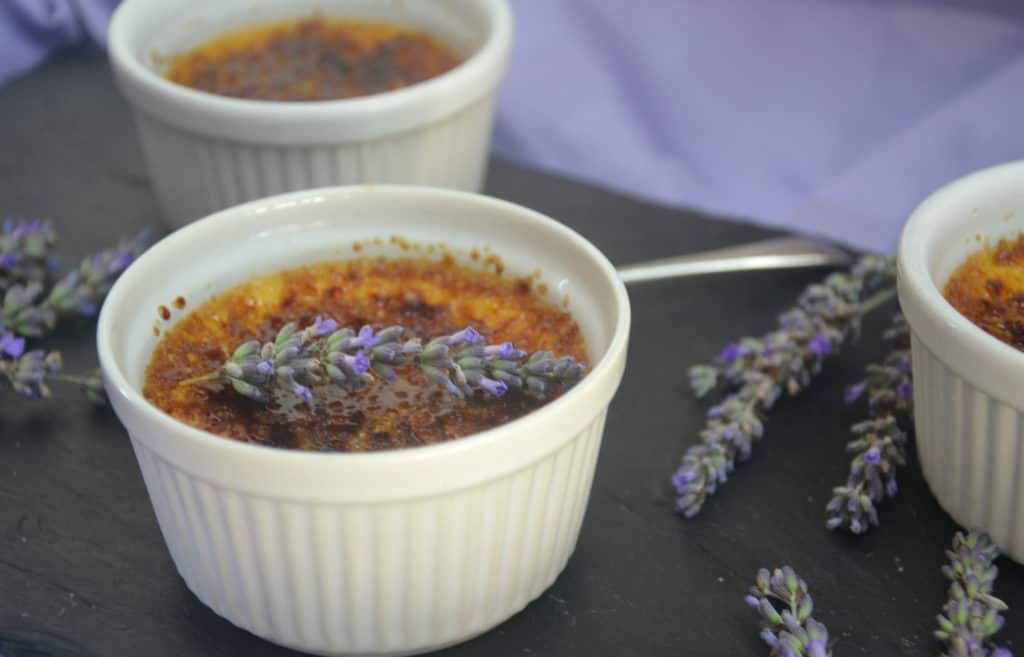 Once you tap into the crisp caramel and into the creamy custard you will be hooked!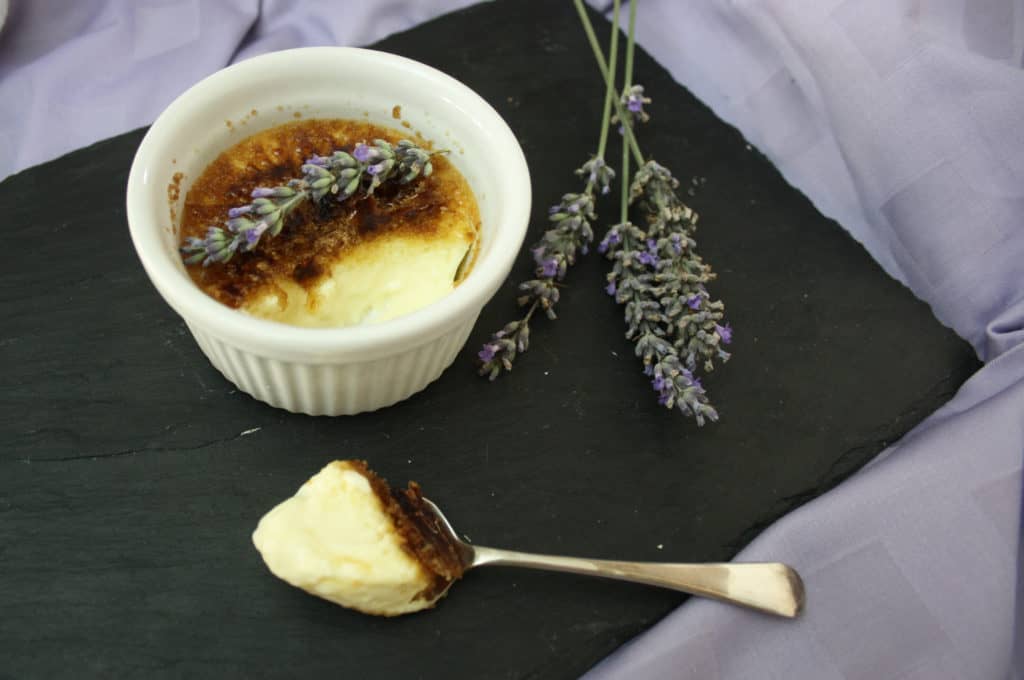 You will just have to go back for another!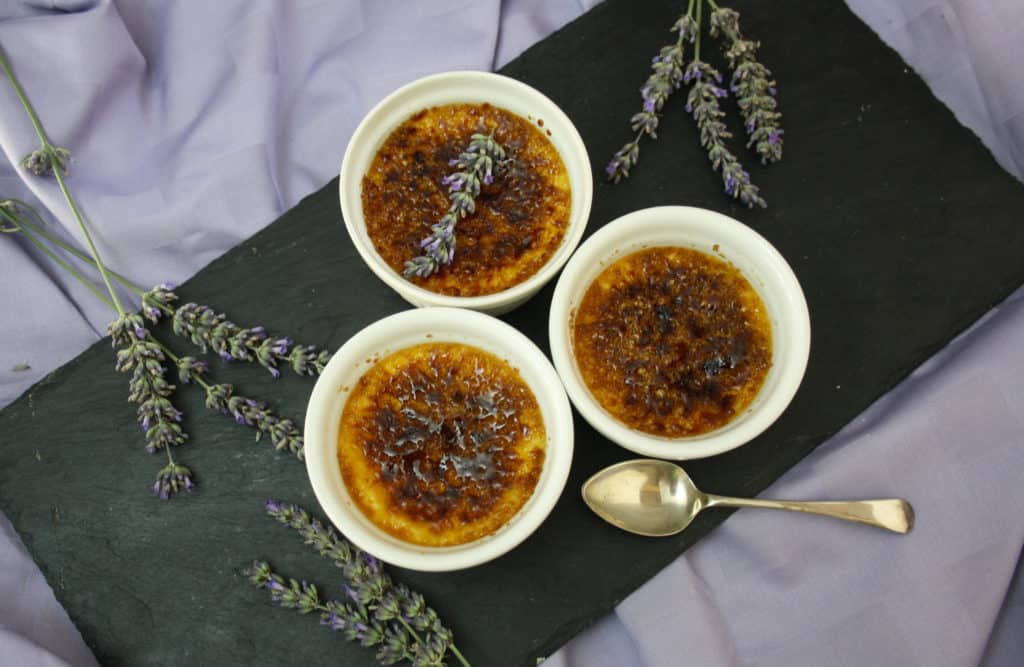 What other versions of crème brûlée have you tasted?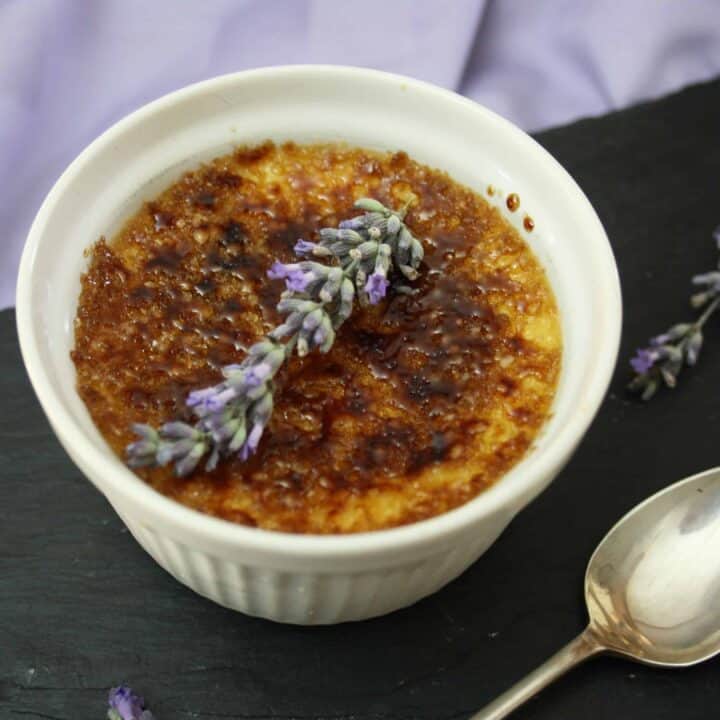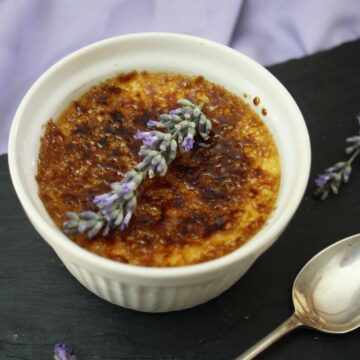 Lavender Crème Brûlée
Lavender Crème Brûlée. A crisp, caramelised sugar topping a lavender infused cream baked custard. This dessert is easier than you think!
Ingredients
3

large lavender flowers

washed

600

ml

double cream

30% fat

4

egg yolks

50

g

caster sugar

50

g

brown sugar
Instructions
Put the cream in a saucepan with the flower heads and gently heat until hot but not boiling. Turn off the heat and leave for 30 minutes.

Remove the flowers and reheat the cream.

In a large bowl whisk together the caster sugar and egg yolks then slowly whisk in the cream.

Divide the mixture between 6 ramekins and place in a roasting tin with enough hot water to come halfway up the sides and bake at 150 C for an hour when the custard should be set..

Remove the ramekins from the water then allow to cool then refrigerate until set, ideally overnight.

Sprinkle on the brown sugar in an even layer and use a blow torch to caramelize the top. Alternatively place under a hot grill quickly. Return to the fridge until cold.
Nutrition Facts
 Lavender Crème Brûlée
Amount Per Serving
Calories 448
Calories from Fat 360
% Daily Value*
Fat 40g62%
Cholesterol 267mg89%
Sodium 46mg2%
Potassium 99mg3%
Carbohydrates 20g7%
Protein 4g8%
Vitamin A 1645IU33%
Vitamin C 0.6mg1%
Calcium 87mg9%
Iron 0.4mg2%
* Percent Daily Values are based on a 2000 calorie diet.