If you like the idea of a French cheese board at your next gathering, this post will tell you all you need to know about choosing a selection of cheeses and what to serve with them.
There is a definite etiquette for serving French cheese at a dinner party, from when to serve and how to cut the cheese, which is very important so you won't offend anyone too.
Bon appétit!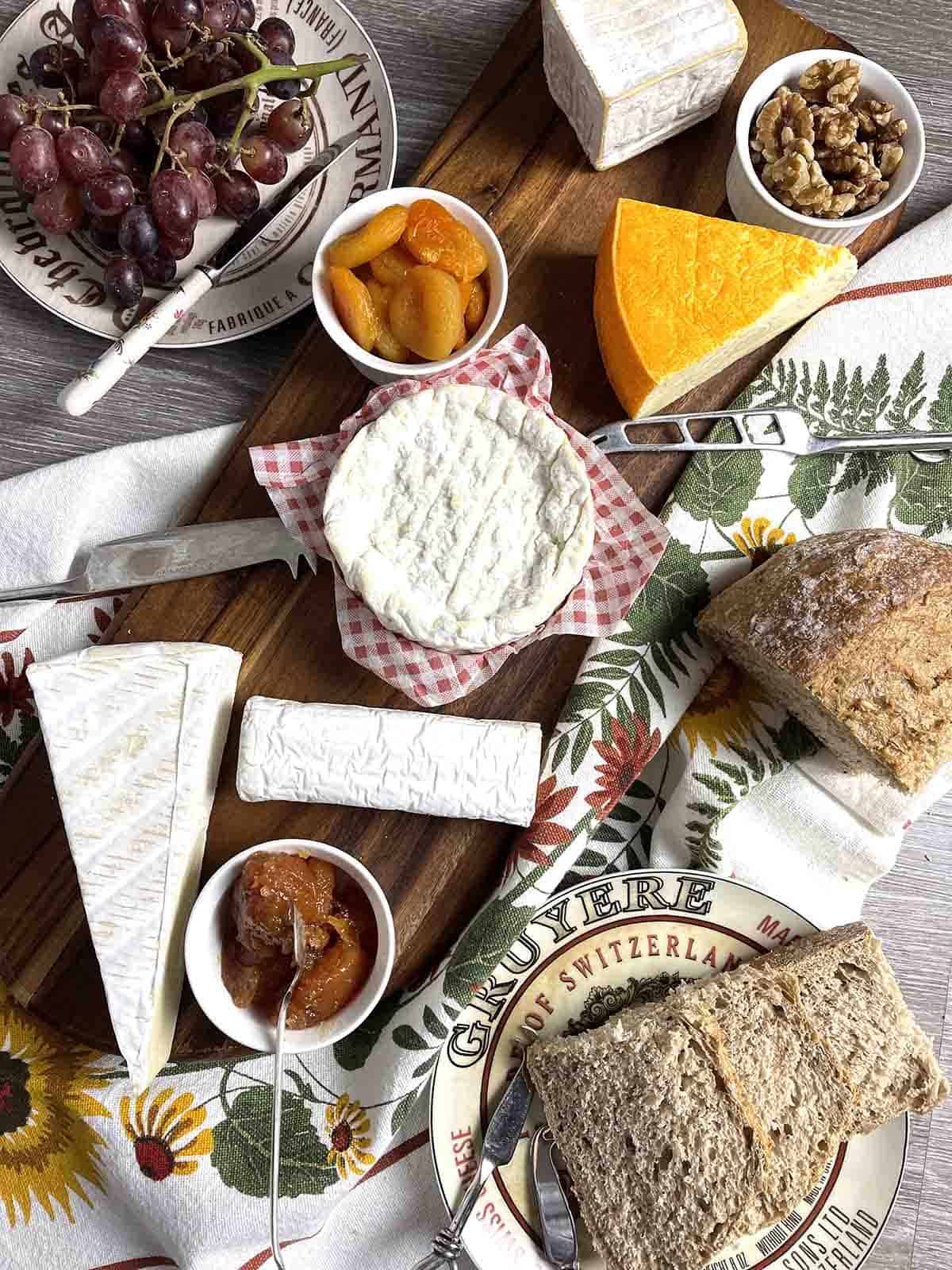 Jump to:
If you have ever been to a restaurant in France or invited to someone's home for dinner, the cheese course is a little different.
For a start, a French cheese board is served after the main course and before dessert.
Often, in a restaurant you will be offered different cheeses and would select three or four to try. These are often eaten with a knife and fork.
For a French dinner party, it's a more casual affair, where you take turns to help yourself. But, don't be fooled, you can easily offend others at the table if you serve yourself incorrectly and cut the cheese wrong.
Of course, in your own home you can serve it as you like!
❤️ Why you will love this dish
Easy and fun to put together.
Prepare in advance.
Perfect for an elegant French get together or a casual lunch with friends.
Plenty of cheese alternatives to choose from.
💙 Save this recipe for later
Did you know? When you see the 💙 on the right hand side you can bookmark this page, to save it for later or share it too.
🥘 Ingredients
Cheese - I've used Port Salut, Camembert, Brie, goat cheese and a blue cheese called Fromager d'Affinois Bleu.
Grapes - for ease, pick seedless grapes. I prefer red grapes with cheese, but you could serve both.
Walnuts - a few walnut pieces add some crunch to the cheese board.
Apricots
Quince paste - this is widely available in French shops, but it's also possible to make your own quince paste at home. It's a sweet and fragrant paste that goes so well with tangy cheeses. It's also known as membrillo paste, as it has its origins in Spain.
Bread - bread is served, rather than crackers, and no butter is required. I like to serve a brown or wholemeal boule loaf.
🥙 Substitutions
Depending on where you live in the world, different French cheeses will be available.
My local French supermarket in France had a general cheese section and then a huge separate deli, full of regional cheeses. Goat cheese was also very popular and there were several cheese farms in the village which supplied local shops and supermarkets too.
However, the average supermarket can usually provide a selection of different French cheeses, and you really only need to provide three.
I would suggest a goat cheese, (also known as chèvre), a soft cheese and a blue cheese to start with.
French goat cheeses
Tomme de Chèvre - this cheese comes from Savoie region from unpasteurised milk.
Picodon - hails from the Ardéche and Drôme regions in France.
Chavignol - crottin de Chavignol, where crottin translates to horse dung, explains its pungent goaty flavour.
Coeur de Chevre - this cheese originates from Poitou Charentes, where I lived. Shaped in a heart, it's smooth, mild and creamy.
Bûcheron  - from the Loire valley, this is a very traditional cheese that often has mushroomy and lemon flavours. It is formed into a large log and sold in slices.
Buche de Chèvre - this cheese log also originates from Poitou de Charentes and is a familiar shape for goat cheese sold around the world.
French soft cheeses
Brie - now often made in other countries, this is one of the most popular cheeses. Mild, creamy and with a distinctive white rind, it's so versatile.
Camembert - very similar to Brie and comes from Normandy. It has a slightly stronger flavour.
Epoisses - one of my absolute favourites, although it will cause a lingering odour in the fridge. This pungent cheese tastes very different to its smell and has strong overtones of honey.
Pont l'Eveque - very similar to Brie and Camembert.
Reblochon - widely available in the UK now, this cheese from Savoie is similar to Camembert and is a staple in Tartiflette, a cheese and bacon potato dish.
Boursin - this cow's milk cheese is from Normandy and has been popular in the UK ever since I can remember. With extra flavourings such as garlic and herbs or black pepper, it's soft, creamy and similar to cream cheese.
Port Salut - mild and creamy, this is a semi soft cheese with an orange rind.
French Blue cheeses
Pavé d'Affinois Bleu - this is a double cream cheese made from pasteurised cow's milk. It's light and delicate. This is a great one to try if you are starting out on blue cheese.
Roquefort - a sheep's milk cheese from Aveyron. This is a creamy and moderately strong blue cheese. I love to use it in a simple sauce for steak crumbled into heated crème fraîche.
Blue d'Auvergne - another cow's milk cheese which resembles Stilton with Saint Agur being a popular brand. .
The printable recipe card with full ingredient quantities and instructions can be found at the bottom of the article.
🍽 Equipment
cheese knives or small vegetable knife
cheese board
🔪 Instructions
Start by unwrapping the cheese and place on a serving board.
💭 Top Tip
Many cheeses are wrapped in plastic and the cheese can have excess moisture, so unwrap the cheese at least 30 minutes before you plan to eat.
Preparing the cheese in advance also means that it comes to room temperature, so that the full flavour of the cheese can be tasted.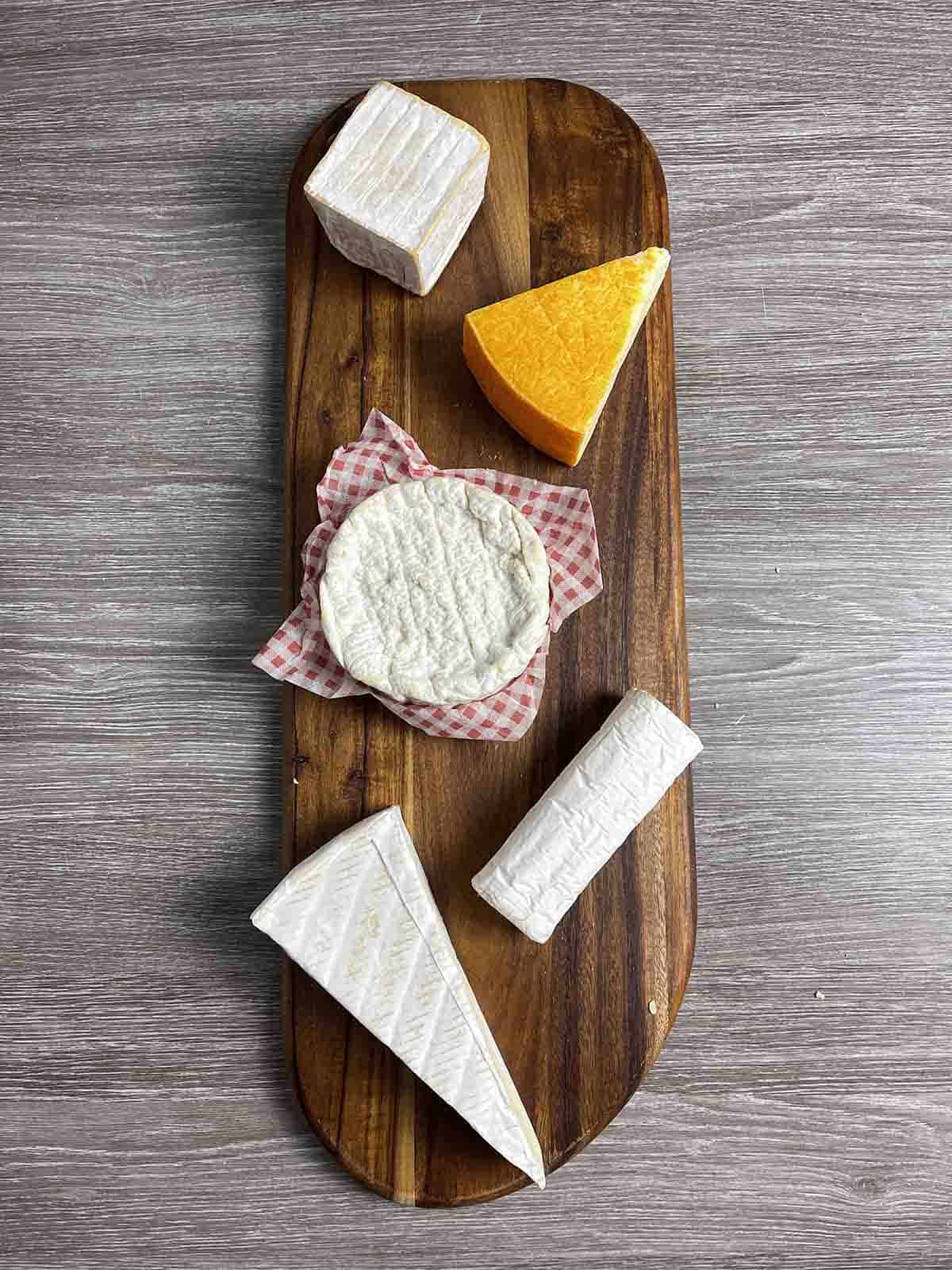 Different cheeses are cut in different ways, but the rules are simple: every piece cut should take a proportion of rind to be fair to everyone else.
So, for a circular cheese like Camembert or a pavé, it is cut in segments, as if you are cutting a slice of cake into even portions.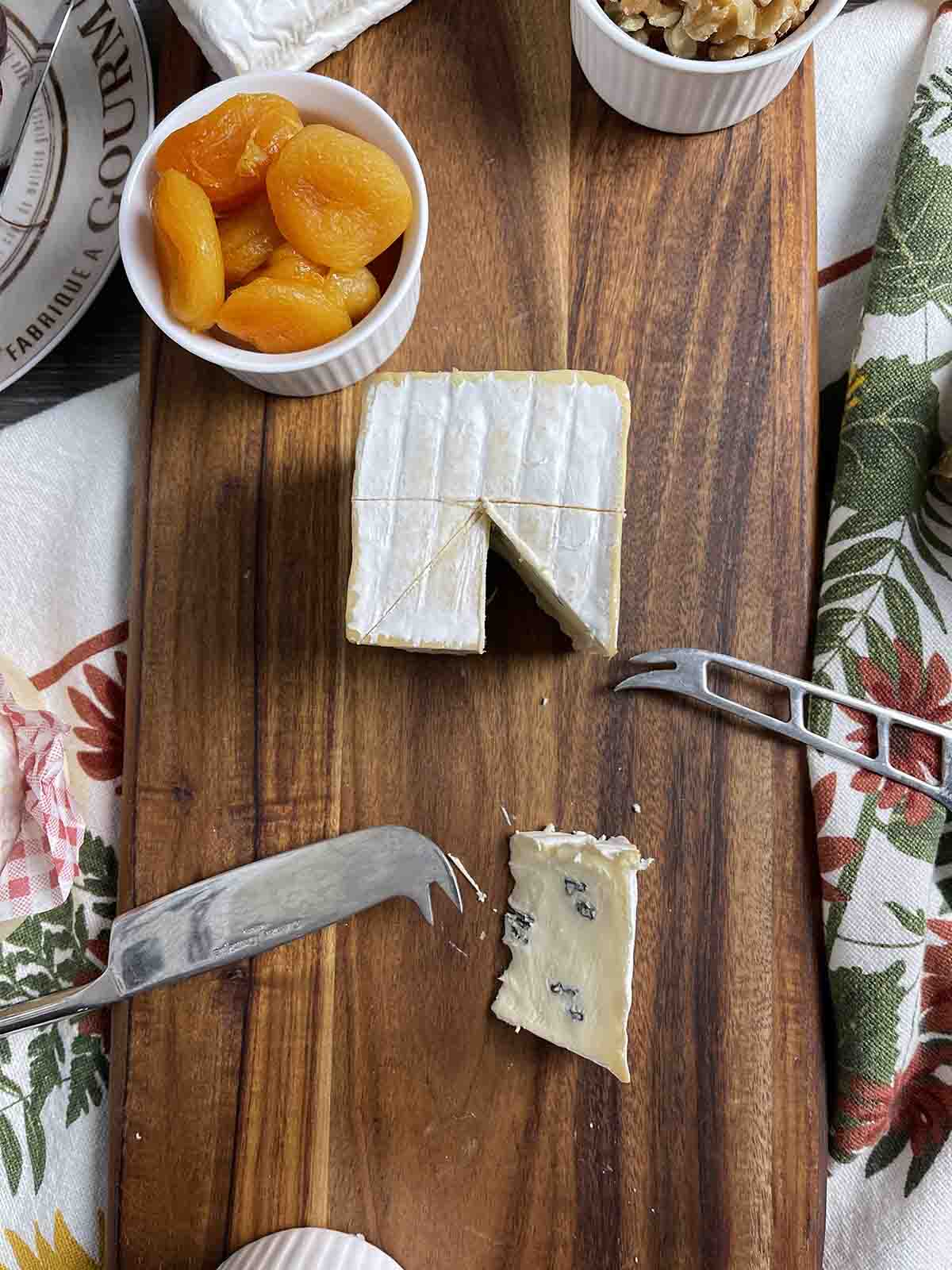 Although it's tempting to aim straight for the pointy end of the Brie, it is more polite to start at the rinded end and cut off an even piece.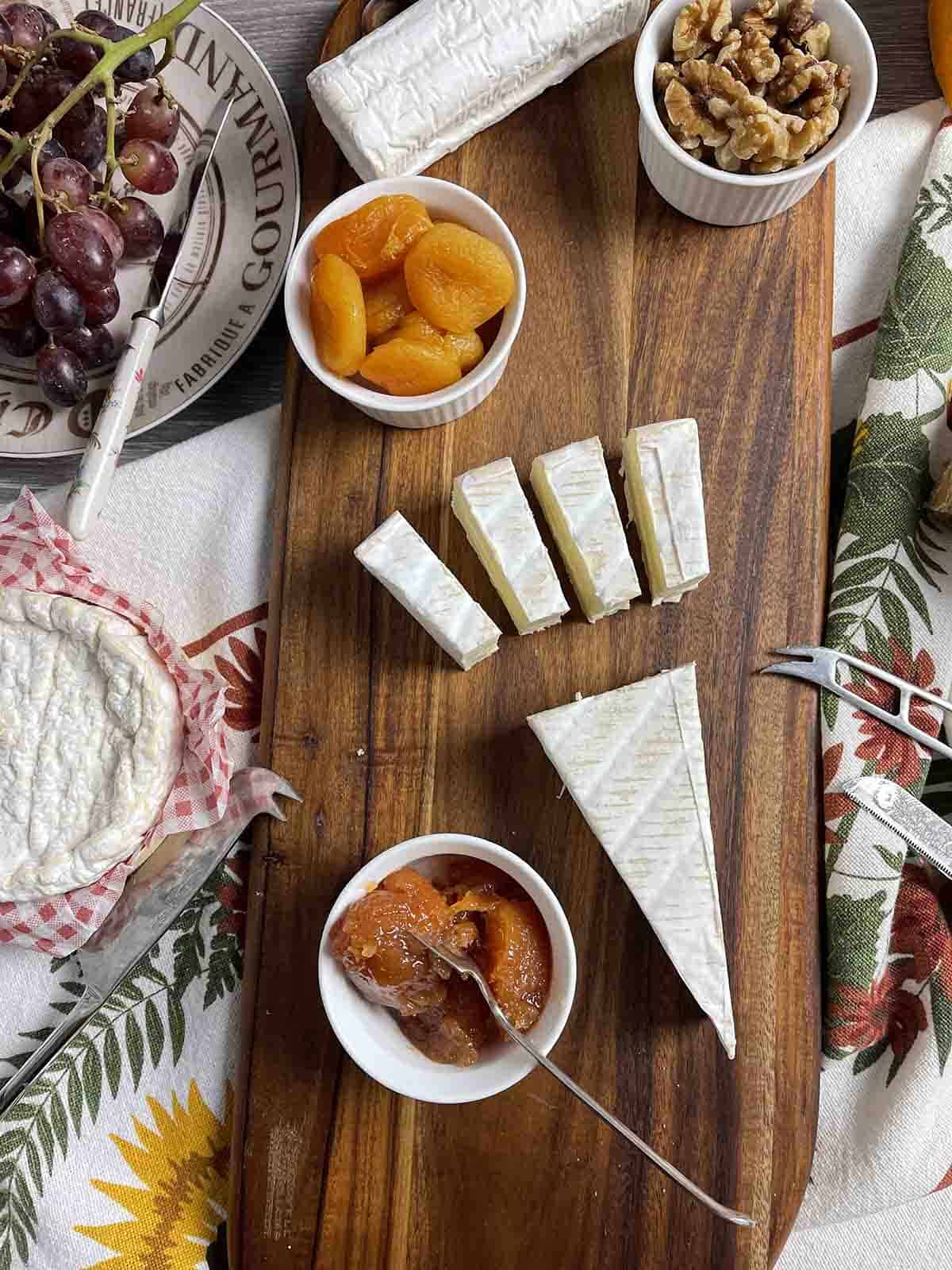 A log of goat's cheese can be simply sliced and cut in half if required.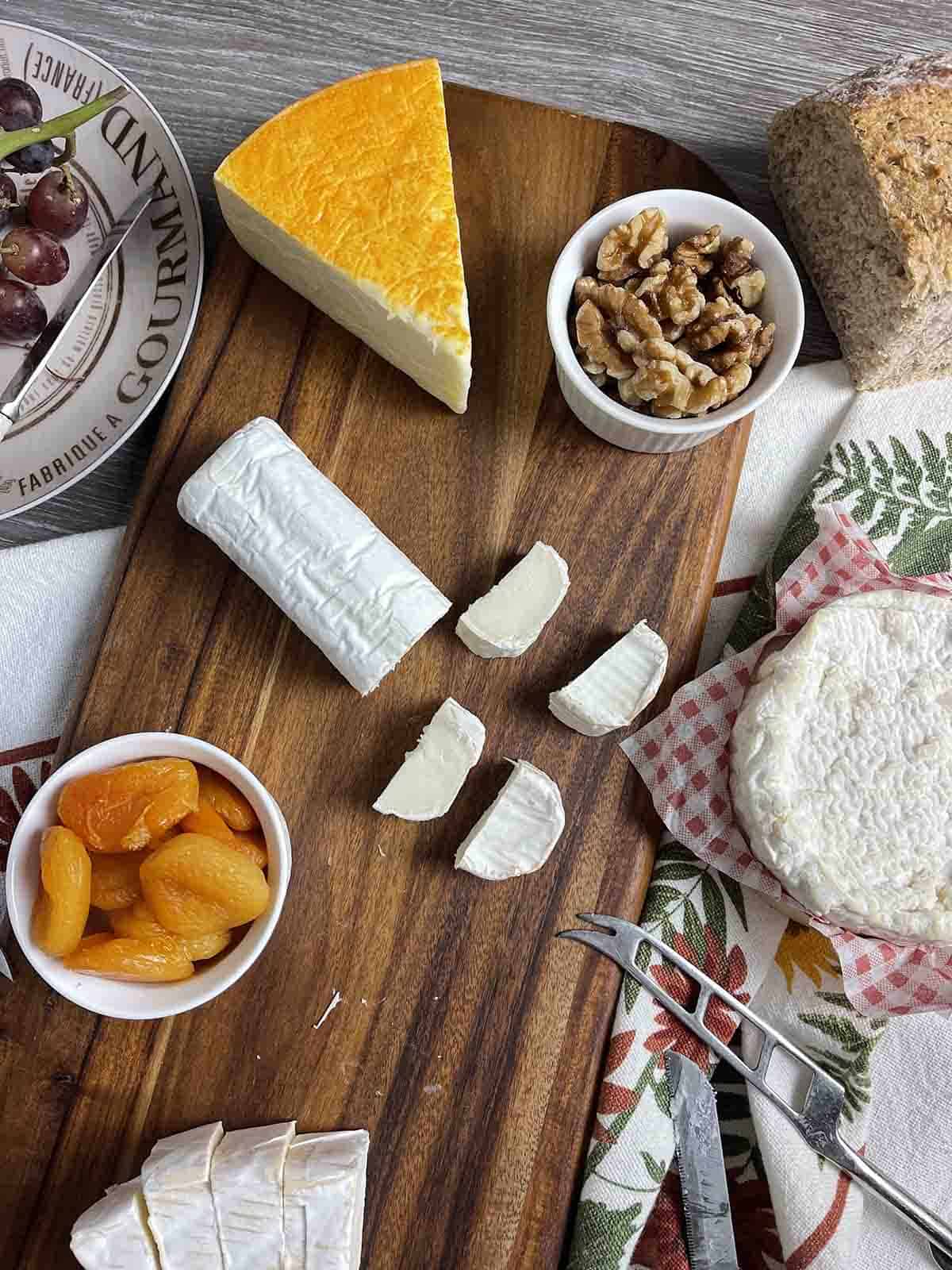 Arrange the nuts and fruit in piles on the board or in little pots.
Place a big bowl of grapes nearby and plenty of sliced bread.
Put quince paste or some chilli jam in a little pot with a spoon.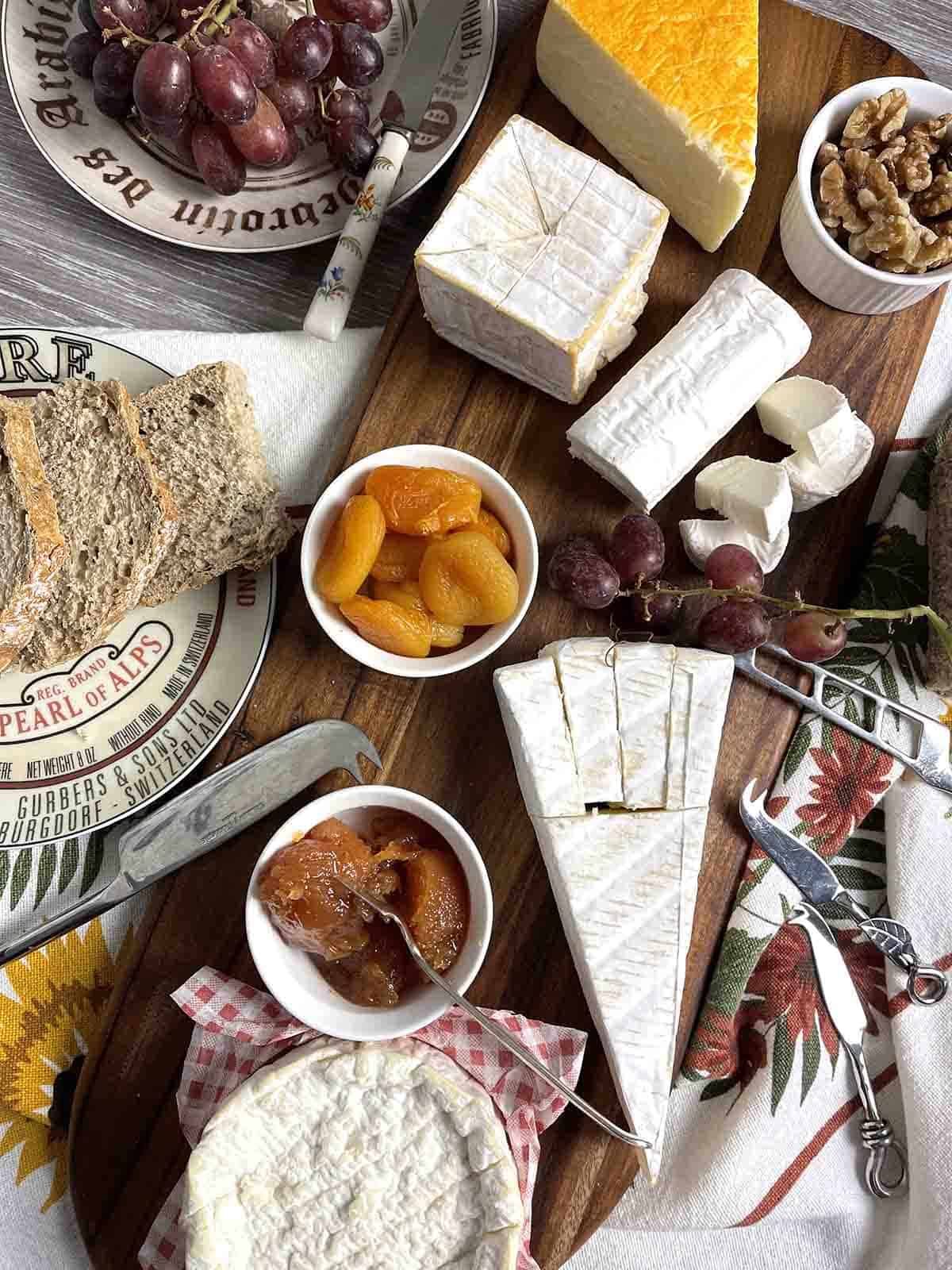 Dig in and enjoy your French cheese board.
Remember not to overdo it though, as dessert is served next!
🥗 Side Dishes
Try some of these dessert dishes.
📖 Variations
Sliced apples or pears.
Pecans, almonds or brazil nuts.
Nut bread or crusty baguette.
Chilli jam or tomato chutney.
🍣 Storage
Refrigerator - wrap in greseproof paper and store in a container in the fridge according to the use by date on the packaging.
Freezer - it's possible to freezeleftover cheese to use in cooking, such as broccoli and cheese soup. Wrap well and freeze for up to a month
🍱 Prepare in Advance
Unwrap the cheese and place on a board for up to an hour before serving.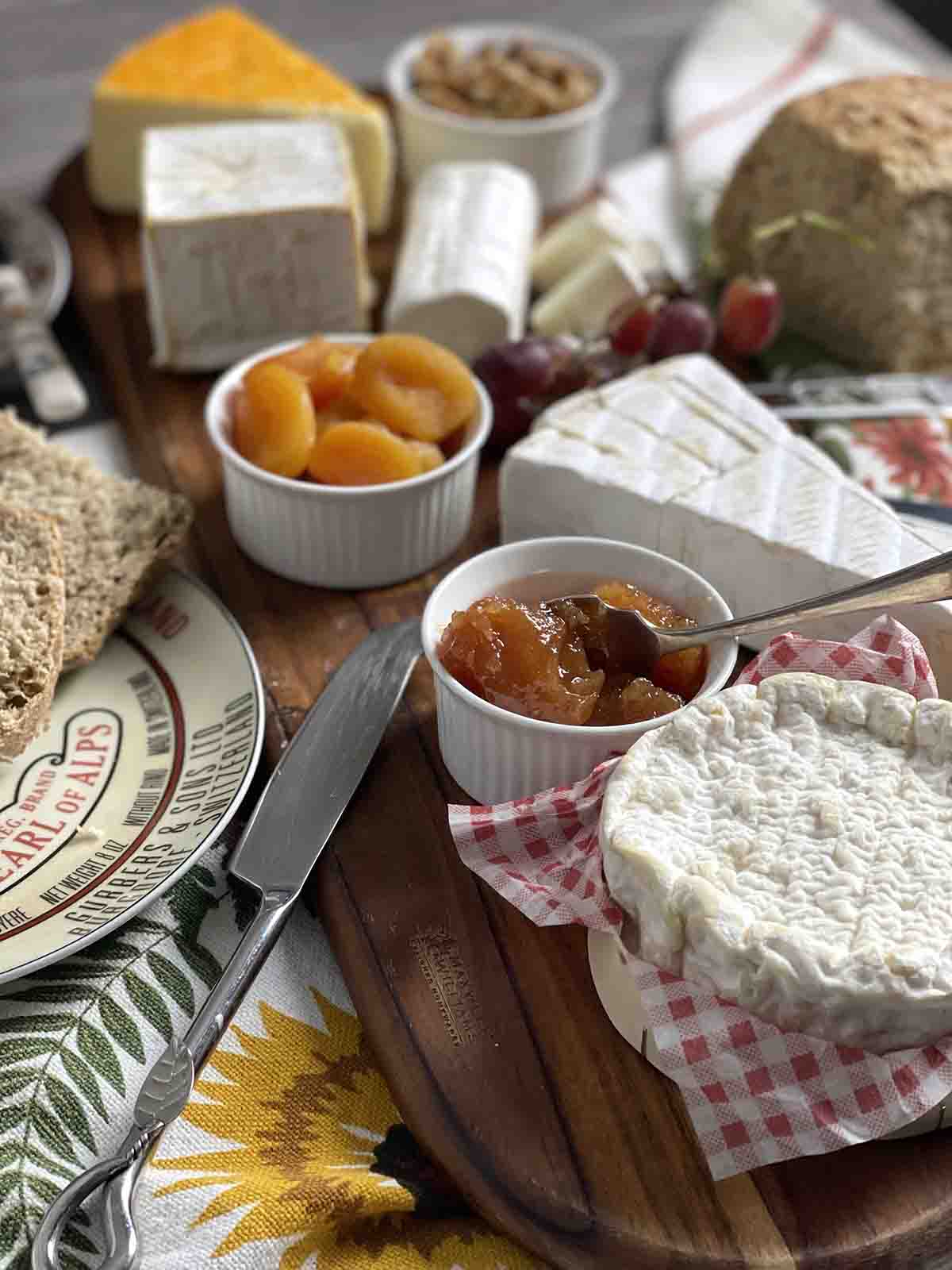 Let me know what you think in the comments or you can post a picture and tag me on Twitter @chezlereve, Instagram @chezlerevefrancais, or Facebook @chezlerevefrancais
More cheese dishes
📋 Recipe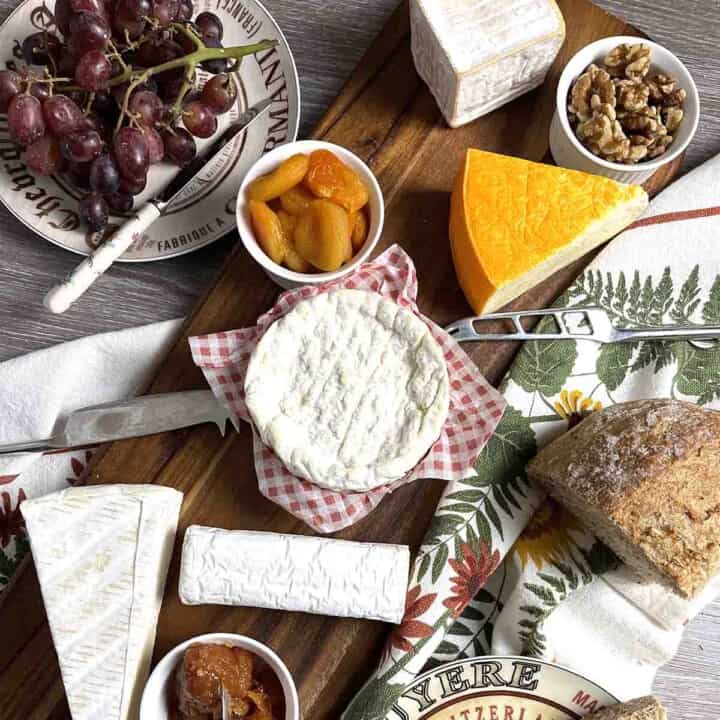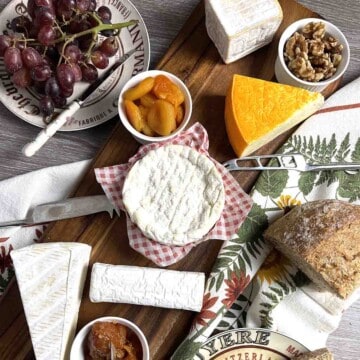 French Cheese Board
Making a French cheese board is essential for a dinner party or perfect for a relaxed lunch or brunch too.
Equipment
cheese knives or small vegetable knife

cheese board
Ingredients
assorted cheese such as Brie, goat cheese and blue cheese

seedless grapes

walnuts

dried apricots

quince paste

1

loaf

crusty bread
Instructions
Start by unwrapping the cheese and place on a serving board.

Arrange the nuts and fruit in piles on the board or in little pots.

Place a big bowl of grapes nearby and plenty of sliced bread.

Put quince paste or some chilli jam in a little pot with a spoon.

Serve.
Disclaimer: The nutritional information provided is approximate and is calculated using online tools. Information can vary depending on various factors, but we have endeavoured to be as accurate as possible.
Detailed instructions for this recipe, including step by step photographs, hints and tips, can be found in the main article.
More dessert recipes
Food Safety
Do not use the same utensils on cooked food, that previously touched raw meat.
Wash hands after touching raw meat.
Don't leave food sitting out at room temperature for extended periods.
Never leave cooking food unattended.
Use oils with high smoking point to avoid harmful compounds.
Always have good ventilation when using gas.
Do you have a question or did you make the recipe? Please leave a rating as it helps other readers to discover this dish. Your name and email are required to avoid spam comments; they are never used for any purpose or shared with third parties.
However, due to spam comments, I do have to moderate each one, so don't worry if you cannot see your comment immediately. I'll publish your comments as soon as I can.