This Brioche bread and butter pudding is seriosuly delicious from the sweet buttery bread to the rich vanilla custard.
Don't forget the rich dark chocolate, caramel sauce and crnchy hazelnuts, which make this dessert so dreamy!
This British dessert with a French twist is also so simple to make, which is great because, trust me, you will be making it regularly!
Bon appètit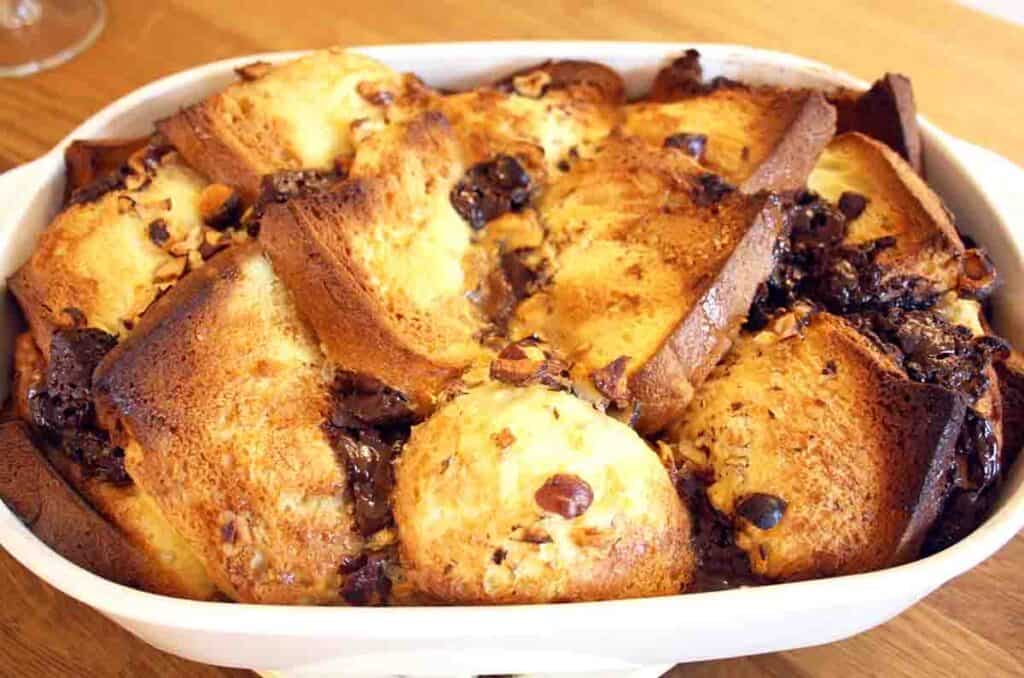 Jump to:
Why you will love this dessert
Normally this pudding was made to use up stale bread and uses dried fruit sprinkled over the custard. May people aren't keen on dried fruit so making the pudding this way everyone will love it!gache bread
really simple to assemble and prepare in advance
store cupboard ingredients with lots of variations
great for using up stale bread
everyone will love this dessert
What are the ingredients?
For this dessert most of the ingredients will already be to hand.
I've used plain chocolate from a bar but chocolate chips are just as good if you have them instead.
There's great crunch from hazelnuts and an added richness from caramel sauce.
I've also used brown sugar and some cinnamon.
For the bread I've used slices of brioche, buttered. If you can't find it in bread form you can often buy it as mini loaves which you can just slice in half.
The bread is baked in a custard made with eggs, sugar, vanilla and milk
How to make Brioche bread and butter pudding
I've used slice brioche bread, buttered and then sliced in half on the diagonal.
Arrange the buttered slices in an ovenproof dish that has been greased.
Traditionally this dish would have raisins in it but I find they can catch and burn in the oven, so I have switched them with chopped hazelnuts.
You could just used ready chopped nuts but I like the proper crunch of bigger pieces.
Sprinkle the nuys around the bread in the dish
Break a bar of plain chocolate (70% solids) into small pieces and and spread over and between the bread.
Make a simple custard mix with the milk, eggs, sugar and vanilla and pour over the bread.
For extra naughtiness I added a few squeezes of caramel sauce.
Sprinkle with brown sugar and cinnamon and bake at 180C/350F for 45-55 minutes until puffed and golden brown.
FAQs
With this version each mouthful will be full of crunchy nuts, melted chocolate, caramel, buttery bread and rich custard.
It's a bit like a pain au chocolate, English style or bread and butter pudding French style! What do you think?
Top tips
try and push the bread down into the custard for a good soak before baking
serve immediately as the pudding will gradually collapse if left to cool
serve as it is or with vanilla icecream or single cream
More desserts to try
📋 Recipe