Estimated reading time: 5 minutes
Homemade naan bread is light and fluffy and you don't need a tandoor oven to make it either, just a frying pan on the hob will do.
Perfect for dipping in your favourite curry or chutney or just served warm with melted butter.
Make a batch of these and freeze them, so they will always be on hand for your next curry!.
Bon appétit!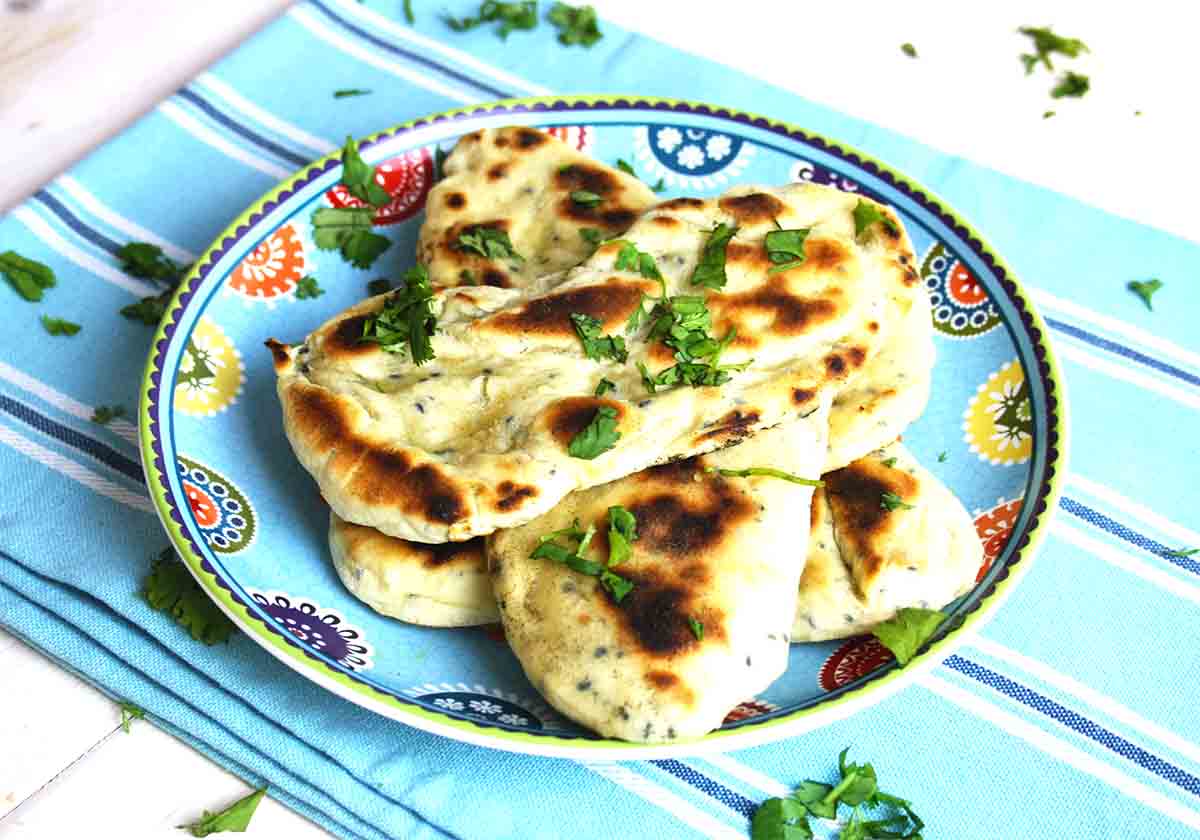 Jump to:
Why you will love this
This is a great bread recipe because it's so easy to do.
It's all made in a food mixer then it can sit and prove in the same bowl. There's no kneading either, so there's no getting sticky and minimal clearing up too.
It's quickly shaped by hand and cooked in minutes in a non stick pan. You still get the lovely charred flavour without watching the grill like a hawk too.
Best of all this naan bread comes out soft and fluffy every time.
Once you've made these you will be hooked and they are so much nicer than anything you can buy.
What are the ingredients?
You don't need any special ingredients for this:
plain or all purpose flour
plain yoghurt or crème fraiche
butter
salt
nigella seeds - you can leave them out if you don't have them or use cumin seeds instead
honey
a sachet of instant yeast
How to make the breads
Empty a sachet of instant yeast into warm water and add the honey. Give it a stir and let it bubble up while you assemble the other ingredients.
Attach a dough hook to a food mixer and add the plain flour, melted butter, crème fraiche, (or yoghurt), salt and nigella seeds.
You can also do this in a large bowl, with a fork or by hand.
Pour in the yeast mixture and mix in the bowl until the dough comes together. Use floured hands to loosen it from the bottom of the bowl and add a little dusting of flour to the bowl edges before replacing the dough.
Cover with a clean cloth and leave in a warm place until doubled in size. This will take about an hour.
Tip the dough out onto a floured board and cut into 8 portions. I find it's easier to make slightly smaller naan bread as they are easier to cook in the pan. With 8 portions we use 4 with our curry and freeze the remainder for next time.
There's no need to roll out the dough. Just flour your hands and press the dough into flat ovals with your fingers.
Heat a non stick pan over a medium to high heat and add two pieces to the pan. They will detach from the bottom after a few minutes and then it's time to flip them over.
Put them on a baking tray as you cook the rest.
At this point, leave to cool if you want to freeze them.
When you are ready to serve brush them with a little melted butter and pop them under the grill for a few minutes. Sprinkle over some chopped coriander to serve.
Recipe FAQs
Top Tips
When shaping the naans check the size of your pan to make sure they fir.
If the dough seems too wet just add a little more flour.
When you reheat them, add some garlic granules to the melted butter and garnish with freshly chopped coriander.
Homemade naan breads make great individual instant pizza bases. Just flatten the breads into circles instead. Great for kids to make their own pizza!
Curry dishes to try with these breads
Spicy Roast Chicken
Coconut and Cardamom Chicken
📋 Recipe