These mini clafoutis are so easy to make with very little effort, but they deliver big on taste, with delicious cherries bursting warm and fragrant from the oven.
Great for preparing in advance and cooking when you need them, their mini size makes them perfect for elegant entertaining. So easy to serve and only 132 calories a serving!
This classic French dessert can be made with lots of other fruit too.
Bon appétit!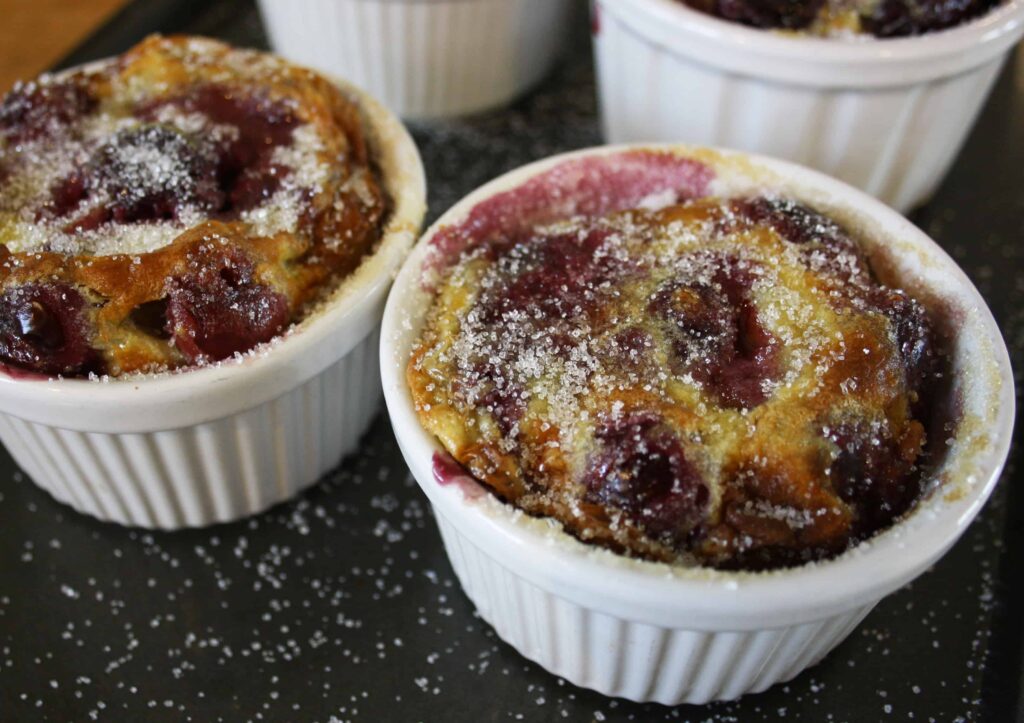 Jump to:
Why you will love this dish
I'm a massive fan of fruit crumbles and desserts but it's often tempting to get carried away and have a big portion! Normally a clafoutis is made as one large tart but I've decided to make mini clafoutis instead. It's much easier to serve for guests and is more elegant too.
This is a really simple dessert too, that makes the most of fresh fruits in season but you can always cheat with frozen or canned and it will taste just as good!
Traditionally this dessert was made with black cherries, like these ones from our trees in France.
🥘 Ingredients
Fresh cherries that have been pitted or use frozen and thawed or canned cherries instead.
Milk - we always have semi skimmed milk and this is fine for this recipe as there is also butter added to the mix for extra creaminess.
Granulated sugar - for lining the ramekins and to serve. You could use caster sugar instead.
Plain flour
Vanilla extract
Butter
Salt
🔪 Instructions
Wash and pit the cherries. Don't be tempted to leave the stones in as your guests won't thank you!
Grease four ramekins with butter and dust with sugar to stop the batter from sticking.
Add about 9 cherries to each, or enough to cover the bottom.
Make the batter by beating the eggs, salt, sugar and vanilla together.
Add the flour and beat well, then the melted butter and milk.
Pour the batter over the cherries.
⏲️ Baking time
Bake in a preheated oven at 180C/350F/160FAN/Gas4 for about 15-20 minutes, until well risen and golden. To test insert a skewer until it comes out clean. Sprinkle over some granulated sugar to serve.
📖 Variations
FAQs
I prefer to enjoy these warm from the oven, but you can leave them as a cold dessert sprinkled with extra icing sugar.
💭 Top tip
If you use a vanilla pod for making custard or ice-cream then don't discard it. Simply place it in the sugar jar and when you are making desserts there is already the gorgeous aroma of vanilla embedded in the sugar.
More French desserts
📋 Recipe