This French seafood stew, or blanquette, is a light and simple dish that is very popular in French restaurants.
The creamy sauce holds an assortment of fish and shellfish, herbs and vegetables and can be varied according to your own taste.
Delicious as a lunch or dinner, and quite elegant enough for entertaining, you will be surprised at how easy this dish is.
And the best bit? It's on the table in 30 minutes too!
Bon appétit!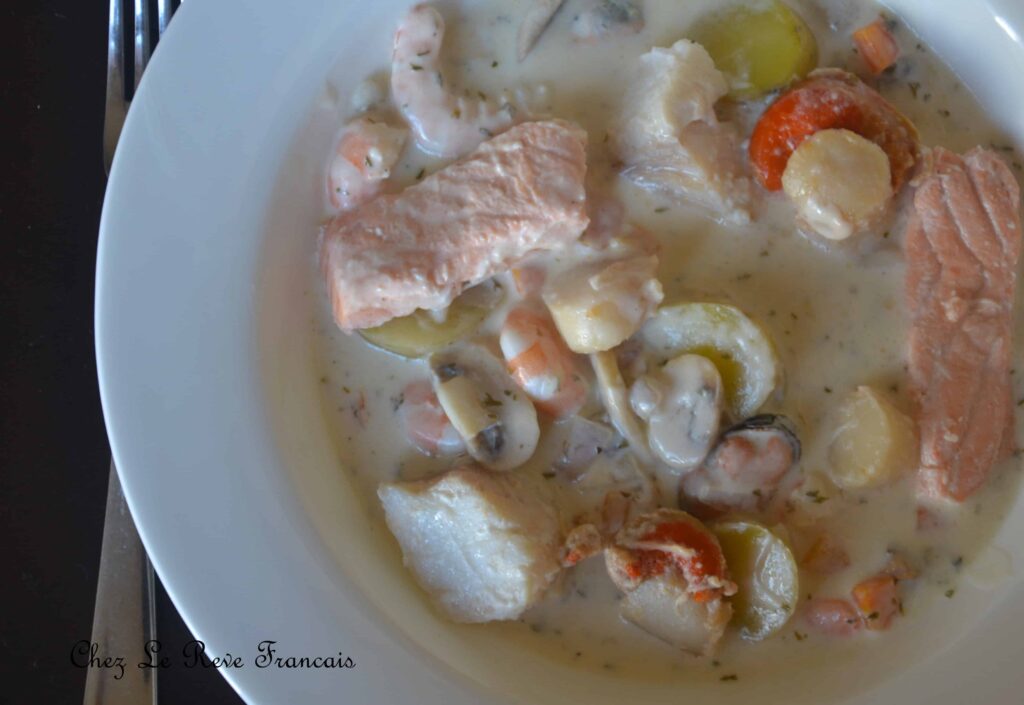 Seafood is a big part of French cooking and this seafood is very typical of dishes served in coastal towns, such as La Rochelle, near to where I used to live.
It's an easy dish where you can really use any fish that you have to hand, that is in season and is local to you. For me, it's great for using up all the half open bags of frozen fish in the freezer, so there isn't any waste!
This is not a classic bouillabaise, with a tomato base, but is more focussed on vegetables too. The mushrooms go surprisingly well and I've also seen chestnuts used too. And, the addition of potato makes this dish more filling and totally satisfying too.
Jump to:
🥘 Ingredients
Use frozen fish if you like, just defrost thoroughly before use.
Drain on kitchen paper to reduce excess moisture which will turn the sauce watery.
Salmon - fillets.
Fish - white fish for contrast, such as cod.
Scallops - cleaned, preferably with the coral.
Prawns - cooked or raw king prawns, deveined and shell removed.
Mushrooms - white or chestnut mushrooms
Carrot
Shallots
Potatoes - small new potatoes.
Crème fraîche
Milk - whole milk or semi skimmed.
Butter
Salt
Pepper
Dill- fresh dill.
Bay leaf
See recipe card for quantities.
🍽 Equipment
Large shallow pan
Saucepan with lid
Wooden spoon
Sharp knife
🔪 Instructions
Start by preparing the salmon and white fish.
First, run your fingers over the surface to see if there any obvious bones. Pull them out with your fingers or use tweezers.
Remove any skin by placing the fillets skin side down on a chopping board.
Carefully cut into the area between the skin and flesh until you can hold the skin close to the board. Now use the knife to gentlyslide back and forth, until you get to the end.
Cut each salmon and white fish fillet into 4.
For large scallops, cut them in half slice the scallops into 2 rounds. well.
Prepare the vegetables.
Finely chop the shallots, slice the mushrooms and dice the carrots.
Slice the potatoes into 1 cm pieces.
Bring a saucepan of water to the boil and add the potato slices.
Cook the potatoes for around 8 minutes until tender then drain.
Heat the milk in a deep frying pan with the bayleaf.
When the milk has come to a simmer add the fish chunks gently and poach for 3 minutes and then add the scallops for another 2 minutes. If you are using raw prawns, rather than cooked ones then add themu could add raw prawns at this point.
Heat the butter and fry the shallots in another large pan along with the carrots and mushrooms for about 5 minutes until tender. Tip in the fish poaching liquid and carefully spoon in the fish.
Add the potatoes along with the cooked prawns if using.
Stir in the crème fraîche and chopped dill and heat gently.
Season to taste and serve.
🥗 Side Dishes
Crusty bread - to mop up the juices.
Green salad
Substitutions
Cod - use pollack, hake, haddock or any other white fish, however, chukier pieces are less likely to brake up than thinner fillets.
Potatoes - use old potatoes instead. Peel and cook then drain and slice, to avoid them breaking.
📖 Variations
Fish - use cooked mussels, monkfish chunks or smoked haddock for different flavours and textures.
Vegetables - vary the vegetables by adding sliced fennel, green beans, courgettes or broad beans.
Storage
Refrigerator - store cooled and covered in the regrigerator for up to 3 days.
Freezer - not suitable for freezing
To reheat - gently reheat in a frying pan over a medium heat.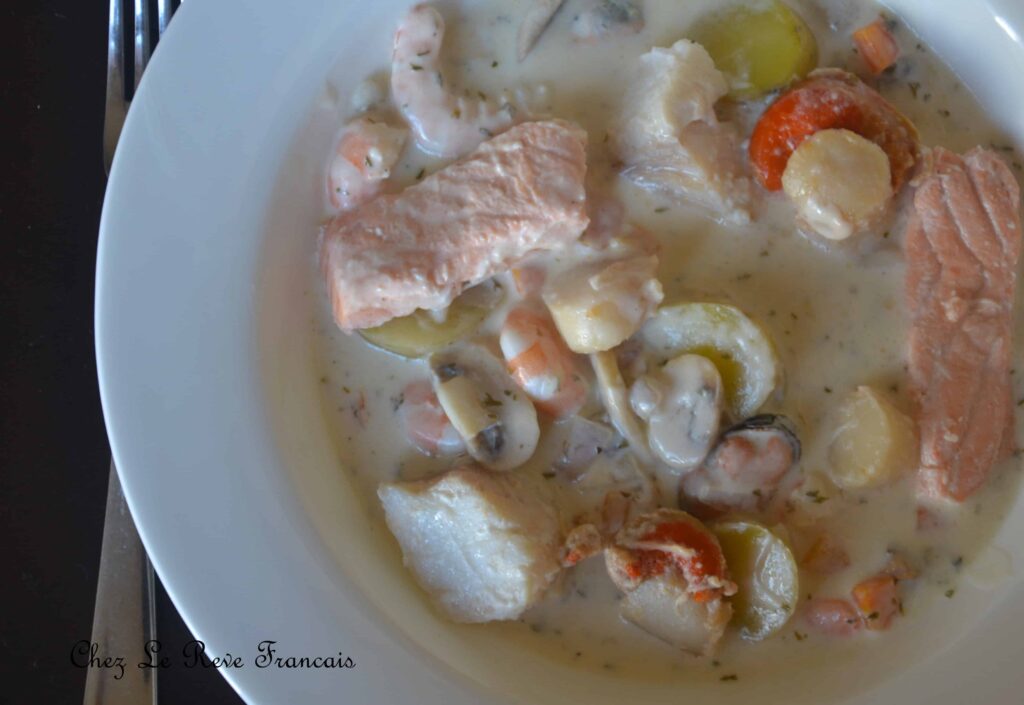 Let me know what you think in the comments or you can post a picture and tag me on Twitter @chezlereve, Instagram @chezlerevefrancais, or Facebook @chezlerevefrancais
More seafood recipes
Fish Pie with Scalloped Potatoes
📋 Recipe
Food Safety
Do not use the same utensils on cooked food, that previously touched raw meat.
Wash hands after touching raw meat.
Don't leave food sitting out at room temperature for extended periods.
Never leave cooking food unattended.
Use oils with high smoking point to avoid harmful compounds.
Always have good ventilation when using gas.
Thank you for taking the time to leave a comment. I love to read them and answer your questions. However, due to spam comments, I do have to moderate each one, so don't worry if you cannot see your comment immediately. I'll publish your comments as soon as I can.