I got the inspiration for this recipe of Blanquette de la Mer from our regular visits to La Rochelle. I always have some sort of seafood when we go as it is always good value in the restaurants there. For a bit more information have a look at my previous post; Lunch in La Rochelle Lunch in La Rochelle. The fish dishes always seem to be served with rice so I was interested in this dish for a blanquette as it uses new potatoes. The dish also contains mushrooms, which I wouldn't normally put with fish, although I have been served cod locally with chestnuts so I suppose anything goes!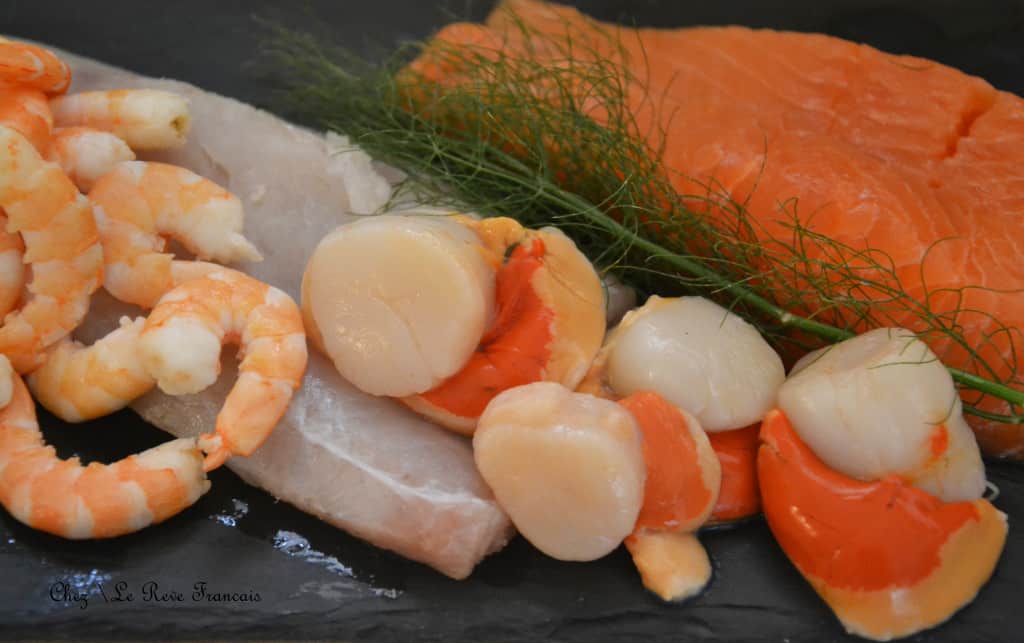 I used frozen fish for this recipe as it is often cheaper but make sure that everything is defrosted before you start. I used cooked prawns but raw ones will only take a couple of minutes, so use what you have. Cut each salmon and white fish fillet into 4, slice the scallops into 2 rounds. This dish was originally served with a few mussels strewn across so you can add a few cooked and defrosted ones if you have them. Monkfish and squid also work well.
Prepare the vegetables.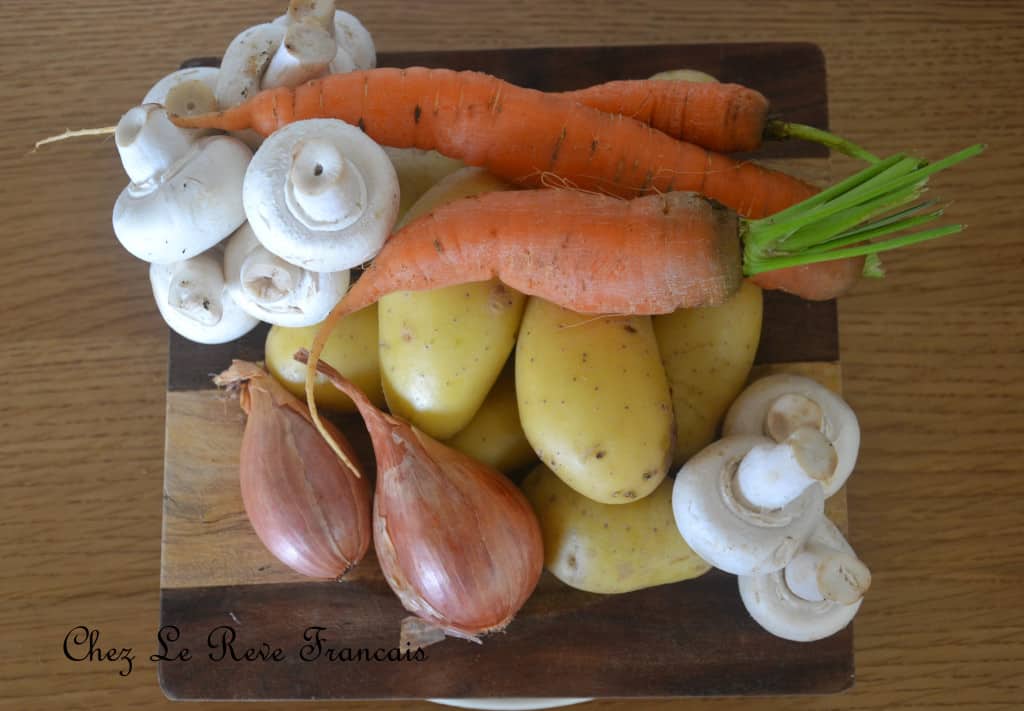 Finely chop the shallots, slice the mushrooms, dice the carrots and slice the potatoes.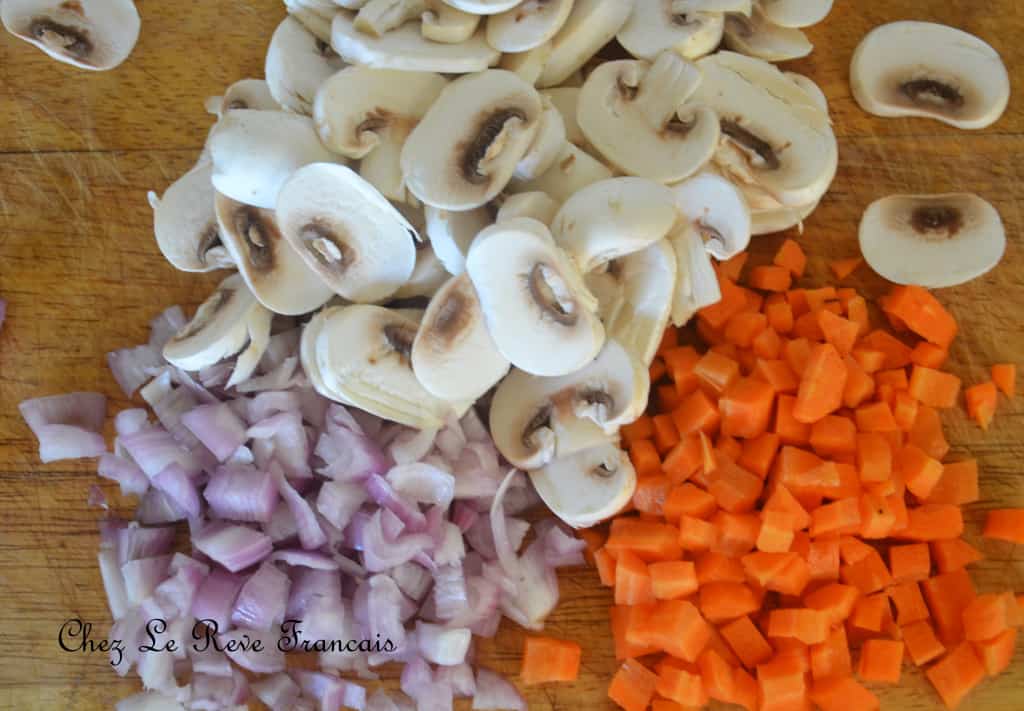 Cook the potatoes for around 8 minutes until tender.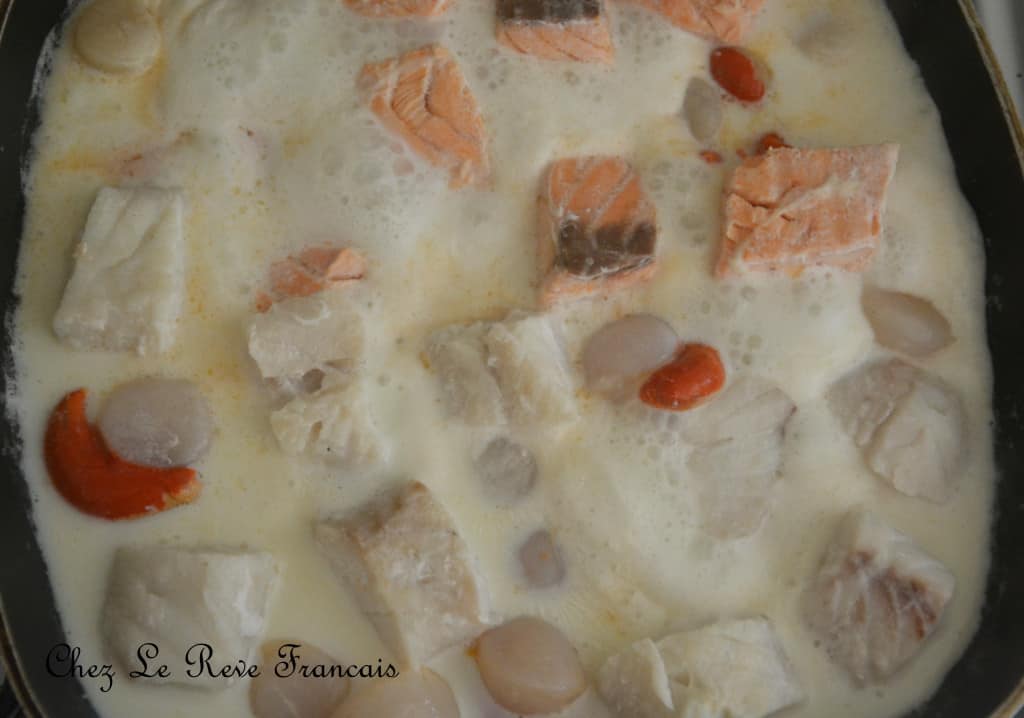 Heat a pint of milk in a deep frying pan with a bayleaf and when simmering add the fish chunks gently and poach for 3 minutes and then add the scallops for another 2, (you could add raw prawns at this point).
Heat some butter and fry the shallots in another large pan along with the carrots and mushrooms for about 5 minutes. Tip in the fish poaching liquid and carefully spoon in the fish. Drain the potatoes and add them along with cooked mussels or prawns if using.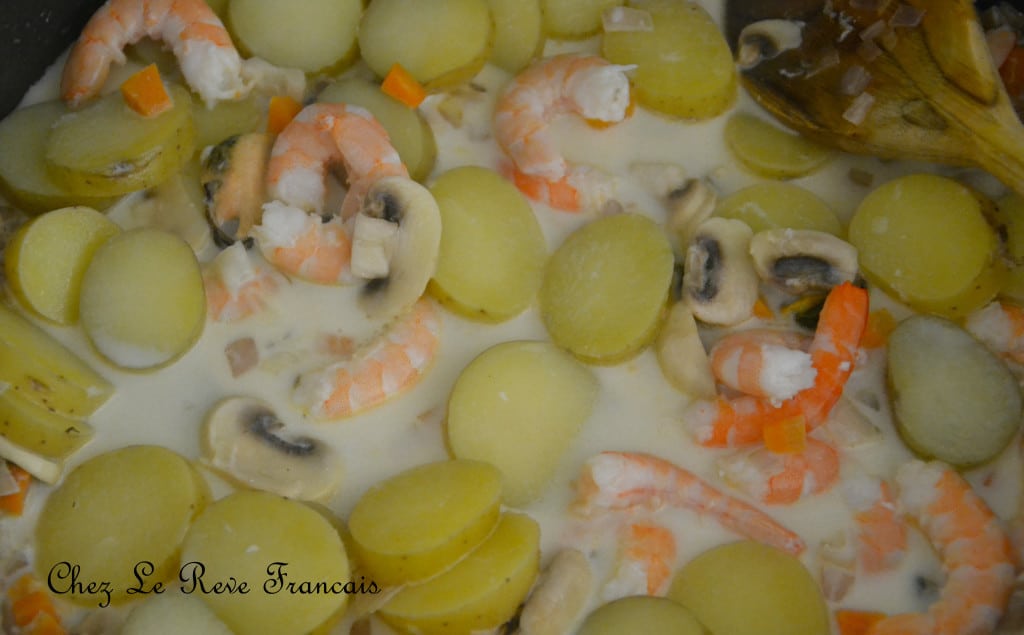 Stir in some crème fraîche and heat gently with some chopped dill. Season to taste and serve.
This is not a traditional blanquette, where the meat or fish is poached in stock but my easy version of it.
I hope that you enjoy my easy quick version! Tell me what you think.
Try this with a green salad and crusty bread to mop up the juices. Great for an easy entertaining dish!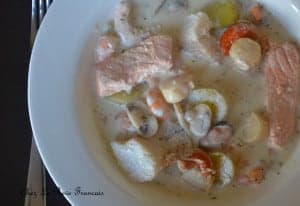 Blanquette de la Mer
An easy and light entertaining dish made with salmon, white fish , scallops and prawns in a white sauce cooked with potatoes, carrots and mushrooms.
Ingredients
300

g

about 2 fillets salmon, each piece quartered

300

g

white fish such as cod

haddock or plaice, quartered

8

scallops

halved

16

cooked prawns

10

sliced mushrooms

1

large carrot

peeled and diced

2

shallots

chopped

8

sliced new potatoes

4

tablespoon

creme fraiche

butter

seasoning

1

tablespoon

chopped fresh dill

1

bayleaf
Instructions
Cook the potatoes in boiling water for about 8 minutes until tender.

Heat the milk with the bayleaf in a large shallow pan with the salmon and white fish and simmer for about 3 minutes and then add the scallops. Turn off the heat.

In a separate pan heat the butter and gently soften the shallots, carrots and mushrooms.

Add the fish and cooking liquid, drained potatoes and cooked prawns.

Stir in the creme fraiche, dill and season to taste.
Notes
This is also traditionally served with monkfish so use what fish is available.
Cooked or raw prawns, squid and mussels all work well.