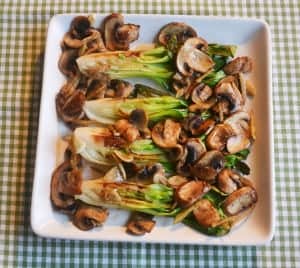 Pak Choi with Garlic and Ginger
Griddled pak choi with garlic, ginger and mushrooms
Heat oil in a pan and fry the mushrooms with the garlic and ginger for a few minutes until coloured.

Use a pastry brush to lightly coat the stem end of the pak choi in oil and place on a pre-heated griddle pan.

After a couple of minutes turn the pak choi.

Serve the pak choi on a platter and sprinkle the mushrooms over.

Drizzle with sesame oil.