Treacle Tart. If someone asks me what my favourite dessert is it has to be a treacle tart. It has to be served warm and preferably with a large dollop of clotted cream. My husband has to have it with custard and my mum prefers ice cream. At this point I have to say that with treacle tart I'm not a fan of sharing. I am quite happy to secretly eat it, Nigella style, in huge portions until the treacle tart is no more. There, I've confessed, my very dirty treacle tart secret!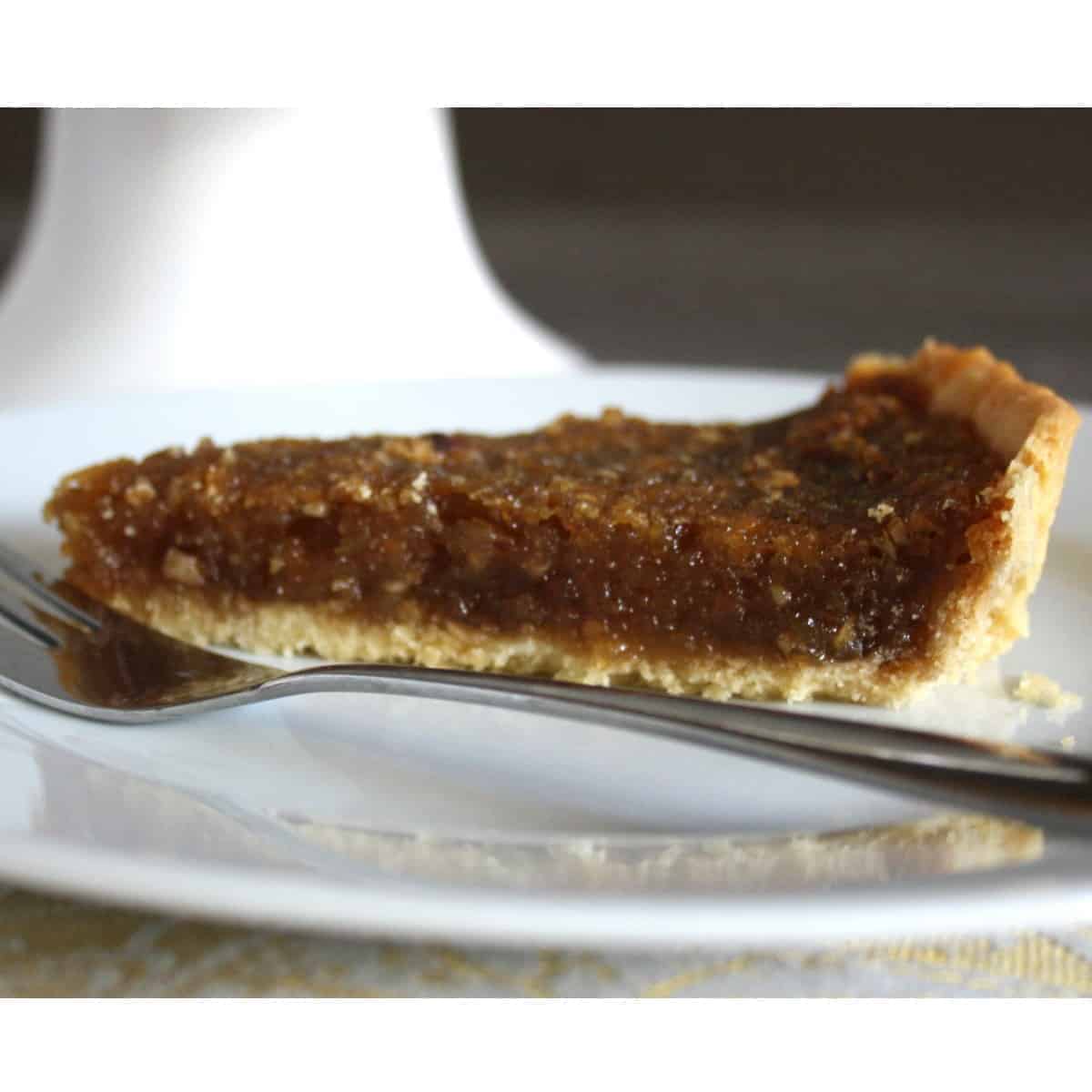 What are the ingredients?
This tart used pantry staples so you can make it when you don't have time to shop for extra ingredients.
For the pastry
225 g plain/all purpose flour
70 g butter
60 g lard
1 beaten egg
There is no sugar in the pastry as the filling is already sweet. The addition of lard makes the pastry melt in the mouth.
For the filling
2 beaten eggs
1 tsp ginger powder
zest of a lemon
60 g chopped pecans
140 g fresh white breadcrumbs
500 g golden syrup
The breadcrumbs have to be fresh in that a packet of breadcrumbs for breading cannot be used as a substitute. The breadcrumbs can easily be made from stale bread and frozen. When I have leftover bread I blitz in the food processor then add to a bag in the freezer. It's useful for stuffings or toasting and using as breading for fish, chicken or vegetables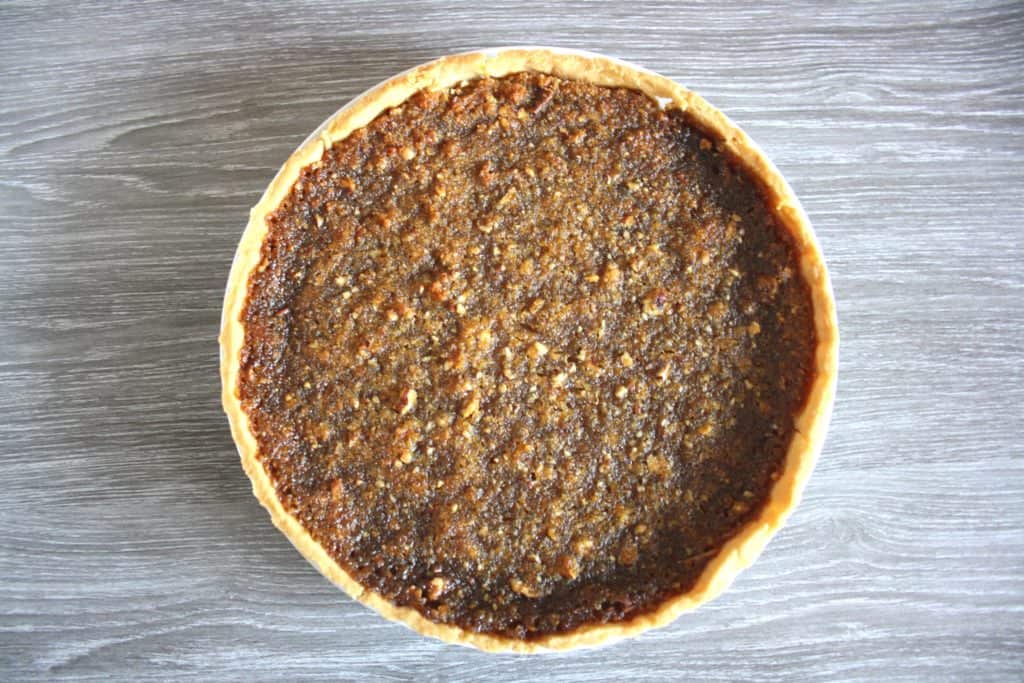 How to make the Treacle Tart
Many tarts have a rich sugary pastry but I think that treacle tart is rich enough so my pastry is a classic butter and lard mix that is slightly more fat to flour. My grandma always made her pastry this way but in her day margarine was the norm. Like me, she couldn't stand getting messy hands so she made her pastry with a fork.
I prefer to put the the lard, butter and flour in the food processor, pulse until it gets to the breadcrumb stage and then add a little beaten egg before bringing it together to a dough by hand. This pastry is very melting, which means it can be difficult to work with. Patch it if you need to but be careful not to leave any gaps or the sugar in the filling will weld the pastry to the tin.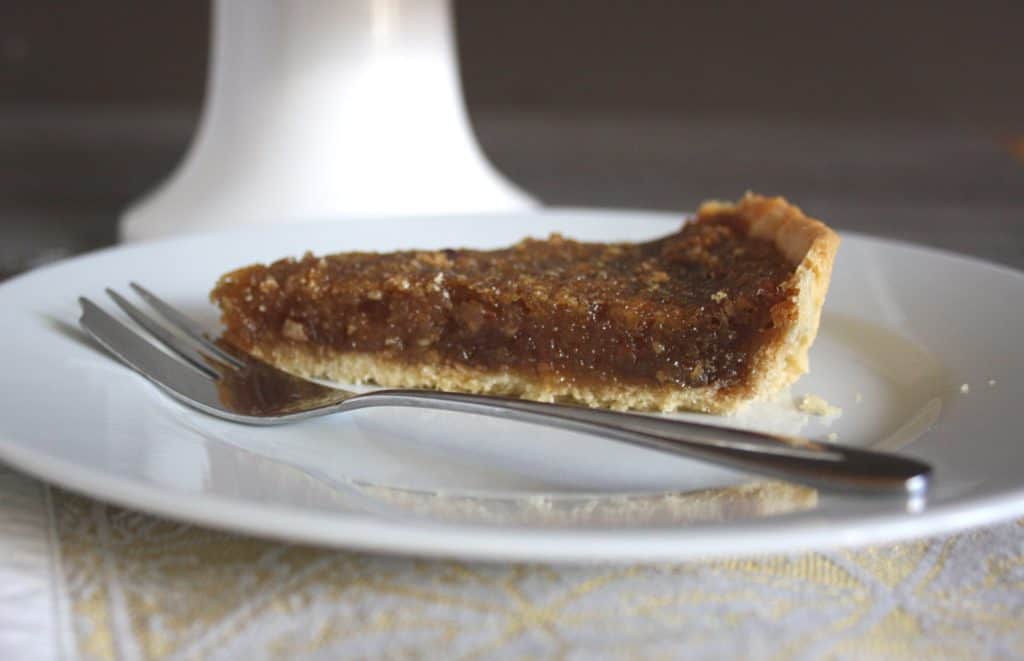 Line a loose bottom tart tin with the pastry and lightly prick with a fork before refrigerating for 20 minutes. Put the tart tin on a baking sheet and bake blind while you make the filling. If you get cracks when you remove the paper use a pastry brush and the remaining beaten egg to paint on to the base before cooking for a few minutes more.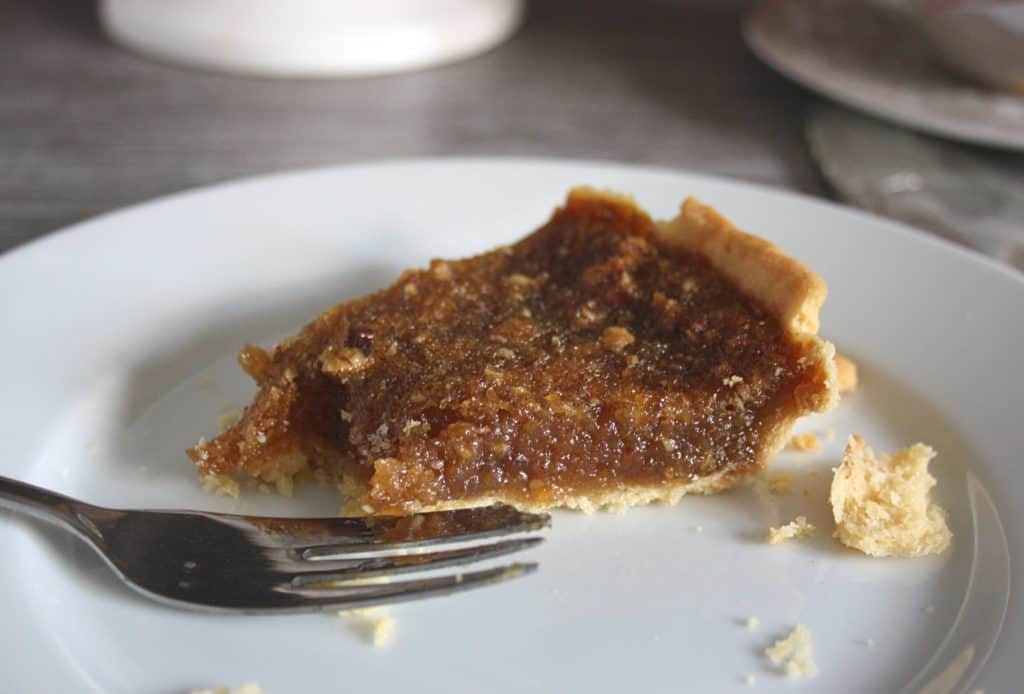 It's really easy to be fooled by the 'treacle tart' title of this dish because there is no actual treacle in the dish! In fact, I hate treacle, the mere smell of it turns my stomach, but the magic combination of golden syrup and breadcrumbs is truly irresistible. Just put the breadcrumbs in a large mixing bowl with the lemon zest, pecans and the ginger. To make it easier to work with the syrup, stand the tin of golden syrup or bottle in a bowl of warm water before measuring out. Add to the breadcrumbs and mix to combine. Place the filling into the pastry case and spread out. Bake for 40 minutes at 170 C .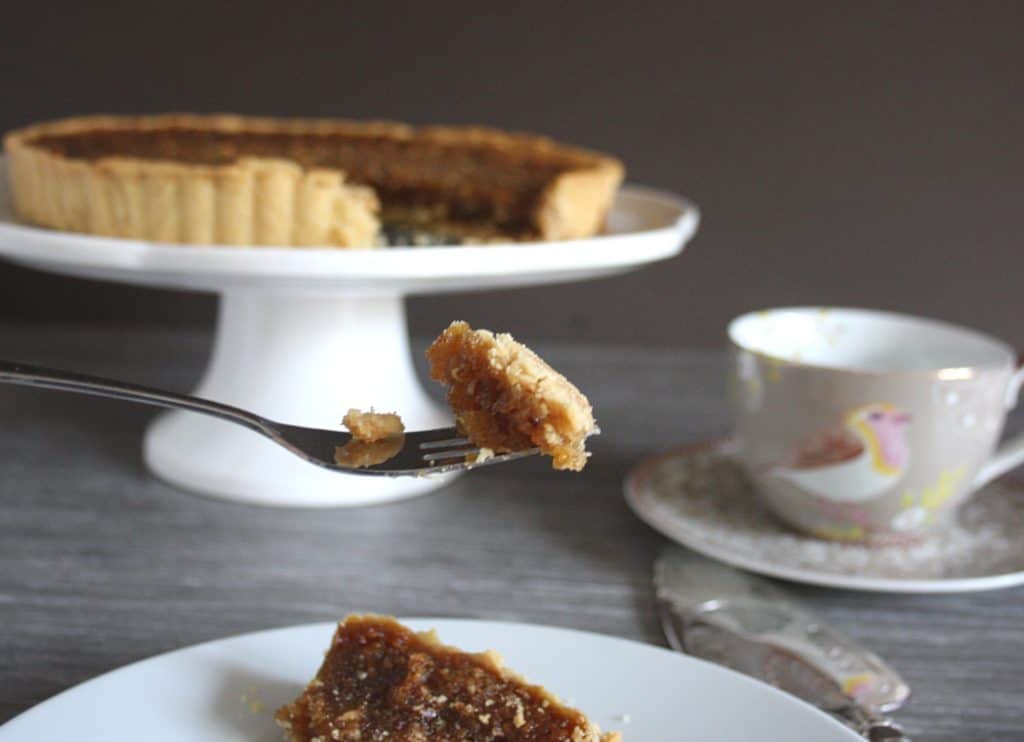 Lots of treacle tarts have a lattice top but the filling is the best part so why mess about? By the time I've put the filling in the case I just want to put it in the oven and get ready to eat it! It cuts better if you leave it in the tin for a while if you can.
Variations
use honey or maple syrup as a substitute for golden syrup
swap the pecans for walnuts, hazelnuts, brazil nuts or macadamias
change the ginger powder for chopped preserved stem ginger
use wholemeal or brown bread crumbs
More dessert recipes to try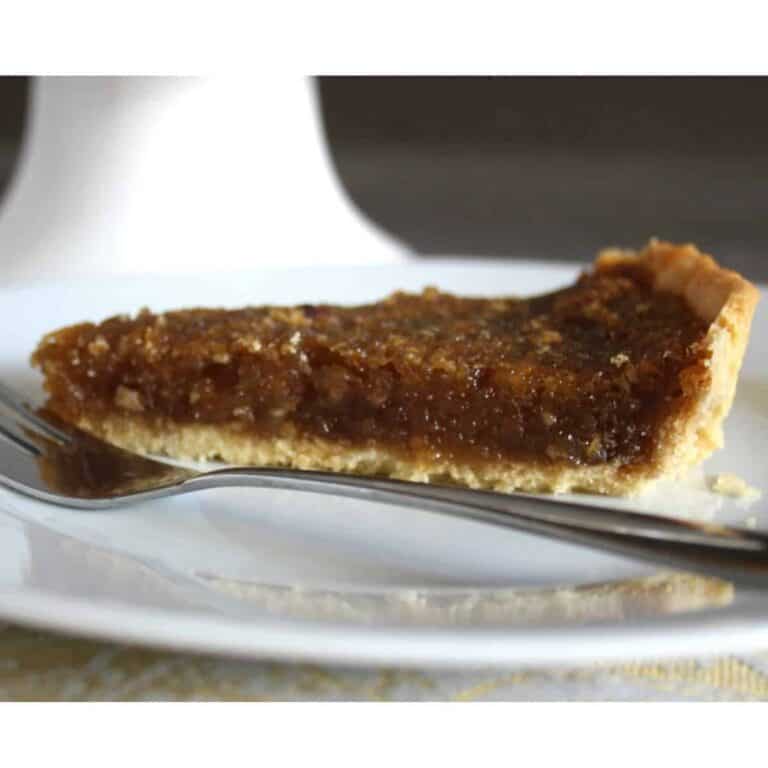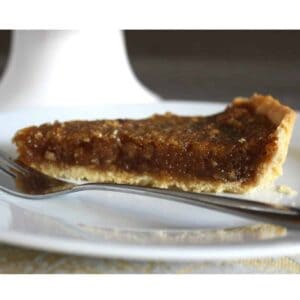 Treacle Tart with Ginger and Pecans
Treacle Tart gets a festive makeover with the addition of ginger, lemon zest and chopped pecans. Delicious served warm with cream!
Ingredients
225

g

plain flour

70

g

butter

60

g

lard

1

egg

beaten

For filling

2

eggs

beaten

1

tsp

ginger

1

lemon zest of

60

g

pecans

chopped

140

g

breadcrumbs

fresh white

500

g

golden syrup
Instructions
Make the pastry by combining flour, lard and butter in a food processor until the mixture resembles breadcrumbs. Add enough beaten egg to make a dough and roll out to line a 23 cm tin. Lightly prick the bottom and chill for 20 minutes.

Bake the pastry cases blind on a baking sheet at 200° for about 15 minutes until the edges are golden. Remove the paper and bake for a further five minutes until the base is golden.

Put the breadcrumbs in a large mixing bowl with the lemon zest, pecans and the ginger. Stand the tin of golden syrup or bottle in warm water and then measure out the syrup. Add to the breadcrumbs and mix to combine.

Place the filling into the pastry case and spread out. Bake for 40  minutes at 170 C .
Nutrition Facts
Treacle Tart with Ginger and Pecans
Amount Per Serving
Calories 513
Calories from Fat 135
% Daily Value*
Fat 15g23%
Cholesterol 80mg27%
Sodium 216mg9%
Potassium 134mg4%
Carbohydrates 85g28%
Protein 8g16%
Vitamin A 684IU14%
Vitamin C 4mg5%
Calcium 70mg7%
Iron 3mg17%
* Percent Daily Values are based on a 2000 calorie diet.
Food safety
We sometimes take for a granted that we have years (or decades) of cooking experience, that the average visitor may not. Add to, or remove from, the list below with health and safety tips.
Cook to a minimum temperature of 165 °F (74 °C)
Do not use the same utensils on cooked food, that previously touched raw meat
Wash hands after touching raw meat
Don't leave food sitting out at room temperature for extended periods
Never leave cooking food unattended
Use oils with high smoking point to avoid harmful compounds
Always have good ventilation when using a gas stove