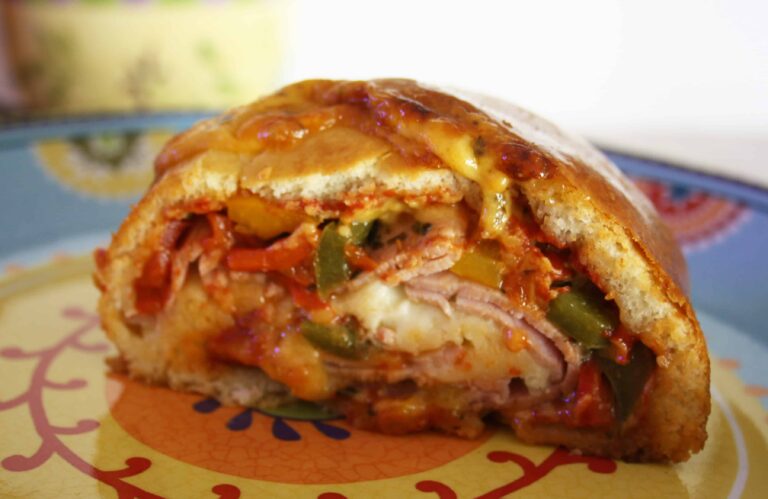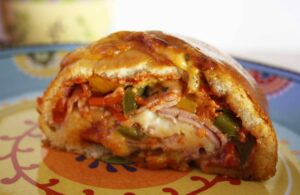 Simple Stromboli. Ever since Claire from Sumo Chef wrote a guest post for me with her Veggie Cheese Stromboli I've been obsessed! I had never even heard of one before and I tried out her recipe as I had some vegetarians for dinner. It was absolutely delicious! Then I started to think. What if you don't have time to make the dough or have all the different ingredients? Could I make a store cupboard version as an emergency meal?
For my Simple Stromboli I use shop bought rectangular pizza dough, tomato puree, cheese, ham and peppers, as they were in the fridge, but some fried onions or mushrooms would work.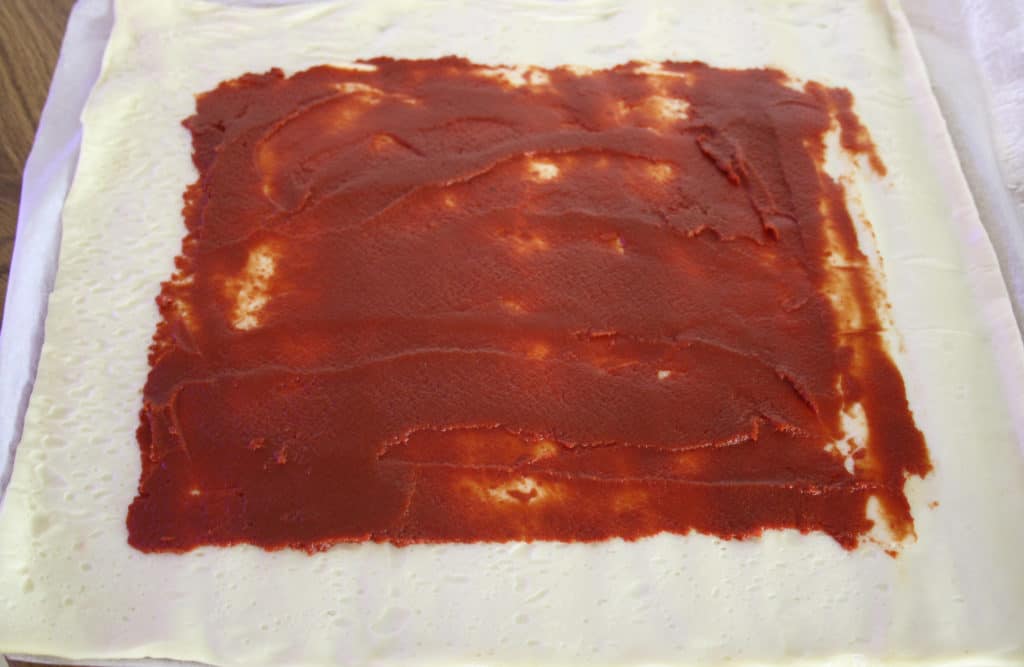 Start by laying out the dough. Mine comes rolled in parchment so I leave it on this. Spread the tomato puree in an even layer up to 2 cm from each edge.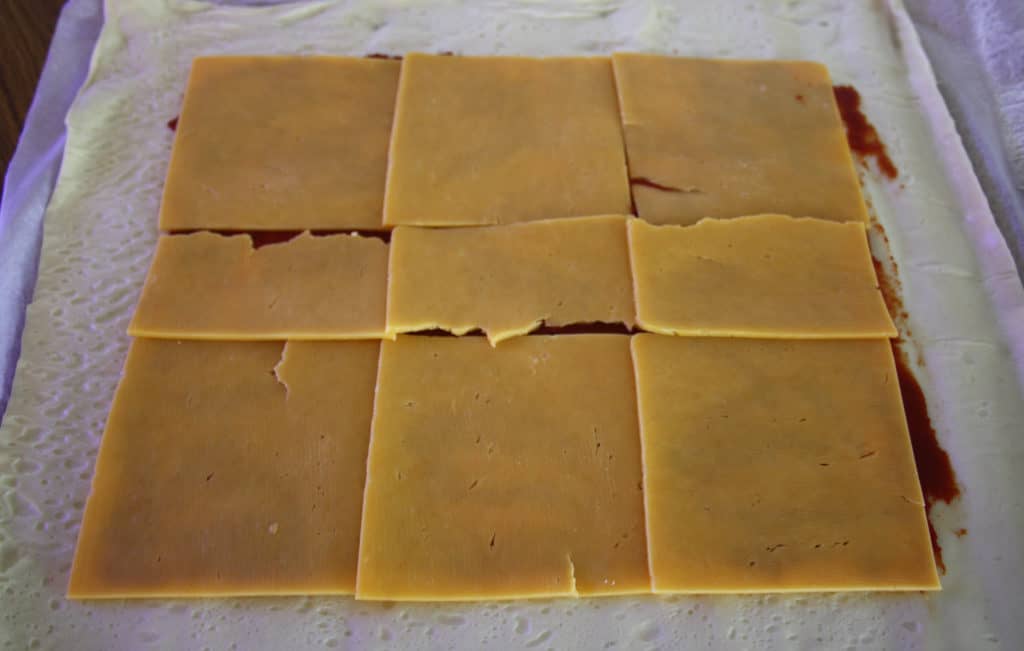 I had ready sliced cheddar but you could grate cheese on or use lumps of mozzarella.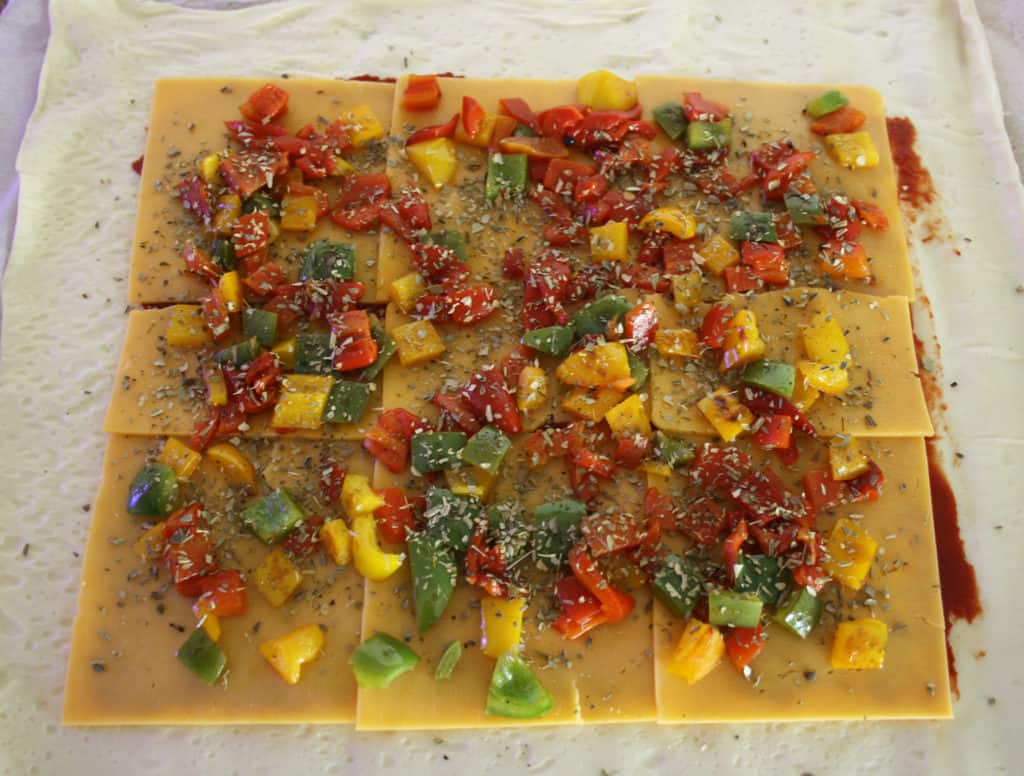 Gently fry chopped peppers with a spritz of oil for a few minutes until softened then scatter over the cheese. Season with salt and pepper and some dried oregano.
Add enough sliced ham to cover then fold over the edges, pressing down the corners. Use the paper to help roll it up tightly from the longest side first. Put an oven tray in a 200 C oven for 10 minutes while you prepare the Simple Stromboli. Place it seam side down and add a few slits to the top before brushing with beaten egg. Bake for about 30 minutes.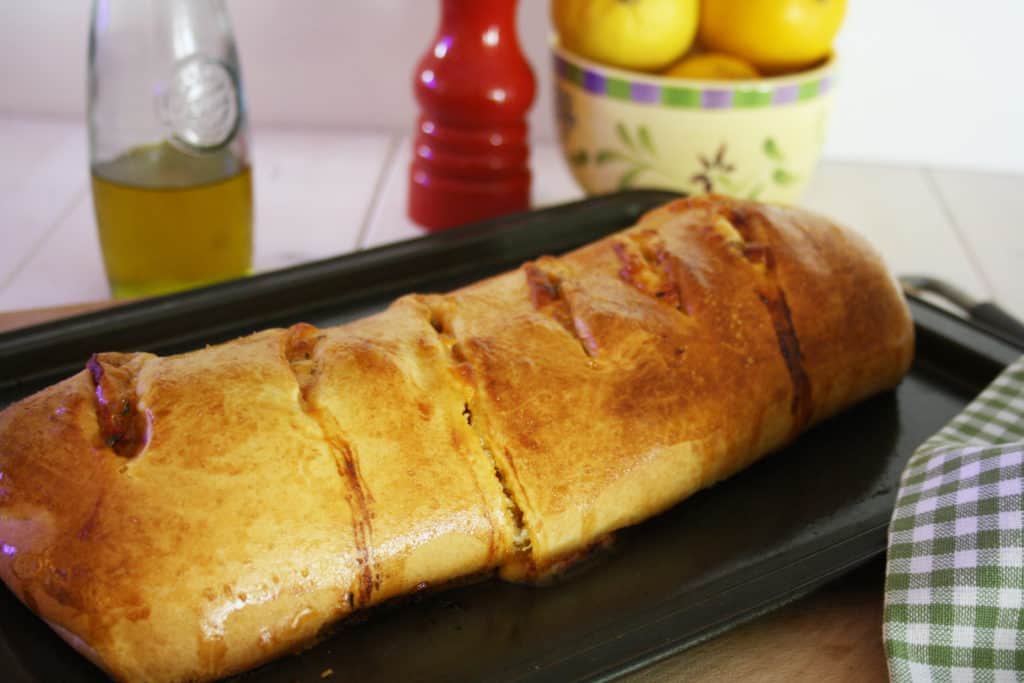 This will easily make 6 servings to serve with a salad. You could also put in leftover roast chicken too.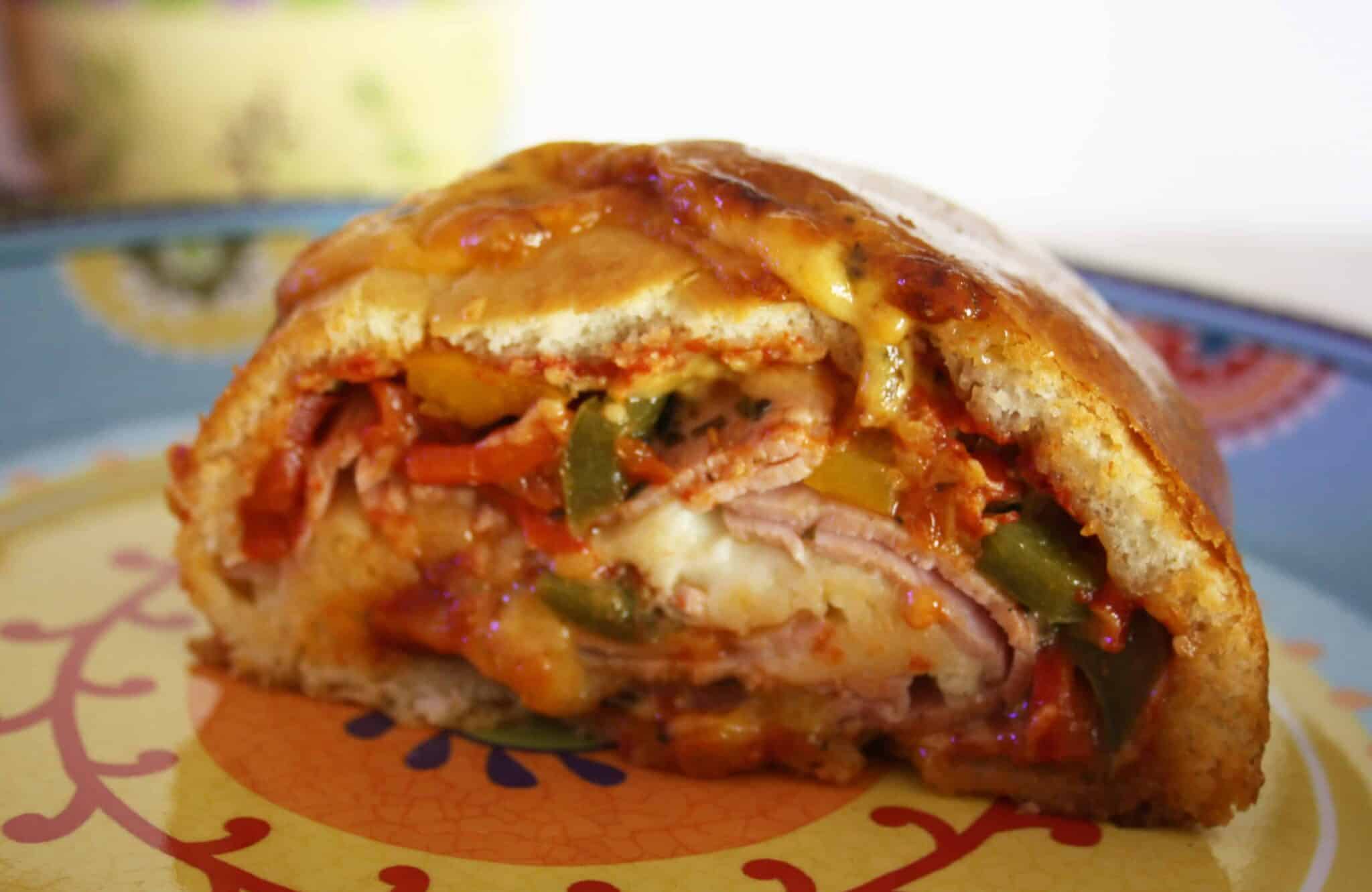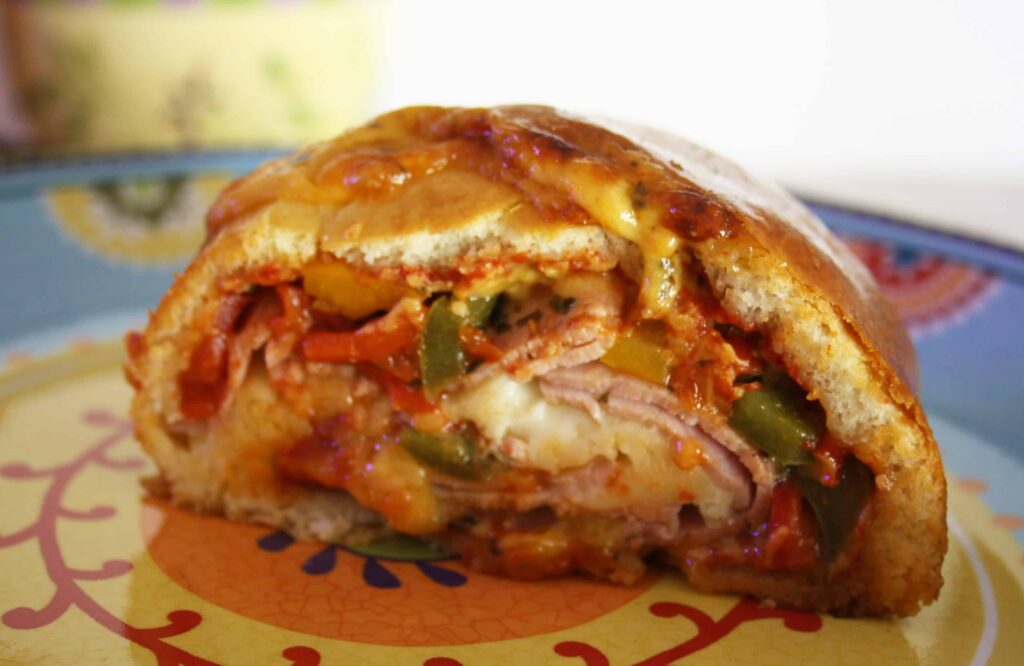 When you are looking for a change from pizza why not make a Simple Stromboli instead?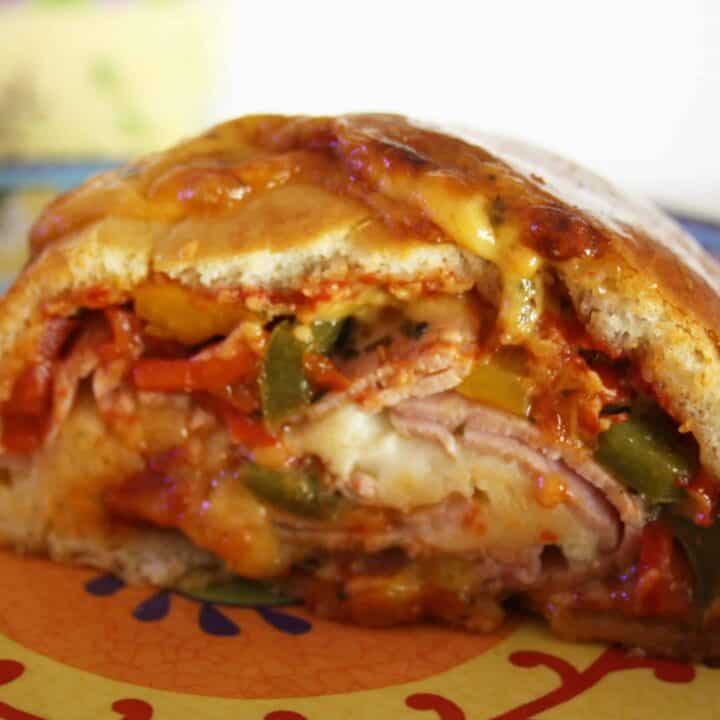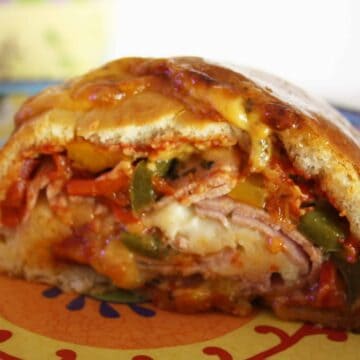 Simple Stromboli
This is an easy dish where shop bought pizza dough is layered with tomato puree, cheese, peppers and ham then rolled and baked.
Ingredients
500

g

pack ready prepared pizza dough

1

pepper

chopped

200

g

sliced cheese

71/2 slices

130

g

sliced ham

3 slices

100

g

tomato puree

1

egg

seasoning

1

tsp

dried oregano
Instructions
Preheat the oven to 200 C and place a metal oven tray in to heat.

Roll out the dough and spread the tomato puree onto it leaving a 2 cm gap all round.

Soften the peppers in a pan sprayed with oil then spread over the cheese before seasoning and sprinkling the oregano on top.

Add a layer of ham and then fold all of the edges in.

Starting at the longest edge tightly roll up and place on the oven tray.

Make a few slits in the top and brush with beaten egg before baking for 30 minutes until golden.