Pumpkin Muffins with Coconut, Walnut and Spices.
So, who truthfully doesn't like a naughty muffin?
Well today is Halloween and it's a gorgeous sunny day here in France with temperatures in the twenties! All the shops have been full of a huge range of pumpkins as opposed to the UK and they eat them rather than just carving them up.
Earlier in the year I bought a packet of seeds for 'potiron' in Lidl, not really expecting any success. Back in the the spring I dutifully plonked my seeds in pots in the greenhouse. They sprouted quickly and it wasn't long until they were gasping to be planted into the new veggie patch.
It sounds a bit strange, but every day they seemed to be growing...
I was a bit concerned that they were green when my neighbours were orange. He joked that I must be growing watermelons or 'pastèque'. I thought he was saying plastic...
And eventually I got these!
So, for 49 cents I have a rather large selection of pumpkins that will apparently last six months. They are sitting in the farmhouse at the moment as there are still mice around, despite the cats doing their best. The only problem is that we are pumpkin virgins. I have to confess that I fed my first-born mashed pumpkin in the hope that he would eat anything; he grew up to be the fussiest vegetable eater known. I couldn't even contemplate it myself at the time.
Now the frugal me has been scouring blogs and have been inspired by a post by Fae's Twist and Tango, Pumpkin Muffins and also by Cookie and Kate, Healthy Pumpkin Recipes. I wanted to make my own variations based on a basic sponge mix and I made pumpkin soup with coconut in the week and thought the combination was tasty.
The first thing to do is to make the pumpkin purée. Halve a pumpkin from the stalk downwards and scrape out the seeds. I found that a grapefruit spoon was best to get rid of the stringy bits. Place each half, cut side down, on a baking tray and roast until soft at Gas 5 or 180 C. Mine took about an hour but will obviously depend on the size. When it's cooked the skin just peels off and you can easily mash it by hand or stick it in the processor.
Make a basic sponge mix and add some pumpkin puree. Then add some desiccated coconut and some chopped walnuts. Divide the mixture between 6 muffin cases with an ice-cream scoop. Add a walnut to each one and sprinkle over some extra coconut.
Bake at 180 C or Gas 5 for about 20 minutes.
What you get with these pumpkin muffins is a very moist texture with a gorgeous colour. Fussy eaters will never know there was any pumpkin in it!
As these were so good, and I had loads of pumpkin leftover, I made more without nuts and instead added cinnamon and nutmeg as I can't get pumpkin pie spice here.
These are great on their own but I added a spiced buttercream and sprinkled on some orange zest.
So I've forayed into 'pumpkin land' with muffins and soup so far. I've been really impressed with the fantastic colour and I now have a freezer full of pumpkin purée.
Apart from pie, curry and stews what else can I do with it?
And if you are wondering why there are 5 in the picture.....Grayson devoured one, paper included, when I turned my back. They must be good!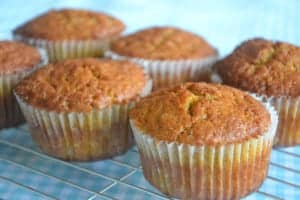 Pumpkin Muffins
Easy, tasty, moist muffins with walnuts and coconut or cinnamon and nutmeg.
Ingredients
2

eggs

beaten

4

oz

/ 120g butter or margerine

4

oz

/ 120g self-raising flour

4

oz

/ 120g soft brown sugar

3.5

oz

/ 100g pumpkin purée

½

tsp

vanilla essence

1

tsp

baking powder
Variations
1

oz

/ 30g chopped walnuts

6 whole ones to decorate

1

oz

/ 30g dessicated/shredded coconut

extra for sprinkling
or
1

tsp

ground nutmeg

1

tsp

ground cinnamon
For the icing
8

oz

/ 240g icing sugar

4

oz

/ 120g butter or margerine

½

tsp

vanilla extract

1

tsp

all spice

Grated orange zest to garnish
Instructions
Cream the butter and sugar together.

Add the eggs and vanilla essence and beat well.

Stir in the pumpkin.

Fold in the flour with the baking powder and spices or nuts if using.

Bake at 180 C or Gas 5 for about 20 minutes.
For the icing
Combine all the icing ingredients together until smooth.

Pipe or spread the mixture onto the cold muffins and garnish with orange zest.
Notes
To make pumpkin purée cut a pumpkin in half from the stalk and scrape out the seeds.
Place cut side down on a baking tray and roast until soft at 180 C or Gas 5.
Take off the skin and mash or process the pumpkin.
Any unused purée can be frozen.