I can't remember the first time I had monkfish but I think it was in a little hotel in Cromer, Norfolk with my Uncle, quite a few years ago now. Since then I have been recreating the same dish and thought I would try it out on my son, who came to stay at Christmas with his girlfriend Jenn. I'm sure Alexander won't mind me saying that he was a fussy eater as a child. He ate everything until my second son William was born! Now he is in his fourth year at University and I guess, out of necessity, he will try anything! I make it my mission to make people try new things when they come and stay and, as he had already braved frog legs, this was going to be easy.
Back in England and here in France I've never seen monkfish sold in pretty little packages, conveniently prepared and ready to cook. It is very expensive so perhaps that is why it is only found on a fish counter. I love to look at fish counters, especially when everything is displayed beautifully on ice. Many fish are left whole and I'm quite happy to wrestle with a whole fish but whenever I buy monkfish the head is always off. I've always thought it must be because of its appearance so when I was chatting to Alex and Jenn I asked Jenn to look it up.
I wasn't quite prepared for this! Don't read any further if you are easily scared....
Perhaps that's why you don't see it with the head on! He or she is not exactly the most appealing creature, but I think it is one of my favourites. I found this image on Pixabay: Monkfish picture.
So here is my recipe for monkfish in a mustard seed sauce from scratch, if you feel daunted when you see a 'queue de lotte' or monkfish on the fish counter!
Start by skinning the tail. I find it easier to think of it as pulling the skin off a chicken leg, a bit slimy but not difficult. I use a filleting knife to help as it is flexible.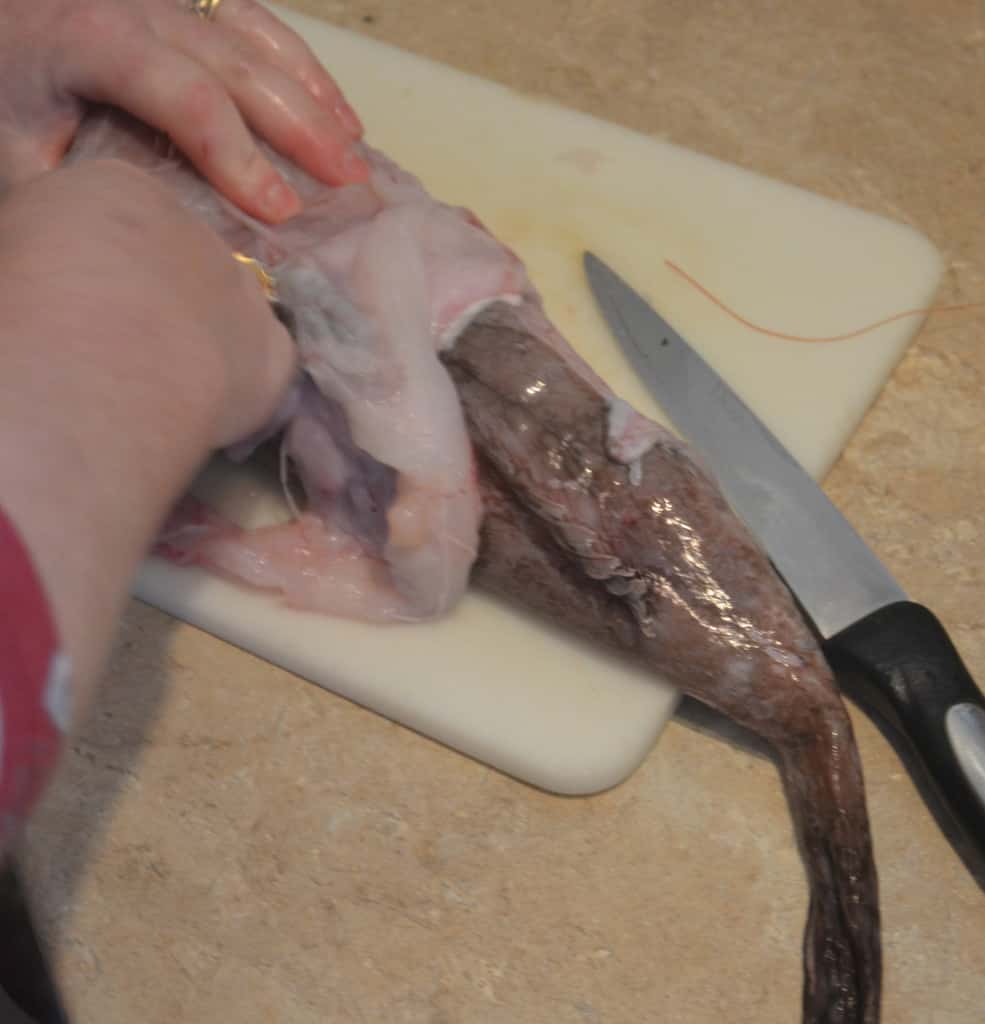 Once the skin is off use a knife to slice off any membrane. Don't worry about the fins that are left poking out.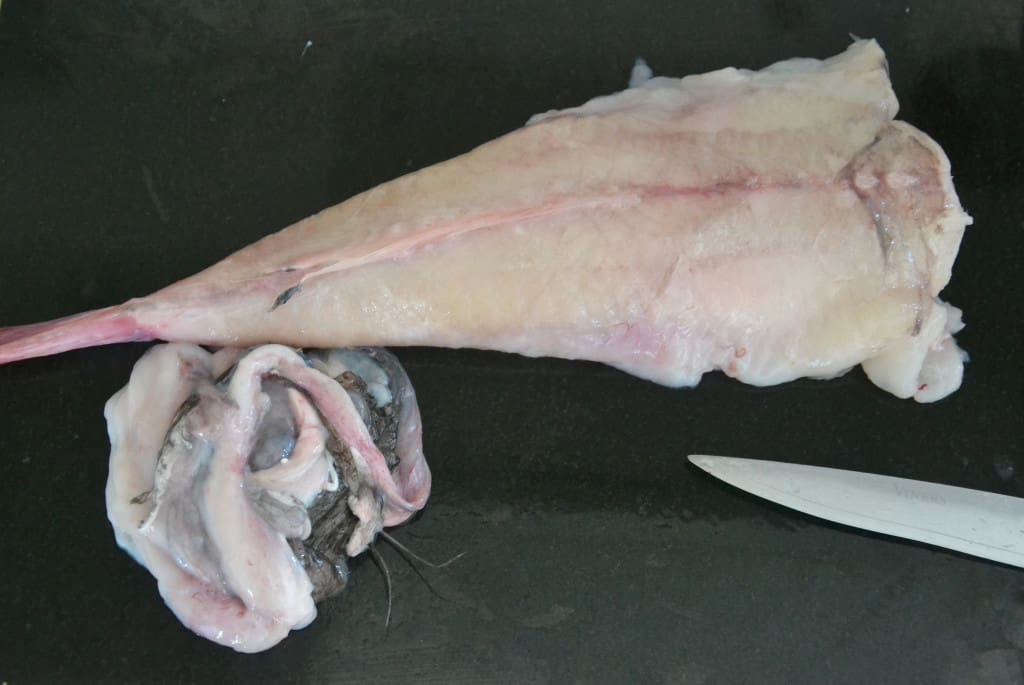 It's easy to feel the central bone. Use the knife to cut down each side.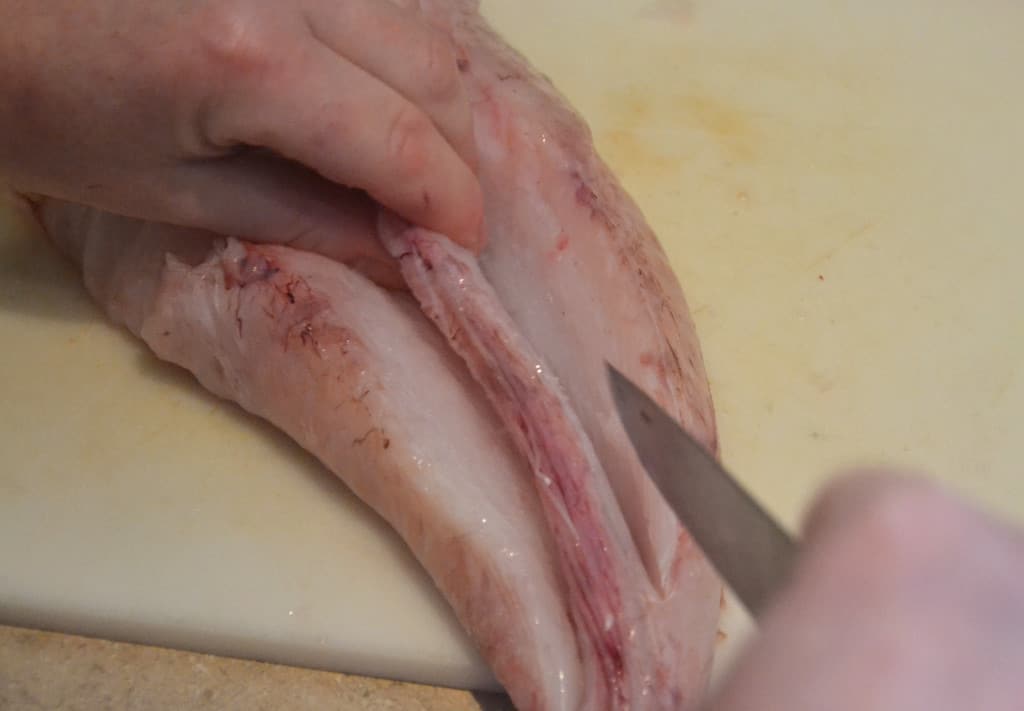 You will end up with this.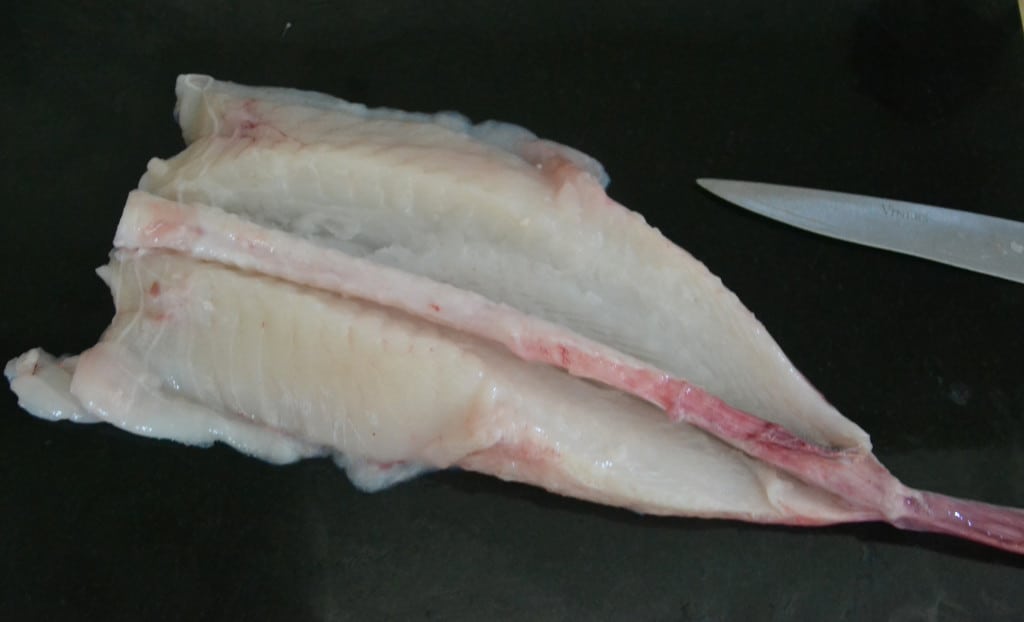 Slide the knife under the bone and cut all the way along to remove it.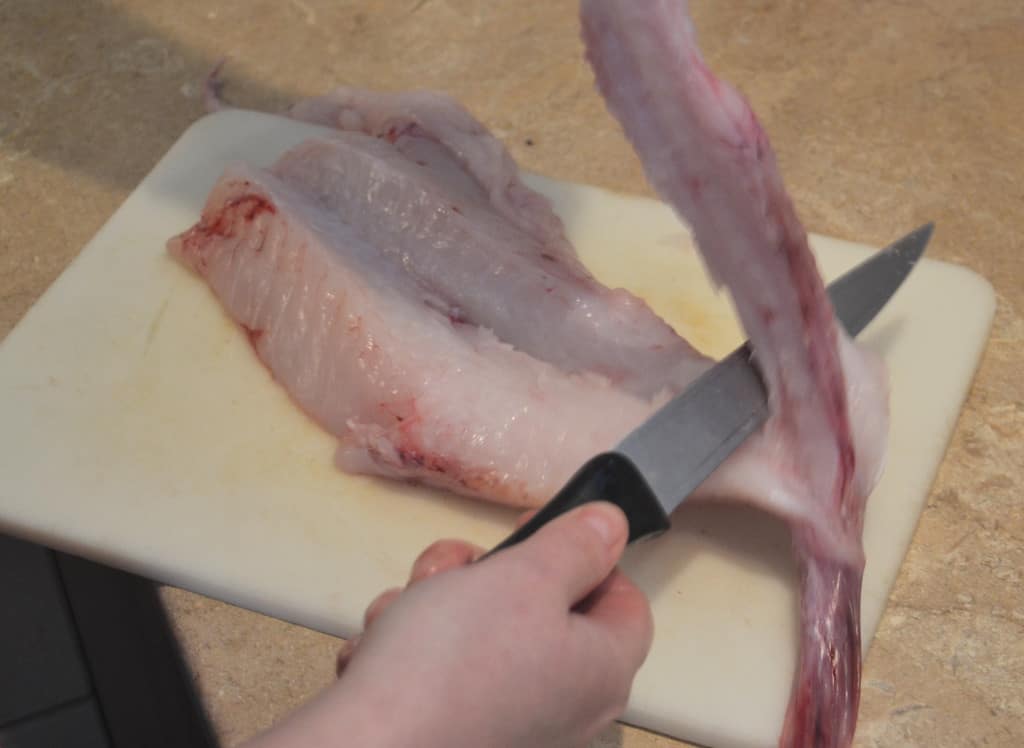 It's then very simple to cut the remaining flesh into two filets. Check to make sure that all the fins are gone.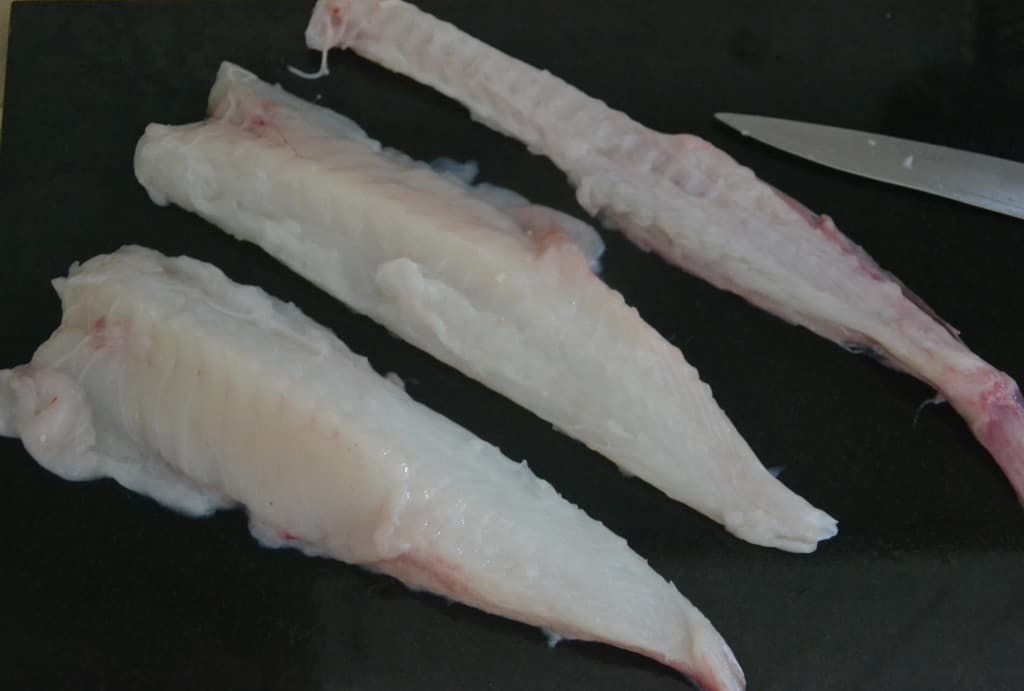 Stick the bones in the freezer to make stock later. For this recipe cut the flesh into 2cm chunks.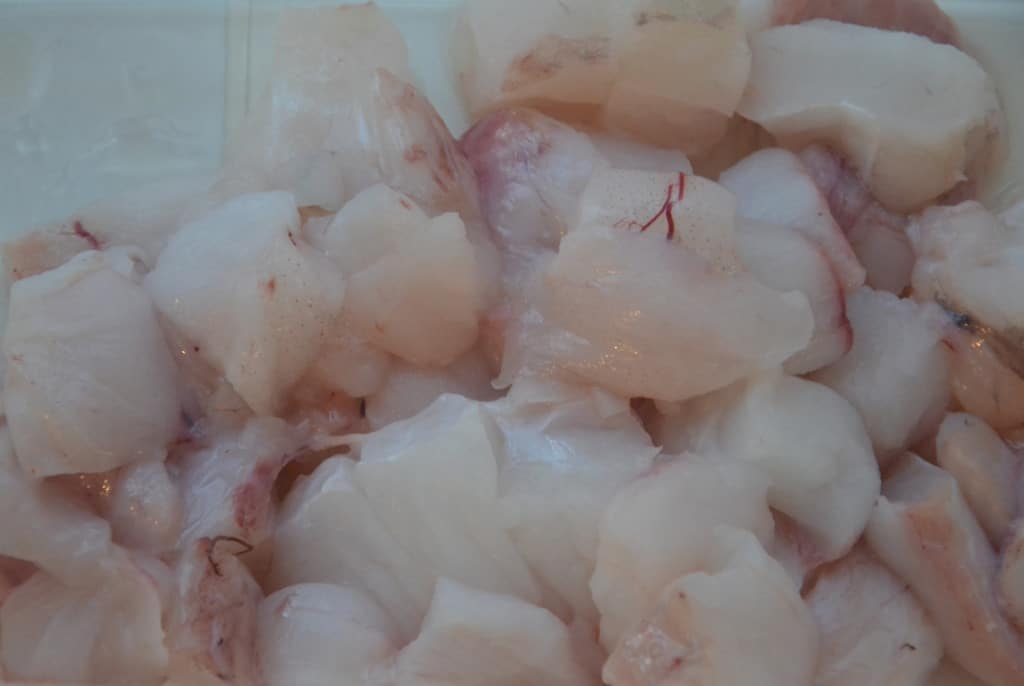 Crush black mustard seeds in a pestle and mortar.
Mix with plain flour and seasoning and use to coat the fish.
Slice and soften an onion in a frying pan over a medium heat.
Add the monkfish pieces along with whole mustard seeds.
Fry for a couple of minutes then add lemon juice, garlic and crème fraîche. Season and cook very gently for a few minutes before serving.
This recipe easily serves 6 as a starter or 4 for a main course.
Tell me what you do with it when you have wrestled with a monkfish!
Monkfish with Mustard Seeds
An easy recipe for monkfish cooked in a creamy mustard sauce.
Ingredients
1

monkfish tail cut into 2cm chunks

1

onion

quartered and sliced

Juice of half a lemon

3

tbsp

mustard seeds

200

ml

creme fraiche

2

tbsp

plain flour

1

garlic clove

crushed
Instructions
Fry the onion in a little oil over a medium heat until softened.

Grind 2 tbsp of the mustard seeds in a pestle and mortar and combine with the flour and seasoning.

Add the flour to the cut fish to coat.

Tip the fish into the pan with the onions and add the remaining mustard seeds. Fry gently for a few minutes.

Add the lemon juice, creme fraiche and crushed garlic to the pan and fry for about 3 minutes until the fish is tender.

Season to taste,
Notes
Stir gently to avoid breaking up the fish.