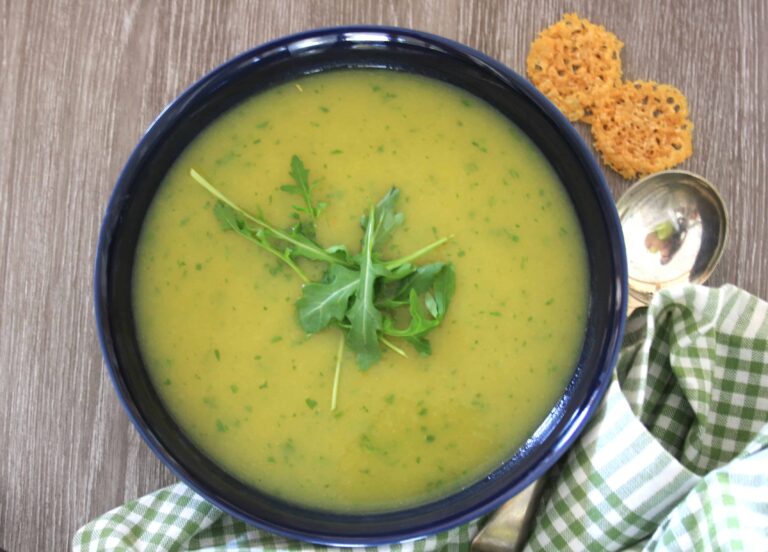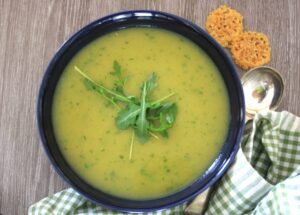 Potato and Leek Soup. It's the time of year to buy leeks in France and whether they are slathered in cheese sauce, sauteed with butter and lemon or roasted in the oven , they are a firm family favourite so we buy them every week. It's also soup season and, rather than make my normal creamy soup, I though I would lighten things up a bit and make a lower calorie one which also happens to be gluten free and fat free.
This recipe is really simple. It makes about 8 portions and keeps for a few days in the fridge or you could freeze it too. In a large saucepan or stock pot add peeled and cubed potatoes with washed and sliced leeks. It's important to include as much of the green part as you can as this makes for a better colour. Add vegetable stock, obviously you may need gluten free if you are not using homemade stock. Bring the pan to the boil and simmer for about 30 minutes until the potatoes are tender. Leave it to cool slightly then either liquidise or I use a stick blender. Season the soup to taste. Now it's ready to serve!
This is a great everyday soup as the only effort is peeling and chopping. Of course, if your potatoes have thin skins just give them a scrub and chop them as they are!
Sometimes you need an easy recipe for entertaining too so you could stir in some creme fraiche or cream or crumble in some blue cheese. I like to use Roquefort for this.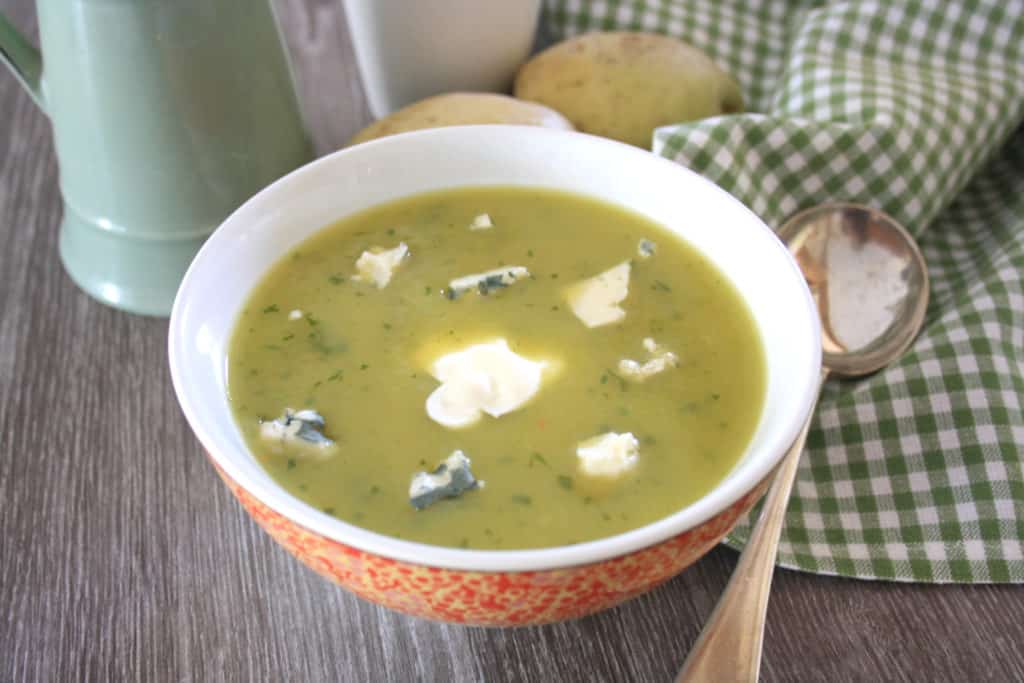 It's easy to make Parmesan crisps to serve with this too. Just grate some Parmesan cheese then arrange a heaped tablespoon on a non stick baking sheet and cook at 200 until bubbling. They will crisp up as they cool and slide off the sheet and are best eaten the same day you make them.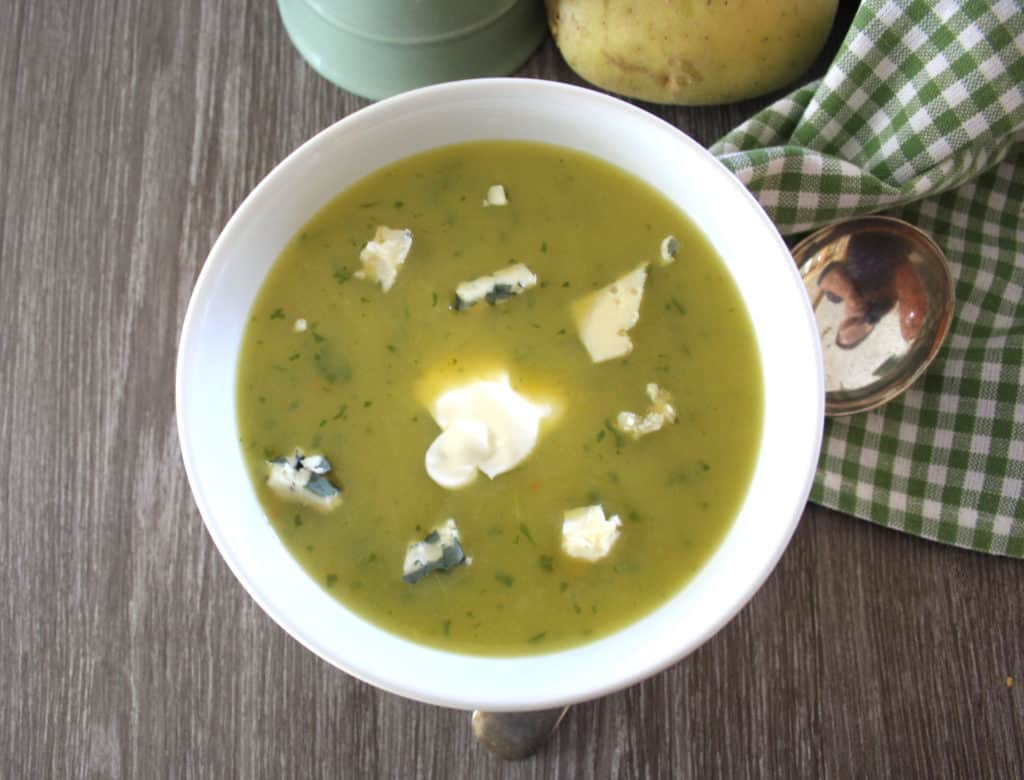 So this Potato and Leek Soup is dairy-free, gluten-free and fat-free, unless you add the extra touches, so you can happily feed a crowd with different dietary requirements.
How about this soup as a light starter for Christmas Day?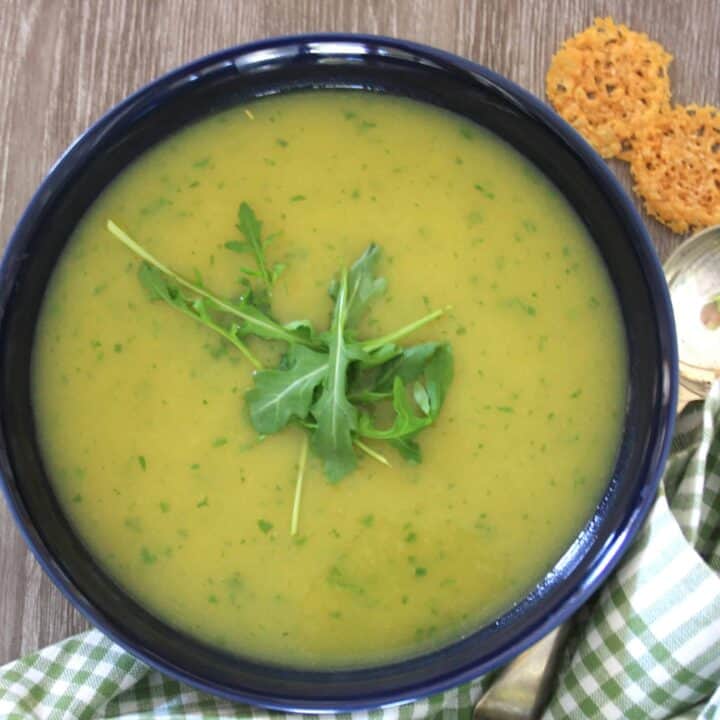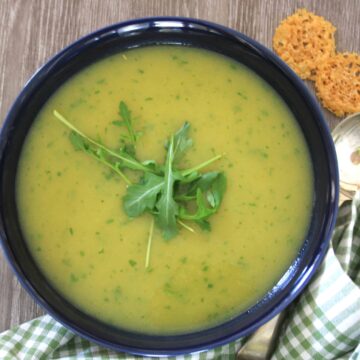 Potato and Leek Soup
Potato and Leek Soup is simple to make, fat-free, gluten-free and is very economical to make. It's easy to add a dollop of creme fraiche or blue cheese too.
Ingredients
500

g

cubed potatoes

500

g

finely sliced leeks

1.5

litres

vegetable stock

seasoning
Instructions
Put the leeks, potatoes and stock in a large saucepan with the stock.

Bring to the boil and simmer for about 30 minutes until the potatoes are very tender.

Leave to cool a little before blending until smooth.