Who doesn't love a tasty Gratin Dauphinois? Well, even if it's not everyone's favourite, it is probably more popular than my chicken liver recipe! Now I love to cook Pommes de Terres à la Dauphinoise in the oven traditionally, especially when we have duck, but there isn't always the time or the ingredients. This dish can be made on the hob with a ten minute cooking time, so I think it counts as fast and easy. Of course, you could just call it a cheat! This dish is especially good for students as it's frugal, there is no cream or faff. It could easily be made into a meal if chopped bacon was added and a bit of grated cheese was sprinkled over the top.
This dish works best with waxy potatoes. You don't have to peel them. Slice about 8 potatoes into half centimetre slices and place in a microwaveable bowl. Cover with boiling water and cook on full power for 5-10 minutes until tender.
The next step is my cheating version of a béchamel sauce. The purists out there will have you infusing milk and making a roux but I've been doing this for years and it always works. In a medium saucepan add 1 pint of milk (about 500 ml). Now, remember what it looks like in the pan in relation to the depth, then you never need measure again. Add 1 oz each of butter and flour (about 30g each or a rough tablespoon)) and memorise these too. Add a bay leaf and heat gently whisking all the time.
When the mixture comes to the boil it should thicken. Continue to cook for a few minutes to cook the flour.
Remove the bayleaf and season. A little grated nutmeg adds a lovely nuttiness to the sauce. I flavoured this sauce with the zest of a lemon and 2 crushed cloves of garlic added at the beginning but you can add what you like.
Drain the potatoes and add to the hot sauce. Quick and delicious and perfect on chilly evenings!
I would love to know about your potato cheats......
Thanks for reading,
Amanda
xx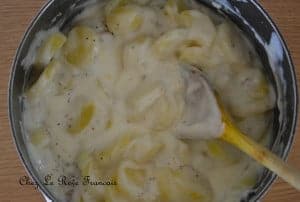 Pommes de Terre à la Dauphinoise
Potatoes cooked in a lemon and garlic flavoured Béchamel sauce for cheats.
Ingredients
8

waxy potatoes

peeled if liked and cut into half centimetre slices

2

cloves

of garlic crushed

zest of 1 lemon

1

pint

of milk

500ml

1

oz

of flour

about 30g

1

oz

of butter

seasoning to taste

grated nutmeg to taste

1

bay leaf
Instructions
Cook the potatoes in boiled water in the microwave or hob for about 10 minutes.

In the meantime combine the milk, butter, flour and bay leaf in a saucepan and whisk until thickened with the zest and garlic if liked.

Cook over a low heat for a few minutes and add seasoning and nutmeg to taste.

Remove the bay leaf and tip in the drained potatoes and serve.
Notes
If the potatoes are not waxy you may find they break up in the sauce.