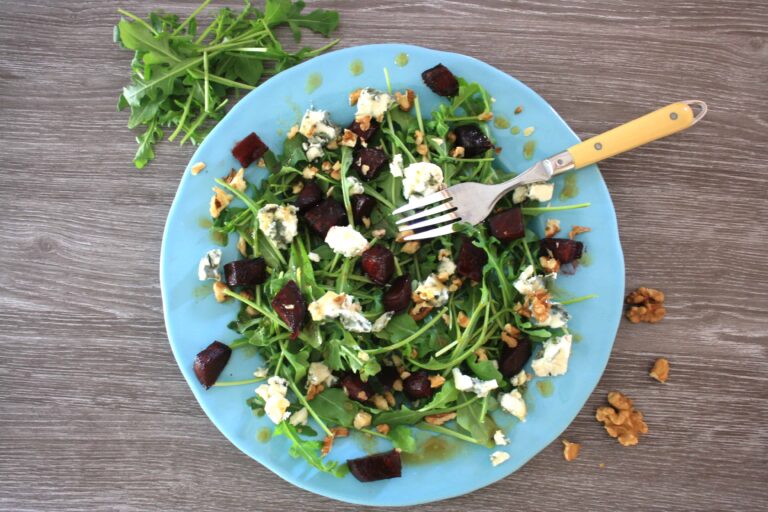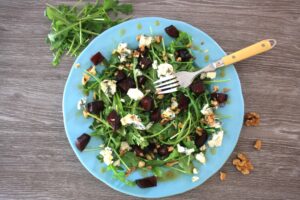 Maple Roasted Beetroot Salad. One thing that is abundantly clear in France is that they eat according to the growing season and a popular vegetable is beetroot. I have to say that previously I wasn't a fan. My main experience of beetroot as a child was pickled and, once it was on your plate it tended to bleed into everything! Needless to say it was never popular in my house.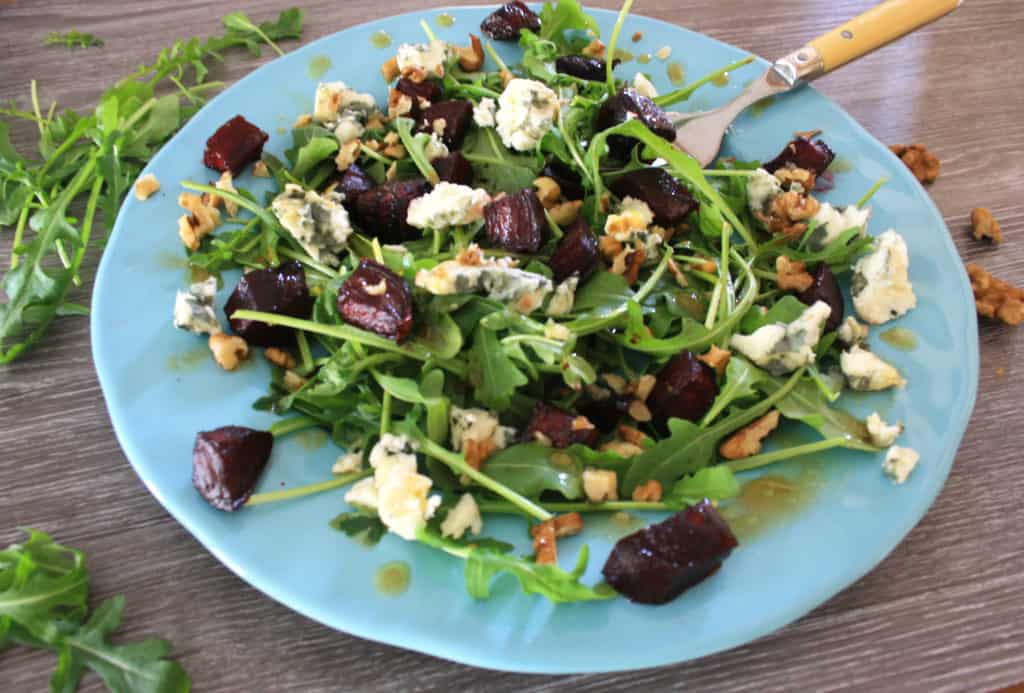 Beetroot is in the supermarkets here in France where you can buy it loose either cooked whole or raw. I have eaten it here before as a starter with apple and feta which was interesting but it was all very pink! But forget boiled beetroot the secret is to roast it! Friends of ours invited us to dinner and served roasted beetroot with some delicious roast pork. Just like roasting carrots or parsnips,roasting beetroot brings out all the sweetness of root vegetables. It was delicious and I was hooked!
I really enjoy warm salads where flavours, textures and colour intermingle. Peel and chop the beetroot into bite-sized chunks and leave for a while on kitchen paper to mop up any excess liquid. Add maple syrup to a bag with the beetroot and give it a good shake so that every piece is coated. Roast them in a medium oven for about an hour or until you find the right consistency. I like them to still have some bite. Leave them on the roasting tray to cool while assembling the rest of the ingredients.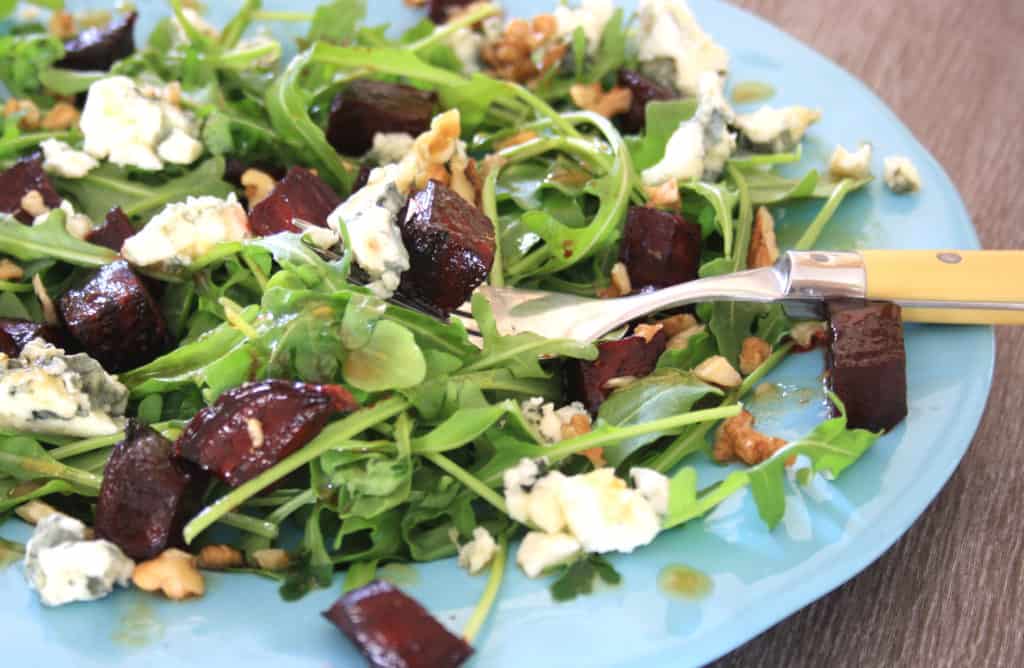 We are lucky enough to have a walnut tree in the lane so we have been busy collecting walnuts. I thought I would use some fresh from the tree to add a great crunch to my Maple Roasted Beetroot Salad. Rather than normal salad leaves I love the peppery taste of rocket and then the salty creaminess of Roquefort cheese crumbled over the salad. Sprinkle over the warm, sticky beetroot, which will have a gorgeous shine from the maple syrup. Finally I combined a little olive oil with maple syrup and drizzled it over.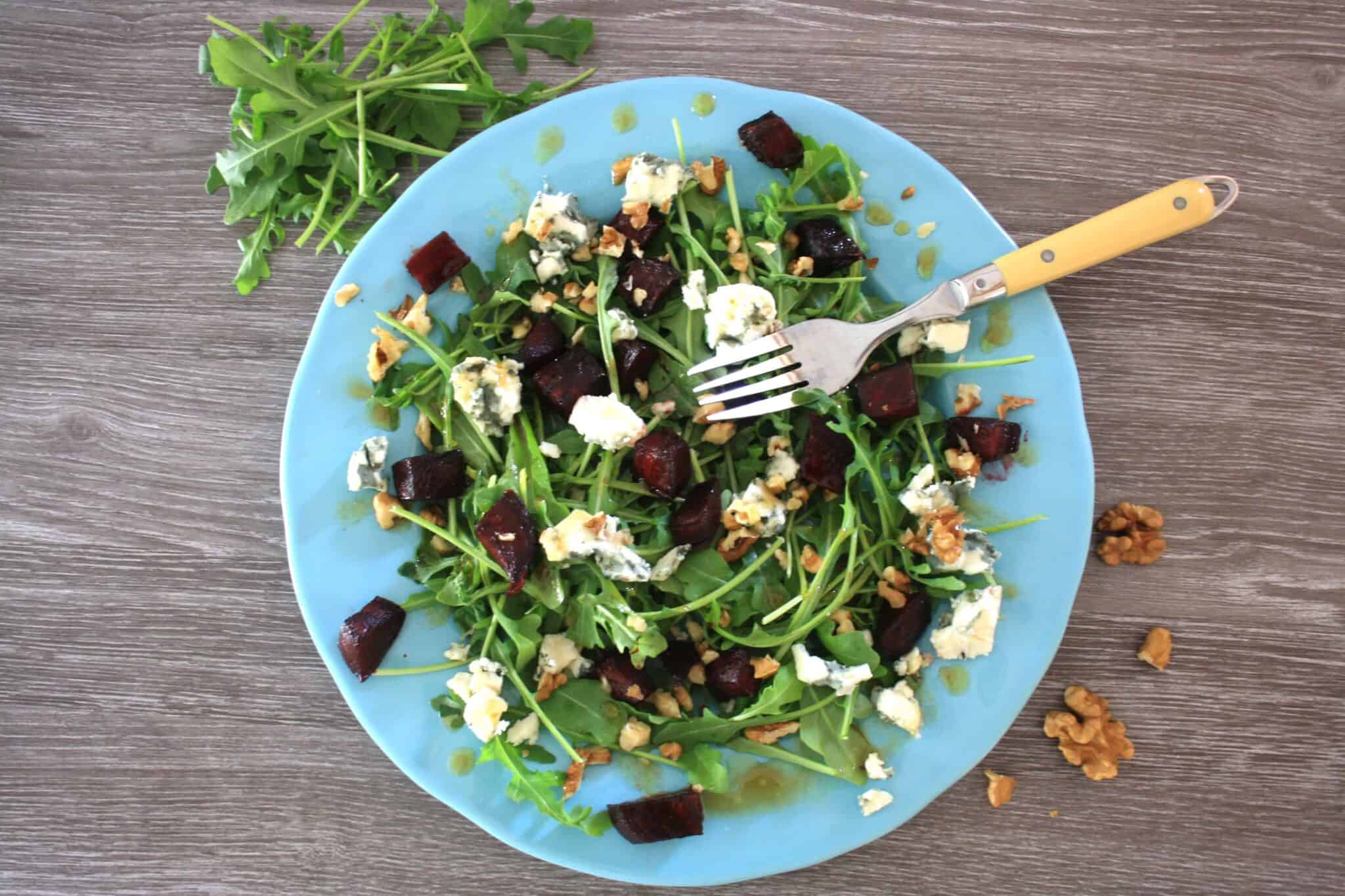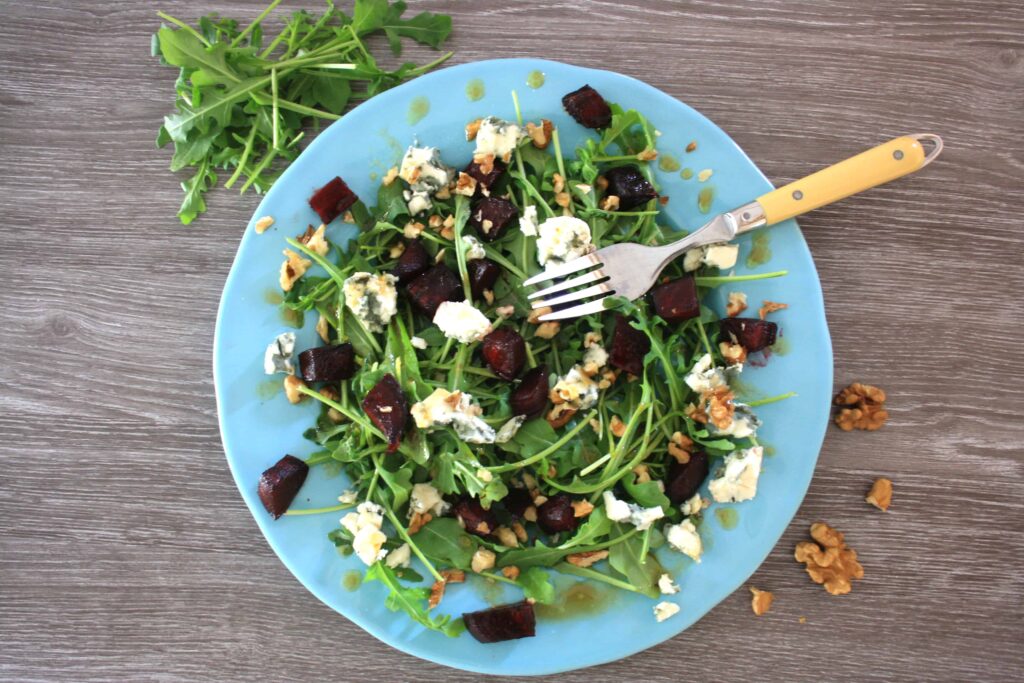 So forget boring beetroot and say hello to my Maple Roasted Beetroot Salad. I think it's great for sides, starters, light lunches and vegetarians too.
What do you think?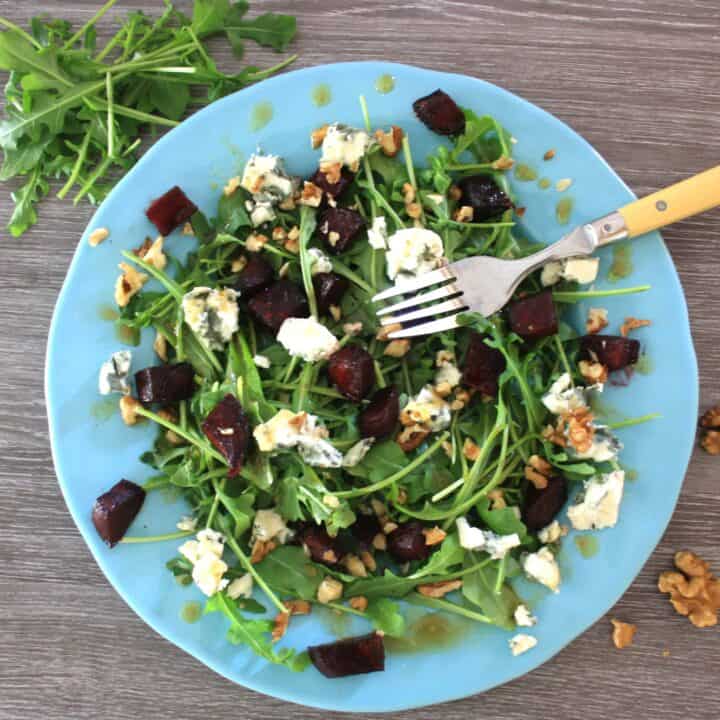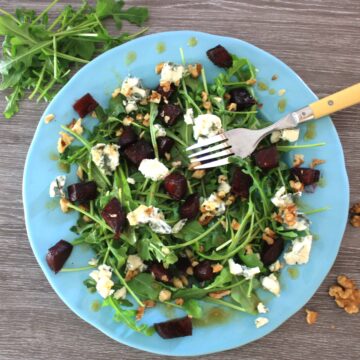 Maple Roasted Beetroot Salad
Sweet,soft, crunchy and tangy, this Maple Roasted Beetroot Salad has everything.With Roquefort cheese, walnuts and rocket with a maple syrup dressing.
Ingredients
2

large raw beetroot

or about 600g

3

tbsp

maple syrup

or clear honey

150

g

Roquefort cheese

or other blue crumbly cheese

60

g

walnuts

rough chopped

100

g

packet of rocket
For the dressing
2

tbsp

olive oil

2

tbsp

maple syrup
Instructions
Peel and cut beetroot into chunks and put into a bag with maple syrup. Shake well.

Preheat oven to 190 C and roast beetroot on a tray for about an hour whilst turning a couple of times.

Using a large plate or bowl add rocket, walnuts and the warm beetroot. Crumble the cheese over.

Combine the remaining maple syrup with the olive oil and drizzle over the salad to serve.