This duck terrine with asparagus is the perfect elegant French starter that everyone will love.
This terrine may look complicated, but this dish only requires assembling, then cooking in the oven. It's really simple and easy!
Make it in advance or freeze it, add your own favourite ingredients - the possibilities are endless.
Bon appètit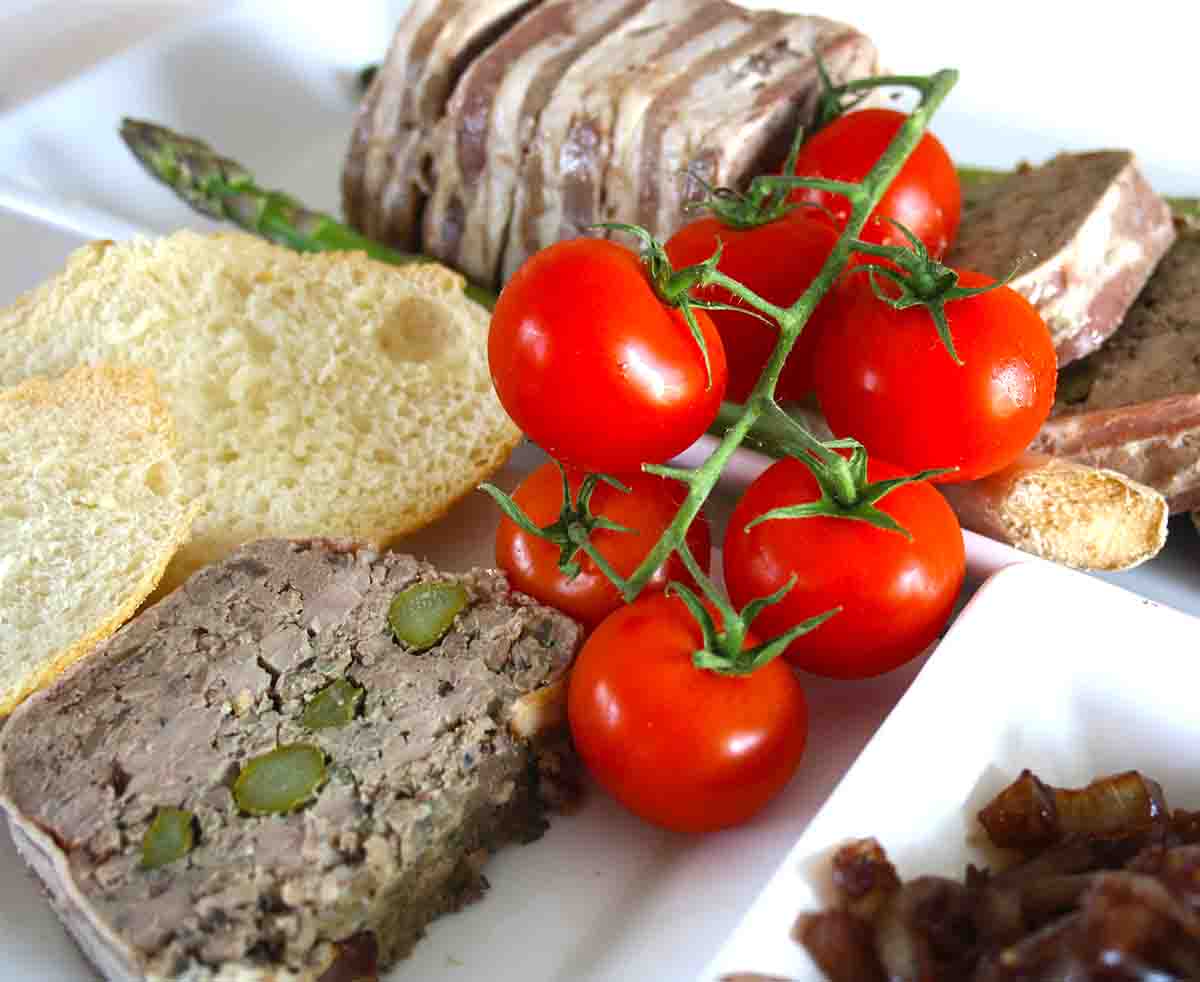 Jump to:
Have you ever wanted to make a terrine, but thought it looked too difficult? I've never been keen on really complicated dishes, but many years ago I realised that a terrine is really just a question of assembling the ingredients, putting them in the oven, then cooling and slicing.
I usually make a duck and pork terrine at Christmas for a starter or buffet. However, this dish is so versatile as you can use different ingredients throughout the year too.
❤️ Why you will love this dish
✔️ easy to make and leave in the fridge until you need it - just slice and serve
✔️ perfect for freezing
✔️ no special skills required
✔️ easy to customise with different ingredients
✔️ great for starters, buffets, brunches and picnics too
💙 Save this recipe for later
Did you know? When you see the 💙 on the right hand side you can bookmark this page, to save it for later or share it too.
🥘 Ingredients
asparagus spears - trimmed. The easiest way to do this is to snap off the ends and then tidy them up with a knife.
liver - pigs liver is cheap and easy to get hold of. To mince it, cut into smaller pieces and pulse in a food processor.
pork - pork mince is easy to get hold of in the supermarket.
duck fillets - you can often buy duck fillets, which are the small piece of flesh under the duck breast. If you can't find these, simply slice duck breast into long thin pieces.
bacon - you will need streaky or belly bacon to line the tin. This helps to keep the terrine moist.
pepper - freshly ground black pepper.
salt - cooking salt.
herbs - dried mixed herbs are perfect in this dish. They are normally a combination of thyme, marjoram, oregano, parsley, sage and basil.
garlic - whole clove, finely chopped or minced.
onion - chopped
The printable recipe card with full ingredient quantities and instructions can be found at the bottom of the article.
🍽 Equipment
1 litre or 2 lb terrine dish with lid - or a loaf tin and kitchen foil
sharp knife
deep roasting dish
food processor/blender - for the liver or just finely chop
large bowl
🔪 Instructions
Start by making the meat filling.
Put the pork mince, minced pork liver, finely chopped onion, garlic, seasoning and herbs into a bowl ands mix together.
Roughly divide the mixture into thirds.
Stretch some streaky bacon with the back of a knife and line a 1 litre terrine dish or loaf tin.
Press in a third of the meat mixture and top with half of the duck mini fillets sliced lengthways.
Add the next third of mixture with the asparagus in the middle.
Next, add the remaining duck and final third of meat mixture before wrapping the bacon over.
⏲️ Baking Time
Cover with a lid or foil and put in a roasting tray.
Pour in enough hot water from a kettle to come halfway up the sides.
Preheat the oven to 160 C / 310 F / 140 FAN / Gas 2.5  and cook for 2 hours.
Remove the lid, cover with foil and use a couple of tins to weigh the terrine down while it cools. This makes the terrine a good shape for slicing.
At this point, most terrine recipes will advocate an aspic jelly, but I prefer to pour off the juices in a gravy skimmer and pour back the juices, discarding the fat. This makes a natural jelly which you can scrape off or serve if you wish.
Refrigerate overnight before turning out and slicing.
Leave the terrine to cool completely and leave overnight or the terrine will not slice evenly.
The terrine should turn out easily to slice, but if it resists run some hot water carefully over the dish.
🥗 Side Dishes
Serve with plenty of crusty bread, salad and some of these ideas.
Cornichons - these are small pickled cucumbers.
Baguette
🥙 Substitutions
asparagus - use French or green beans
📖 Variations
duck -use any game bird, such as pheasant, pigeon or guinea fowl. If you prefer, use thinly sliced chicken breast.
🍣 Storage
Refrigerator - store wrapped in the fridge for up to 3 days.
Freezer - slice and freeze in individual portions for up to 1 month. It's easier to separate with pieces of parchment then wrap everything well.
🍱 Prepare in Advance
As the duck and pork terrine needs to rest and chill properly for slicing, this is the perfect make ahead dish up to 3 days ahead of serving.
🤔 FAQs
Let me know what you think in the comments or you can post a picture and tag me on Twitter @chezlereve, Instagram @chezlerevefrancais, or Facebook @chezlerevefrancais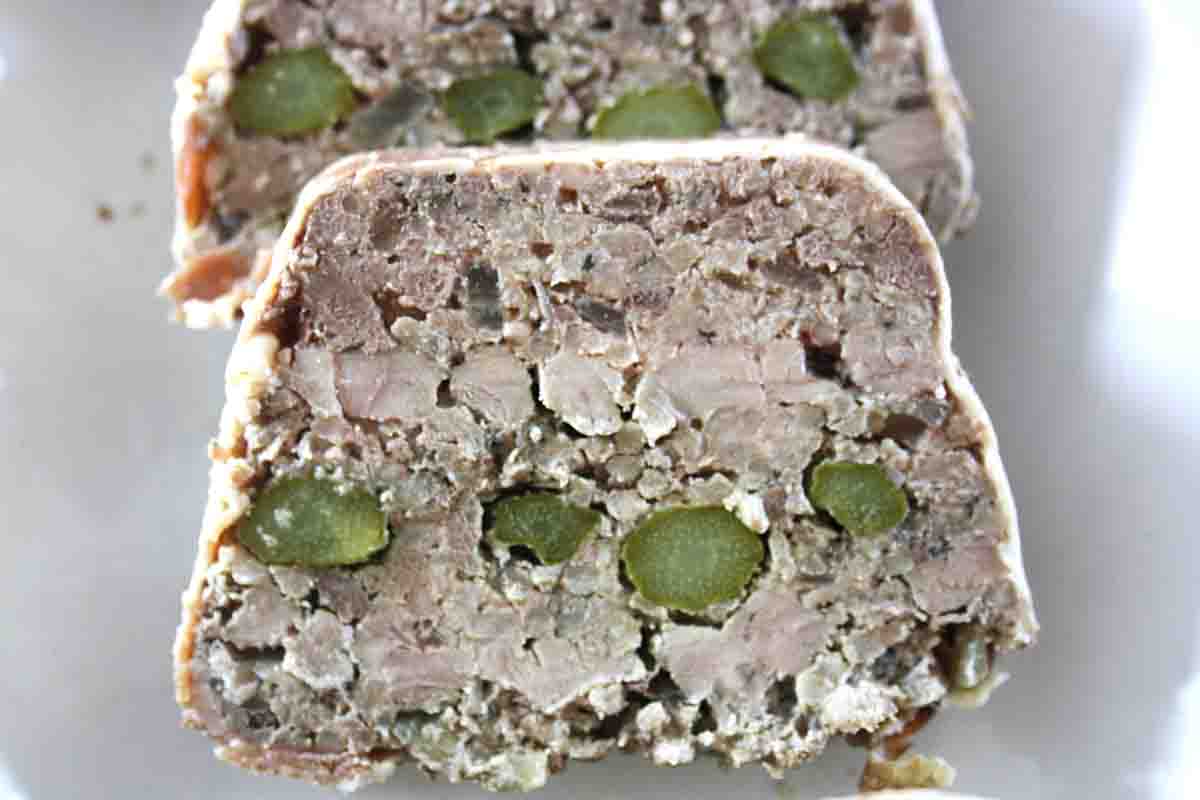 More starter recipes
📋 Recipe
More starters to try
🍲 Food Safety
Do not use the same utensils on cooked food, that previously touched raw meat.
Wash hands after touching raw meat.
Don't leave food sitting out at room temperature for extended periods.
Never leave cooking food unattended.
Use oils with high smoking point to avoid harmful compounds.
Always have good ventilation when using gas.
Do you have a question or did you make the recipe? Please leave a rating as it helps other readers to discover this dish. Your name and email are required to avoid spam comments; they are never used for any purpose or shared with third parties.
However, due to spam comments, I do have to moderate each one, so don't worry if you cannot see your comment immediately. I'll publish your comments as soon as I can.