Crisp, crunchy coleslaw with apples and walnuts. What could be better on the first day of Spring? The sun has been shining again and it was great to see three roe deer running through the fields this morning, knowing that the hunt was finished and that they and us were safe for a while. We still have loads of winter vegetables in the patch but it would have been rude not to have a bbq. It has been manic here with the kitchen and then resurrecting the garden. We scrubbed up the grill to celebrate cleaning the pool today and getting a great booking for the summer season in La Maison Verte. I think the worse thing about being self employed is that it is so difficult to have time off!
I'm not complaining, that's why I am here - I couldn't eat if I wasn't running around all the time.
I'm not pretending for one moment that I always make my own coleslaw. However, most of what I can buy is either drowning in vinegar or smothered in mayonnaise. If you have a few minutes, and especially if you are feeding a crowd this summer, then making your own is the way to go. I think it's cheaper, healthier and much more tasty, so give it a go and tell me what you think.
This recipe serves 6-8 as a side dish and is easy if you use a processor. Just core and shred a quarter of raw white cabbage and a couple of spring onions with a large slice attachment. Set the processor to grate and process one large carrot and two red unpeeled apples. Whizz up a few walnuts to a rough chop and put everything in a large mixing bowl with a couple of tablespoons of lemon on the apple while you make the dressing. Pecans would taste great too but I have buckets of walnuts from foraging so use what you have.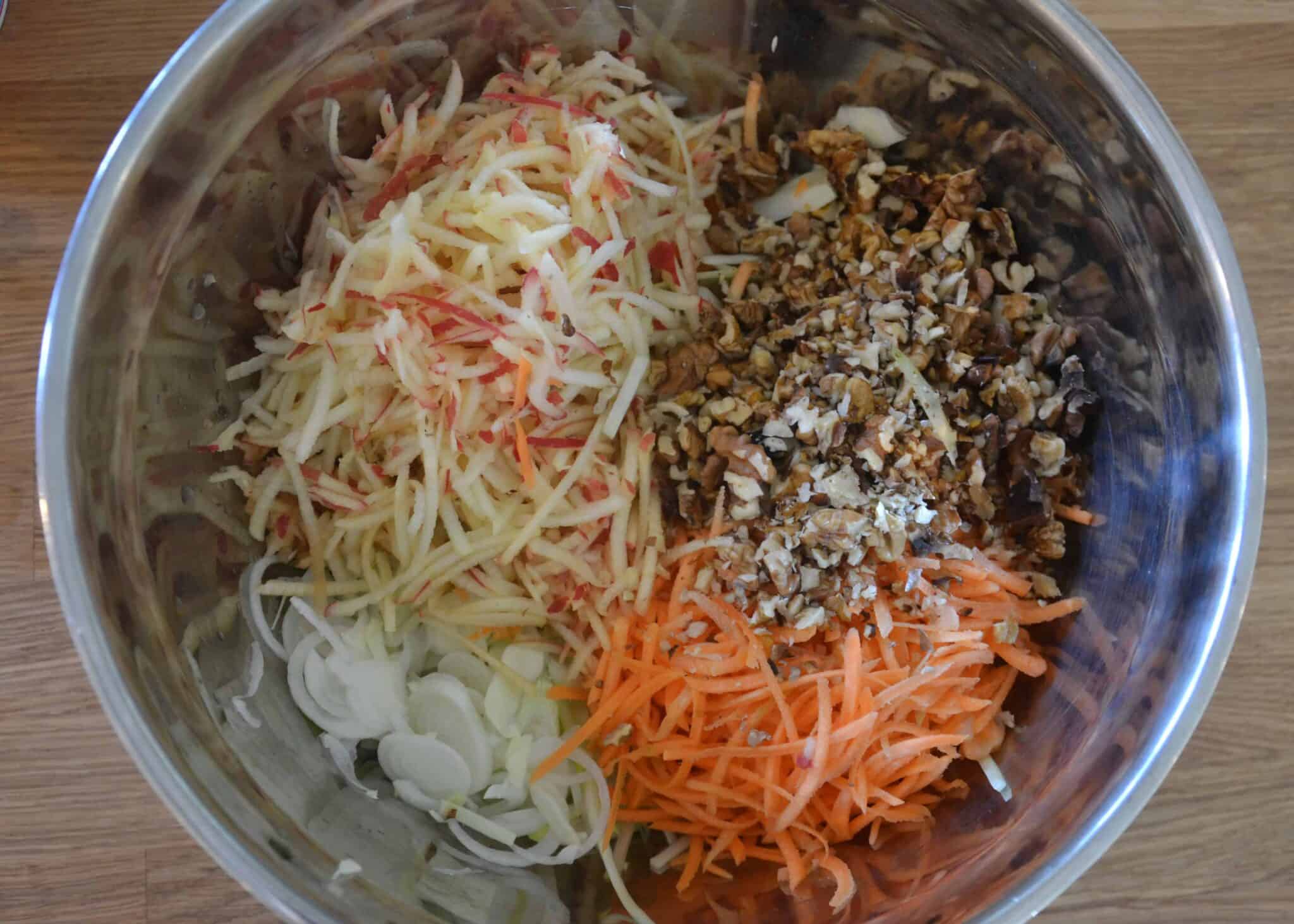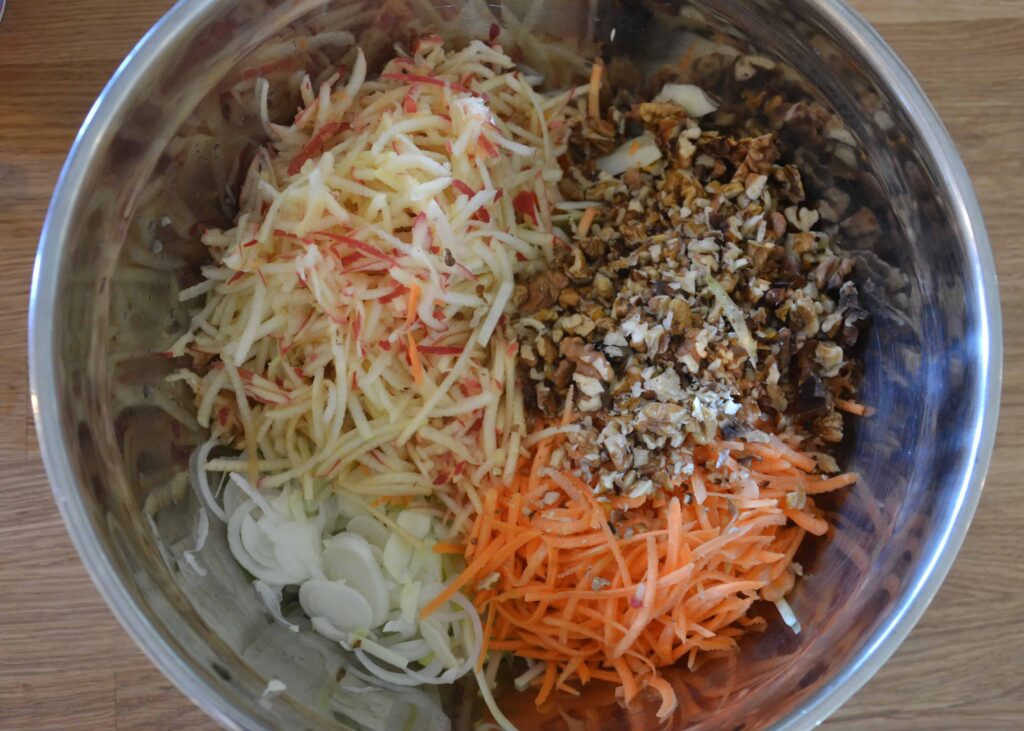 For the dressing mix 4 tbsps of mayonnaise with 4 of creme fraiche and two of lemon. Stir in 1 tbsp of maple syrup and season to taste. Mix everything with the vegetables and serve at room temperature garnished with coriander or fresh parsley or chives. It's easy to substitute non-fat yoghurt without compromising on taste too.
Even the salad dodgers will like this one!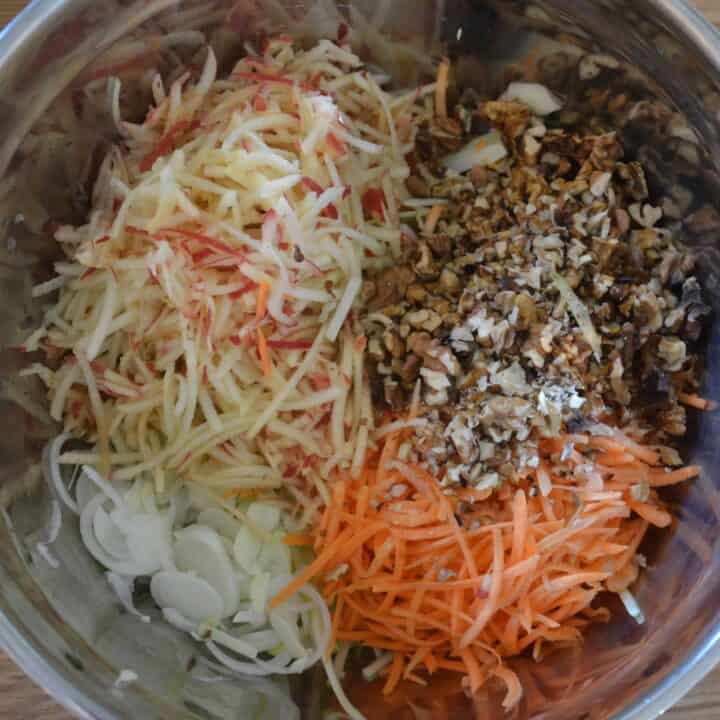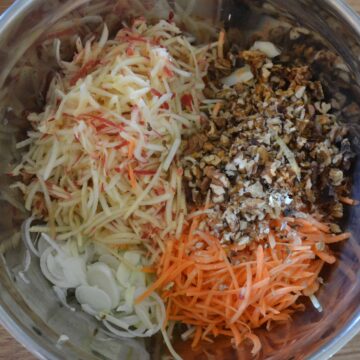 Coleslaw
Crisp, crunchy coleslaw with apple and walnuts
Ingredients
¼

or 300g shredded white cabbage

1

large or 200g grated carrots

2

large spring onions

chopped/shredded

2

red apples

grated

100

g

walnuts

rough chopped

2

tbsp

lemon juice
For the dressing
4

tbsp

mayonnaise

4

tbsp

creme fraiche

2

tbsp

lemon juice

seasoning

1

tbsp

maple syrup
Instructions
Prepare all of the vegetables and place in a large mixing bowl as you go.

Add the lemon juice to the apples as they are grated.

Combine all of the dressing ingredients together and mix with the vegetables.

Refrigerate until needed but best served at room temperature.

Garnish with fresh coriander or parsley or chives.
Notes
I used reduced fat mayonnaise and creme fraiche but you could use low fat or non fat yogurt.
Swap the walnuts for pecans.