Here is an easy recipe for Christmas Apple Chutney. It's packed full of Christmas flavours with apples, lemons, ginger and cinnamon. If it's made now it will be ready to eat in December and will make a perfect gift for someone.
Although I'm a massive fan of Christmas dinner I have to say that Boxing day is the day I normally relax in the kitchen. There is nothing better than opening the fridge and grabbing cold turkey, ham and all the cheese that is stinking the fridge out and throwing it on the table for everyone to help themselves.
We are lucky to have such a great range of cheese here in France, with goat farms literally on our doorstep and the cheese available in the village shops. What better way to enjoy an easy meal than partner it with some crusty French bread, butter, cheese and a home-made Christmas Apple Chutney?
This Christmas Apple Chutney is easy to make and ideal if someone gives you a bag of windfalls that you have no idea what to do with. The time is really in the preparation but I have one of those peely, corey, spiral thingys that means I can whiz each apple through and then cut the apple into four quarters, but you could lightly blitz in the food processor or bribe someone to peel and chop for you.
Roughly chop some onions and slice some lemons finely.
Put the apples, onions, lemons and vinegar into a vinegar proof pan. I use a large stockpot.
After 20 minutes add the sugar and stir until it dissolves along with the fresh ginger . Cook for a further 30-40 minutes until the mixture is thick. Turn off the heat and add the spices. Instead of fresh ginger you could add 1 teaspoon of ground instead.
Pour into sterilised jars. It should keep for about a year and is ready to eat in a month.
What do you have with chutney in your house?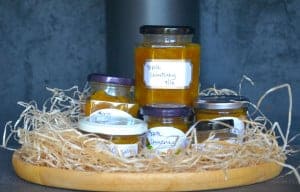 Christmas Apple Chutney
An easy to make apple chutney, flavoured with lemon, ginger and cinnamon. Perfect with cheese or cold meats at Christmas or any other time.
Ingredients
13

small apples

peeled, quartered and chopped

7

medium onions

chopped

2

lemons

quartered and sliced

75

g

fresh ginger

finely chopped (optional)

400

g

white sugar

500

ml

cider vinegar

1

tbsp

salt

1-2

tsp

cinnamon

1

tsp

turmeric
Instructions
Put the apples, onions and lemons in a large saucepan and simmer for 20 minutes

Add the sugar, and ginger if using and stir until the sugar dissolves and simmer for a further 30-40 minutes until the mixture is thick.

Add the salt and spices off the heat and pour into sterilised jars.
Notes
I used 225g jars which I put in the oven for 10 minutes on Gas 3
Adapted from Preserving through the Year