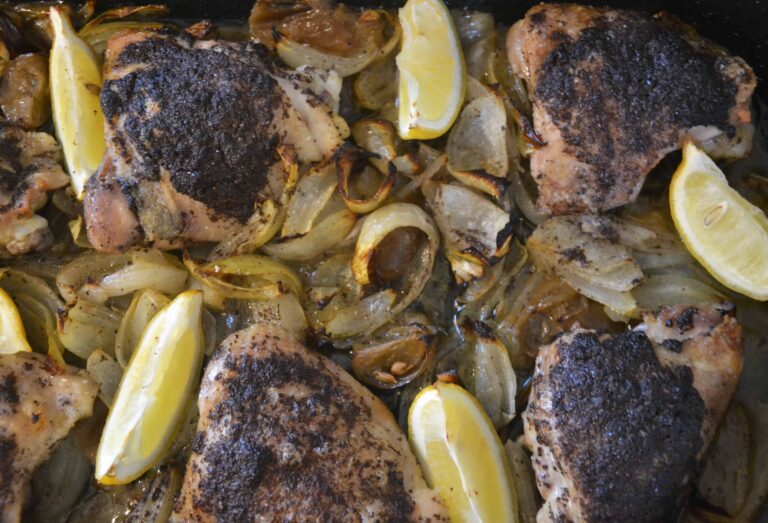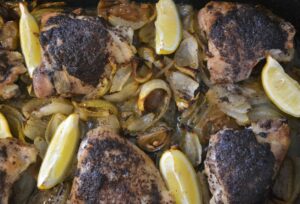 Here is a simple dish of chicken thighs baked with sumac and preserved lemons. This recipe is great lazy dinner as everything can be prepared ahead and then popped in the oven, complete with onions and then served with cous cous for a Moroccan style meal.
A few years ago I had never heard of sumac and I must admit that its intense colour immediately seems to make the chicken look burnt before you start! If you haven't tried it before it has a citrus tang and an intensely savoury flavour. Pairing sumac with preserved lemons really enhances the flavour further as the preserved lemons melt to make a delicious sauce. I added fresh lemons to the oven too as they give up more juice this way and everyone can squeeze on as much as they want when it's served.
Start by trimming the chicken thighs and place in a large oven dish with thick sliced onions. Drizzle about a tablespoon of oil over the onions and stir to coat.
Mix the sumac powder to a paste with olive oil and slather over the chicken.
Roast in the oven at 180 degrees for 20 minutes and then give the onions a good stir and add the preserved lemons and lemon juice.
Leave for another 20 minutes and add fresh lemon wedges for the last 10 minutes.
Dead simple and delicious!
You can serve this with anything you like or use the sumac to flavour meat on the barbecue.
Are there any other sumac recipes out there?
Chicken with Sumac and Preserved Lemons
A simple dish of chicken thighs basted with sumac and roasted in the oven ith preserved lemons and onions.
Ingredients
6

large chicken thighs

2

preserved lemons

drained and quartered

2

tbsp

juice from preserved lemons

3

medium onions sliced lengthways

2

tbsp

sumac mixed with 2 tbsp olive oil

1

tbsp

oil

1

fresh lemon cut into 6
Instructions
Trim thighs and place in a large roasting dish.

Mix the onions with the oil and place around the chicken.

Baste the thighs with the sumac oil.

Roast at 18 degrees for 20 minutes.

Add the preserved lemons and juice, stir into onions and roast for a further 20 minutes.

Add the fresh lemon and cook for a further 10 minutes or until cooked through.