This Spicy Roast Chicken is perfect when you want a full on curry night, with all the trimmings, but you don't want to be slaving over a hot stove and faced with a huge amount of pots and pans after.
Fancy a chicken curry? Yes please! Of course, you'll need some tasty rice and some masala potatoes to go with that before you even think about poppadums and naan breads. There's so much work. No wonder everyone gets a takeaway or eats curry in a restaurant, even if the curry is swimming in oil!
So what if you could have a curry night with reduced fat, reduced cleaning, reduced work using just one pot and with full on taste?
It's right HERE!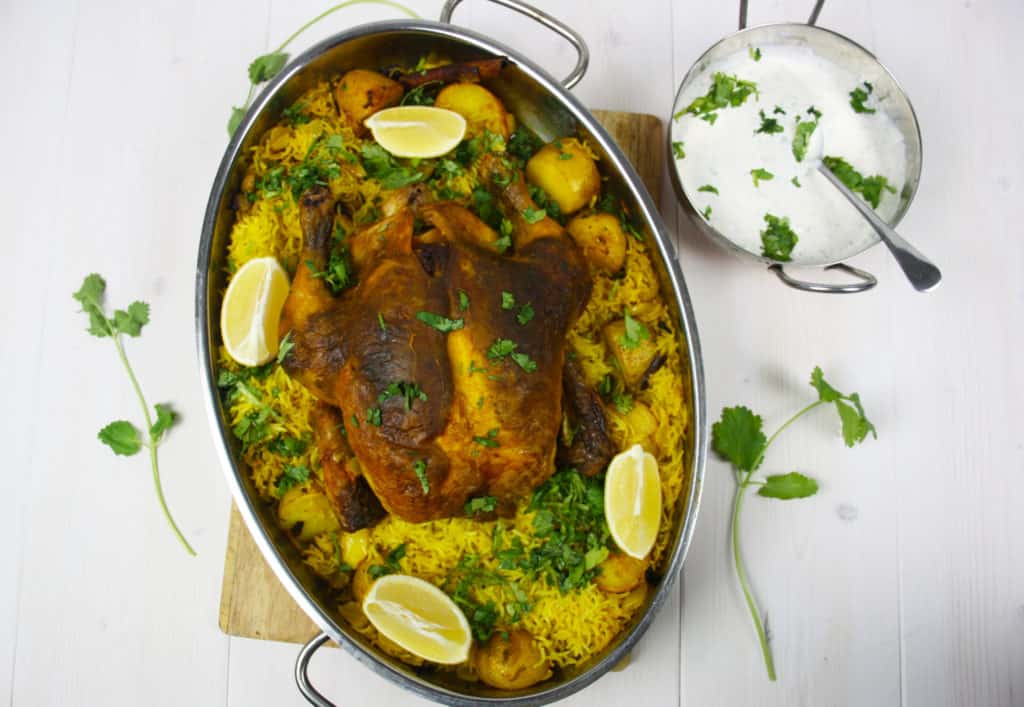 What are the ingredients?
Rather than using chicken breast or boneless thigh for this recipe I am using a whole chicken. The chicken will keep tender by cooking it on the bone and there is less preparation too.
You will need some basic Indian spices, ginger and garlic but you can really tailor the spices to your taste.
How to make spicy roast chicken
When I cook a whole chicken for a roast I normally spread butter, garlic and herbs under the skin so for this dish you need to make a marinade to do the same. I mixed garlic, ginger, chillies, fish paste, turmeric, coriander and cumin and juice and zest of a lemon in a food processor.
Carefully ease the skin away from the breast meat and around the legs and use a spoon to distribute the paste on either side. Press on top of the skin to move the paste around evenly and then pop the used lemons in the body cavity. This will help to keep it moist and add extra flavour too.
Mix some oil with turmeric and baste the skin with a pastry brush to give a rich golden colour.
Roast for 40 minutes and then add the potatoes and onions for another 30 minutes.
When the chicken is cooked remove it and place on a plate covered loosely with foil. Add cinnamon, cardamom, mustard seeds and then add rice and stock for about 10 minutes
Garnish with chopped fresh coriander and lemon wedges and serve with raita or mint sauce.
Enjoy a lower fat, tasty Asian dish with all the trimmings and none of the washing up!
You may also like
Food safety
We sometimes take for a granted that we have years (or decades) of cooking experience, that the average visitor may not. Add to, or remove from, the list below with health and safety tips.
Cook to a minimum temperature of 165 °F (74 °C)
Do not use the same utensils on cooked food, that previously touched raw meat
Wash hands after touching raw meat
Don't leave food sitting out at room temperature for extended periods
Never leave cooking food unattended
Use oils with high smoking point to avoid harmful compounds
Always have good ventilation when using a gas stove